Rolls Royce PLC (OTCPK:RYCEY) can be acquired at a price that is fair for a regular manufacturing company but modest for a high-tech service contractor with a sizable competitive moat and a proven growth record.
Growing fast
Debt is ok
Wide moat
This makes Rolls Royce a highly attractive investment.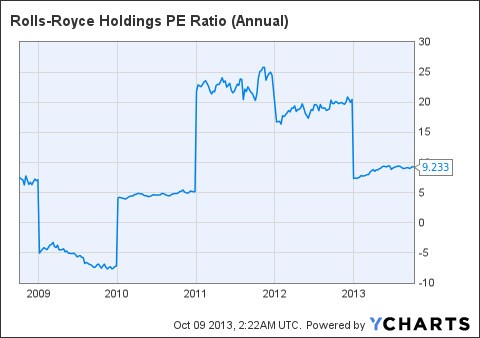 RYCEY PE Ratio (Annual) data by YCharts
Business Summary Rolls Royce Holdings plc
Rolls-Royce Holdings plc, together with its subsidiaries, provides integrated power solutions for customers in civil and defence aerospace, marine, and energy markets worldwide. It operates in five segments, Civil Aerospace, Defense Aerospace, Marine, Energy and Engine Holding.
The Civil Aerospace segment develops, manufactures, markets and sells commercial aero engines, including large aircraft, small aircraft, and helicopter engines for various sectors of the airliner and corporate jet market; and provides aftermarket services consisting of a suite of managing and maintaining services for its engines.
The Defense Aerospace segment engages in the development, manufacture, marketing and sale of military aero engines for combat jets, helicopters, transporters, trainers, tactical aircraft, unmanned aerial vehicles and distributed generation systems, as well as offers aftermarket services.
The Marine segment is involved in the development, manufacture, marketing, and sale of marine-power propulsion systems and aftermarket services. Its products include automation and control, bearings and seals, deck machinery solutions, electrical power systems, engines, propulsors, reduction gears, ship design and systems, syncrolift shiplifts and transfer systems, and stabilization and maneuvering systems. This segment also integrates technologically complex systems for offshore oil and gas, merchant and naval surface, and submarine vessels.
The Energy segment manufactures and sells power systems for the offshore oil and gas industry and electrical power generation, and aftermarket services. Its products include gas engines, gas turbine engines, gas compression, diesel engines, fuel cells and automation and control systems.
The Engine Holding segment offers diesel engines and aftermarket services. Rolls-Royce Holdings plc was founded in 1971 and its headquarters is in London, the United Kingdom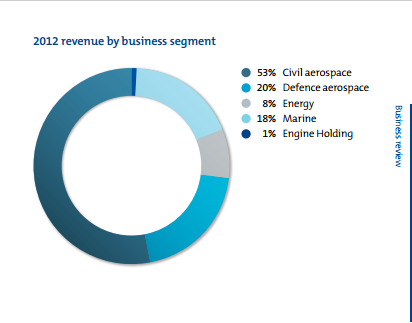 Source: Yahoo Finance
Debt Position Rolls Royce
According to stats on Yahoo Finance debt in the most recent quarter stands at $ 4.22 Billion. The company also carries $5.53 Billion of cash on the balance sheet.
The CFO emphasized the importance of maintaining an investment grade rating to be able to raise capital at attractive prices during the Q2 2013 earnings call. The company has a Moody's A3 rating with a stable outlook.
Turning to financial strength, we continue to place considerable importance on maintaining investment-grade rating, given the long-term nature of our business, and having strong liquidity. During the period, we took advantage of favorable market conditions to raise GBP 1 billion of new funds, which provides a combination of refinancing and capital for general corporate purposes.
With the significant positive cash flow and the cash on balance sheet I think the company is in fine shape. There isn't any material refinancing that needs to take place in 2013.
On the other side of the coin, because the company needs to remain investment grade, it will be hard to leverage profitability by increasing it.
Wide Moat
As a designer and service provider, Rolls Royce designs engines and systems, coordinates a global supply chain and provides after-sales service all over the world. Maintenance involves a high degree of technical and operational knowledge. Once its systems or engines are adopted into designs, switching costs are high for clients. Clients who rely on highly sophisticated technological solutions are not eager to experiment with unproven products or manufacturers. Service contracts are generally lengthy in nature. Together this is enough to say the company enjoys a wide moat.
Excellent Growth Rate
The aerospace segment, which is very important to the company's bottom line, is currently booming. The most important reason I think this story is worth of your attention is that the rate of growth of Rolls Royce is tremendous.
Both the Boeing Dreamliner and the Airbus 350 XWB are outfitted with Rolls Royce Trent engines. These aircraft just entered the aircraft and are likely to dominate the sky for over a decade. That positions Rolls Royce well to continue its growth.
Returns on Equity have been very good over the past 10 years. Only in 2008 the result wasn't pretty when the company posted a big loss. In 2003 return on equity was a modest 5% but all other years the company put double-digit numbers on the board. Management is keen on cutting cost in the fast growing and large aerospace segment and if some progress can be made that will help sustain a healthy growth rate.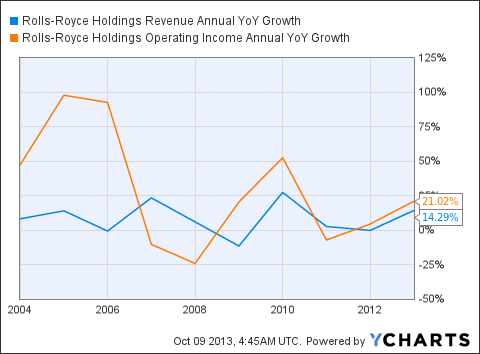 RYCEY Revenue Annual YoY Growth data by YCharts
Recently Secured Orders
Just over the last month and the start of October the company secured new orders that grew its order portfolio ($110 billion reported during the 2013 half year presentation - pdf) significantly and will have a meaningful impact on earnings over the coming years. Some of the most important ones are:
On October 7, Japan Airlines ordered 31 Airbus 350 XWB that are powered by Rolls-Royce Trent XWB engines.
On October 7, Rolls-Royce has been awarded two contracts worth a combined value up to $496 million to support T56 engines on U.S. government aircraft.
On September 25, the U.S. Department of Defense awarded 2 service contracts to Rolls-Royce. Together they are worth $67 million.
On September 23, the company has been awarded a maximum $406,000,000 fixed-price with an economic-price-adjustment, requirements contract for T-56 engine supply support. This contract was a sole-source acquisition.
on September 19, the company has been awarded a $48,949,100 firm-fixed price contract for engine depot activation.
Risks
The company identified a list of risks that are especially grave to the continuity of its cash flow in the 2012 annual report. These are the most important ones. When one of these instances occurs it is likely to result in the company losing a significant amount of value.
Product failure
Product not meeting safety expectations, or causing significant impact to customers or the environment through failure in quality control.
Business continuity
Complete breakdown of external supply chain or internal facilities that could be caused by destruction of key facilities, natural disaster, regional conflict, financial insolvency of a critical supplier or scarcity of materials, which would reduce the ability to meet customer commitments, win future business or achieve operational results.
Competitor action
The presence of large, financially strong competitors in the majority of its markets means that the Group is susceptible to significant price pressure even where its markets are mature or the competitors are few. The main competitors have access to significant government funding programs as well as the ability to invest heavily in capability.
International trade friction
Geopolitical factors that lead to significant tensions between major trading parties or blocs, which could impact the Group's operations. For example: explicit trade protectionism; differing tax or regulatory regimes; potential for conflict; or broader political issues.
Major product program delivery
Failure to deliver a major product program on time, to specification or technical performance falling significantly short of customer expectations would have potentially significant adverse financial and reputational consequences, including the risk of impairment of the carrying value of the Group's intangible assets and the impact of potential litigation.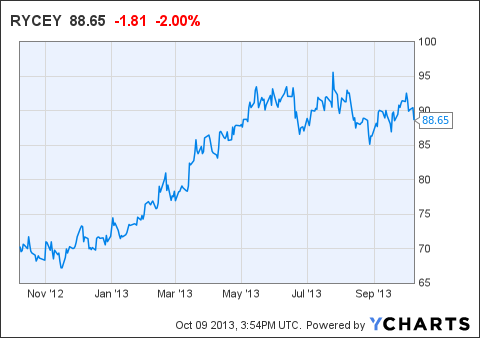 RYCEY data by YCharts
Rolls Royce Valuation
To value Rolls Royce I performed a discounted cash flow calculation. After taking into account historic cash flow figures, the order portfolio and the growth rate that management realized over the past 10 years I discounted against the returns of the S&P 500.
Ultimately arriving at a valuation of $108 / share, which means there is 22% upside to the stock's current price.
My impression of management is favorable after reviewing conference calls, investor materials and the annual report. More importantly the returns on equity it booked over the past 10 years back this up.
This is a company in a growth industry with a wide moat, skilled management and it's available at a reasonable price.
Disclosure: I have no positions in any stocks mentioned, and no plans to initiate any positions within the next 72 hours. I wrote this article myself, and it expresses my own opinions. I am not receiving compensation for it (other than from Seeking Alpha). I have no business relationship with any company whose stock is mentioned in this article.