Tower Group (NASDAQ:TWGP) collapsed by over 40% on Tuesday, October 8th. In fact, Tower has fallen more than 20% three times in the last two months.
On August 8th the stock fell about 24% when it held off on releasing its 2nd quarter earnings and on September 18th when it dropped about 28% on warnings of reserve charges. It didn't help that FBR Capital downgraded Tower from Outperform to Perform due to capital reserve concerns.
Putting it all together, in the last 52 weeks they've seen their shares slashed by right around 60%. It's going to get worse.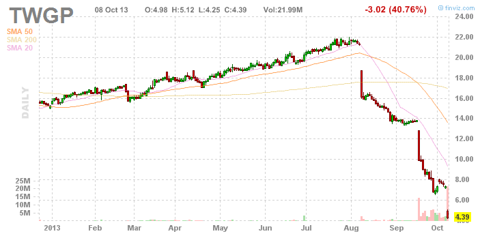 Business Overview

Tower underwrites all types insurance from commercial, to personal, to specialty insurance to reinsurance products. Their current market cap is now hovering around $250M and enterprise value is about $625M at this point. To put all this in perspective they have less than 1% of the market cap as The Travelers (NYSE:TRV). They are happy to tell you that they are one of the 50 largest providers of property and casualty insurance products and services in the U.S. But, let's get real. They are a tiny blip on the radar.
The Ugly Details
Tower Group clearly has its back against the wall. Let's look at their recent reinsurance agreements. On the 1st of October, 2013 they entered into agreements with Arch Reinsurance Ltd., Hannover Re and Southport Re to "enhance" their financial flexibility. That's a euphemism for we are scared little rabbits. Although to be fair, the vast majority of the insurance industry offloads their liabilities.
On Monday, the 7th of October, Tower announced the semi-independent review of their loss reserves through June 30th. I say "semi-independent" because it reads like these consultants were knee deep in the swamp with Tower. Together, they indicated a need to strengthen loss reserves by about $365M, which is clearly not chump change for a business this size. Note that the loss reserve increase is specifically for:
"...accident years 2009 through 2011 in commercial insurance lines of business, including workers' compensation, commercial multi-peril, commercial auto and other liability lines."
And more importantly, this reserve increase…
"…reflects adverse loss emergence, coupled with changes in judgment, including actuarial factors."
There are other official corporate documents and press releases that I could reference. What matters here is that Tower appears quite sloppy. When a financial company doesn't run a tight ship, people lose confidence. And, when investors lose confidence businesses get punished. Uncertainty can kill an insurance business. Let's dig deeper.
The Class Action "Fat Pile of Doom"
To be fair, since 2010, Tower has been shifting their business away from the underwriting activities that caused the problems in the first place. But, there's clearly a giant target on their back. The sharks are looking for a kill. I'll get to the lawyers in a minute.
First, I want to emphasize something. Many investors looking at Tower might think the bad news is strictly financial, i.e., impairments and loss reserve issues. But, there's a crisis of confidence here. Tower doesn't help itself when they use language like changes in judgment, or when they admit actuarial issues. Underwriting is all about those tables and counting beans.
To emphasize: The key reason Tower is getting destroyed is a lack of confidence.
OK, back to the lawyers. Many investors are clearly freaked about by the financial discrepancies. But, to make matters worse, I'm aware of two class action suits against Tower right now. Ryan & Maniskas, LLP and Levi & Korsinsky, LLP are looking to drain some blood. They claim that Tower did some improper accounting, lacked appropriate internal controls, provided misleading financial statements and made inappropriate positive statements during the last couple of years.
Ouch.
This fat pile of doom is not yet in full motion because these class action suits are just getting started. But, that doesn't matter here. What the savvy investor will realize is that this magnifies the problems that the company is now scrambling to resolve. It's like the proverbial ant under the microscope with focused, intense heat causing major pain.
Emotions are running wild. But, when there's blood in the streets there might be an opportunity for overselling to occur. Below are some catalysts to consider.
Is Tower Group Evil?
All the evidence indicates that Tower took their eye off the ball. They weren't strict enough. They didn't stick to the knitting. In short, they screwed up but I don't think they are pure evil.
In fact, I noticed something funny about Tower. They've released no less than five announcements about their 2nd quarter results:
Jul 24, 2013
Aug 07, 2013
Sep 10, 2013
Sep 17, 2013
Oct 07, 2013
This doesn't appear to be a company working hard to hide information. You don't issue a flood of press releases and updates like this when you're trying to cloak the truth. I admit that it's crazy they can't get their act together but they are keeping investors abreast of things.
Phone a Friend
What's more interesting is that Tower Group reached out to J.P. Morgan for additional financial advice. They've also been in talks with Blackstone, KKR and Warburg Pincus to find ways to bolster capital. It hasn't gone well so far but that doesn't make Tower a wicked witch.
In short, the catalyst here is that Tower has a bunch of cash, they've got a strong coach in their corner, and they're actively managing the crisis. They might stay in one piece, or they might sell off assets, or they might get some "wild and crazy" cash injection. I don't know. But, it's clear they are not positioning themselves for death and they have been cautiously updating investors on what they're doing. It seems like they are trying to stay alive.
Who's Gambling and Who's Taking Money Off the Table?
Point blank, I do not believe that Tower is an appropriate investment for a long-term investor seeking to protect capital or add to a blue chip dividend portfolio. They are not a dividend champion, contender, or challenger. At best, this is a speculative play. I'm staying away from this hot mess. This is for gamblers, not investors.
This is a small insurance company that let their operations slip. To be fair, there's moderate insider ownership (about 7.5%) so there's probably some genuine incentive to keep this ship afloat. However, it gets a little ugly when you realize that Michael Lee (the CEO) sold a monster block of stock on September 18th. That $12.6M sale isn't for a Happy Meal or a Disney World vacation.
More Shoes Will Drop and Some Final Comments
The biggest risk is that when earnings are finally released the news could be catastrophic. But even if the news isn't horrific, the secondary risk is that future write-downs are right around the corner. Where there's smoke, there's fire.
Here's a final piece of news. There's a "wild card" price catalyst in this fog. If Tower becomes too weak it could become a takeover target. I'm hearing rumors of $9 per share have been circulated by Guggenheim Partners who initiated their coverage on September 18th. With a takeover, anything could happen. Maybe someone can clean up Tower and unleash whatever value is hiding.
As always I strongly recommend that you conduct your own due diligence.
Disclosure: I have no positions in any stocks mentioned, and no plans to initiate any positions within the next 72 hours. I wrote this article myself, and it expresses my own opinions. I am not receiving compensation for it (other than from Seeking Alpha). I have no business relationship with any company whose stock is mentioned in this article.