Outerwall, Inc. (NASDAQ:OUTR), formerly known as Coinstar, is in the business of renting DVDs. Renting DVDs might seem a bit odd in this era of video streaming, and you might be forgiven for dismissing Outerwall as a lightweight compared to Netflix (NASDAQ:NFLX), which is in the video-streaming business. In fact, a big chunk of Outerwall investors seem to share this sentiment, and have been dumping Outerwall shares in the past few weeks at an alarming rate. But hard facts about Outerwall prove just the opposite: the company is actually outperforming Netflix in several key arenas.
Outerwall shares tanked a massive 19% in the space of just four days in September, after the company's management cut its earnings and revenue forecasts for the current fiscal year. The huge loss more than wiped out all the gains made by the stock since January to July.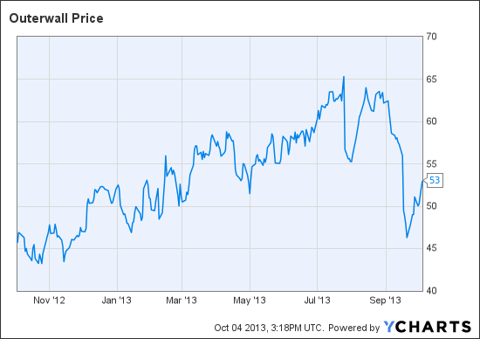 Outerwall lowered its revenue guidance for the current year to a lower range of $2.37 billion-2.48 billion, equivalent to a $5.76 -$6.26 EPS, down from an earlier revenue range of $2.39 billion-$2.55 billion.
Demand for Redbox DVDs still robust
Investors should, however, not be fooled by the lower revenue guidance. The demand for Redbox DVDs remains as strong as ever. Redbox is Outerwall's most important business segment, and brought in 87% of its total revenues in 2012. Outerwall makes the rest of its money from coin-counting machines. Redbox managed to rent out 74 million DVDs from its 43,700 self-serve store kiosks in the month of July, which turned out to be the company's best rental month in its history. Redbox managed to grow its kiosk sales more than 10% in 2012.
Outerwall pinned its revenue cuts on the heavy discount coupons that it offers for single-night rentals. The company offers this discounts in a bid to lure more customers into its stores, and the bait seems to be working, albeit lopsidedly. Redbox managed to grow its customer base, but the rental period went down, which negatively affected its revenue. Overall, the company expects its revenues to rise about 4.5% to $2.3 billion in 2013, and its diluted EPS to grow 7% to $4.92.
Outerwall in the pink of health
It's abundantly clear that Outerwall is in the pink of health. In fact, in the two years that Netflix has been streaming video, Outerwall has managed to grow its revenues by about 30% and its net income by a very healthy 53%. It is instructive to note that Redbox has managed to grow its numbers in a backdrop of intense competition from the likes of Netflix, which manages to add roughly 600,000 subscribers each quarter.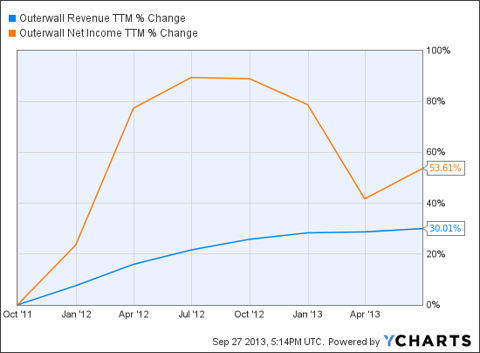 Redbox's experience proves that consumers still want to watch DVDs even as they watch streaming video. Redbox estimates that a good 20%-30% of its customers are already subscribed to competing streaming services. Apparently, consumers love the immediate gratification of renting DVDs from their local Wal-Mart (NYSE:WMT) or Walgreens (WAG) store instead of having to wait two days to receive a Netflix delivery. Outerwall plans to add another 1,500 Redbox stores to its existing 43,700 this year.
Stock far cheaper than Netflix
The demise of DVDs seems inevitable, which makes Outerwall look like a non-starter to many investors. But it makes good sense to ride the DVD rental wave while it lasts. Outerwall is incredibly cheap when compared to Netflix, despite the company generating far superior free cash flow and higher profit margins. Outerwall is currently trading at a 10.69 forward P/E compared to Netflix's 212.88 forward P/E.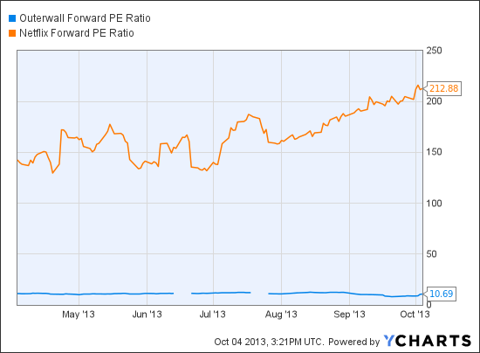 At this kind of valuation, Outerwall and its investors seem set to thrive, video streaming notwithstanding.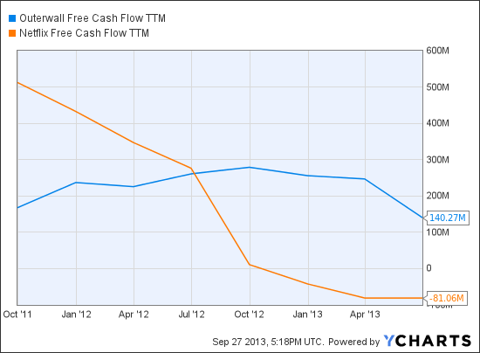 Jana Partners Joins the Outerwall bandwagon
Jana Partners LLC certainly thinks Outerwall is a good bet. The activist fund manager took a 13.5% stake in the company, making it the largest investor in Outerwall. Jana revealed it was exploring several options for the company, including a possible sale. According to Jana, Outerwall shares are undervalued. Investors received this announcement very positively, and the shares ramped up a good 9% when it hit Wall Street.
Redbox launched the Redbox Instant joint venture with Verizon (NYSE:VZ) in March. This new service gives Redbox customers unlimited movie streaming as well as four Redbox DVD movies for just $8 per month. Considering the fact that Redbox Instant's movie library is nowhere near as large as Netflix's, the real draw here will be Redbox's DVDs at its store kiosks. Redbox Instant's management is yet to give an official report of how the venture is faring, which makes it difficult to say with any degree of accuracy how the business is going.
Conclusion
Accurately timing the pace at which innovation changes can be a tricky affair, as any Dell (NASDAQ:DELL) or Hewlett-Packard (NYSE:HPQ) investor will tell you. These two former high flyers grossly underestimated the impact that smartphones and tablets would have on their PC businesses, a mistake that has proven to be hellaciously expensive for both companies. Outerwall investors must be aware of the fact that the company needs to get into more businesses with long-term growth. Although streaming might not exactly bring home the bacon for Outerwall, Redbox seems to be doing that exemplarily well at the moment. With its kind of free cash flow, profit margins and, low valuation and high growth, there is every reason to want to get into Outerwall.
Disclosure: I have no positions in any stocks mentioned, and no plans to initiate any positions within the next 72 hours.
Business relationship disclosure: Syncopy Research is a team of financial analysts. This article was written by Alex Kimani, the company's Senior Analyst. We did not receive compensation for this article (other than from Seeking Alpha), and we have no business relationship with any company whose stock is mentioned in this article