Last week, the FDA approved Pfizer's (NYSE:PFE) menopause drug Duavee, co-developed with Ligand Pharmaceuticals (NASDAQ:LGND). Duavee combines bazedoxifene, a selective estrogen receptor modulator, and conjugated estrogen derived from the urine of pregnant mares.
Duavee was approved for the treatment of women with moderate to severe menopausal symptoms and to prevent post-menopausal osteoporosis, a bone disease which can increase the risk of fractures.
The Menopause typically occurs in women between the ages of 45 and 59. There are approximately 33 million women in the United States within this age group. According to Pfizer, half of these women experience moderate-to-severe vasomotor symptoms, commonly known as "hot flashes."
Estrogens has been used as hormonal treatments for over 60 years to help manage menopausal symptoms. Duavee contains the same conjugated estrogen that is available in Premarin, a Wyeth legacy product currently marketed by Pfizer.
Since using estrogen replacement can increase the risk of developing uterine cancer, the FDA decided to add the same boxed warning used for all conjugated estrogen medications.
However, Duavee is the first FDA approved medicine that combines conjugated estrogen with a selective estrogen receptor modulator, bazedoxifene, to help protect the uterine lining against hyperplasia that may result from estrogen-alone treatment. That is why it is recommended for menopausal women who did not undergo a hysterectomy, uterus removal operation.
Impact On Pfizer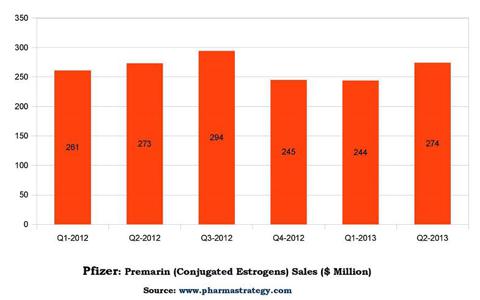 Duavee will enter a market for hot-flash treatments that currently includes Eli Lilly's (NYSE:LLY) Evista, Hisamitsu Pharmaceutical's (TYO:4530) Brisdelle, and Pfizer's own Premarin.
Premarin generated $1 billion in sales last year, and is expected to generate the same this year. Pfizer intends to launch Duavee in the first quarter of 2014.
According to Thomson Reuters' analysts, Duavee could generate sales of $160 million by 2017. However, if post-marketing studies prove Duavee superior to other conjugated estrogen products on the market we might be looking at yet another Pfizer blockbuster in the making.
Impact On Ligand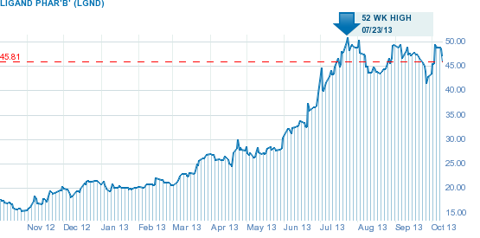 Bazedoxifene, the selective estrogen receptor modulator used in Duavee, was a result of a successful research collaboration that began in 1994 between Wyeth, now a Pfizer subsidiary, and Ligand.
Bazedoxifene was approved in 2009 in the European Union, under the trade name Conbriza, however, the FDA rejected bazedoxifene as treatment of postmenopausal osteoporosis in women at increased risk of fracture due to concerns of increased risk of clot formation and stroke.
Pfizer managed to launch the product in 2010 in Japan, for the same indication, under the brand name Viviant. Ligand is entitled to receive tiered royalties on net sales of bazedoxifene.
The fact that Duavee has now been approved in the US is a bonus to Ligand's bottom line in terms of royalty and milestone payments. Ligand is up 116% for the year, so this biotech innovator is already a star.
Disclosure: I have no positions in any stocks mentioned, and no plans to initiate any positions within the next 72 hours. I wrote this article myself, and it expresses my own opinions. I am not receiving compensation for it (other than from Seeking Alpha). I have no business relationship with any company whose stock is mentioned in this article.