A few weeks ago, I wrote that the market was likely undervaluing ConocoPhillips (NYSE:COP). My bullish case for the company is quite simple. First, energy prices were elevated for much of the third quarter, especially when compared to last year. Second, ConocoPhillips was finally starting to see production growth in certain key segments due to its multi-year turnaround. Since that article was published, ConocoPhillips has seen its share price gain around 4.8%, compared to a 1.20% increase in the S&P 500 and 4.50% decline for Chevron (NYSE:CVX) and a 3.80% decline for Exxon Mobil (NYSE:XOM).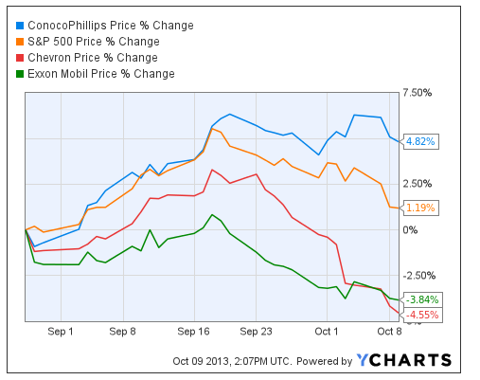 Click to enlarge
Guidance Points Towards Strong Second Half
During its last conference call, ConocoPhillips updated its estimates Q3 production from continuing operations to come in between 1,460 to 1,490 MBOE/D, which would be a small decrease from Q2 production of around 1,510 MBOE/D. For the FY 2013, ConocoPhillips estimates production from continuing operations to come in between 1,515 to 1,530 MBOE/D, which was actually an increase from its previous guidance of between 1,485 to 1,520 MBOE/D.
Q3 2013 will likely mark the "bottom" for ConocoPhillips' production. Over the past few quarters, the company has been engaged in a large asset shift, towards North America and away from overseas assets. The company has been disposing of assets that it deems high risk, such as in Algeria, Nigeria, and Kashagan, and reinvesting that capital in growth plays in the Permian, Bakken, and Eagle Ford.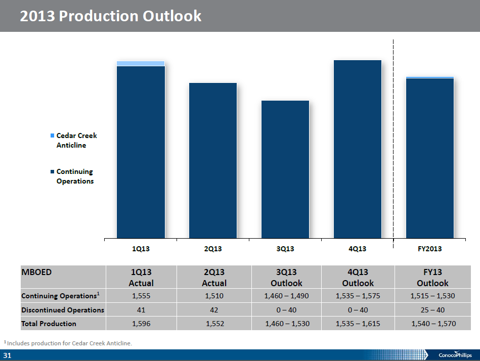 Click to enlarge
New Growth Projects to fuel production increases
This invested capital is finally starting to pay dividends, in the form of significant increases in production. ConocoPhillips' North American growth plays grew production around 47% last quarter to 203 MBOE/D. In the Eagle Ford, the company saw production grow nearly 100% Y/Y. Through 2017, ConocoPhillips estimates these North American production areas to grow at CAGR of 7% for the Permian and 16% to 18% for the Eagle Ford and Bakken. Needless to say, this quite impressive growth for a large-cap E&P.
Not only is ConocoPhillips' North American production growing, but it is also becoming more oily. The company's legacy production base was split about 50/50 between lower priced natural gas and NGLs and oil. The new production has a much higher concentration of oil, with the mix ranging from around 65% oil in the Eagle Ford to around 85% oil in the Bakken.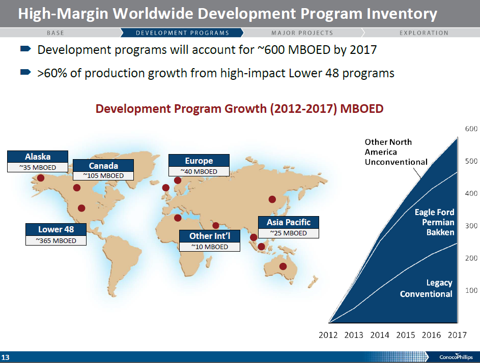 Click to enlarge
ConocoPhillips' Canadian oil sands assets are also expected to see production growth. The company is the second largest SAGD producer in Canada with more than 100,000 barrels per day of production. The company expects to double this figure by 2017. Additional, as production in Canada grows, ConocoPhillips expects to be able to lower its production costs by nearly $20 per BBL. This would allow the company to achieve margins of nearly $40 per BBL, which would generate much increased cash flows.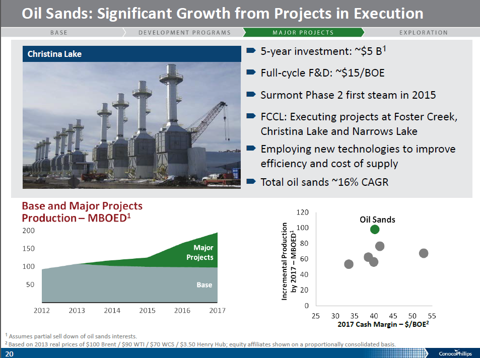 Click to enlarge
While this point seems obvious it does warrant repeating. Oil prices were very high in Q3 2013, especially WTI based sources of crude. I suspect that ConocoPhillips will post much higher EPS numbers as a result. By reasoning is that the company's original guidance only has WTI priced at around $90 to $95 per BBL. ConocoPhillips has noted that a $1 per barrel change in WTI prices would change its net income by around $30M to $40M.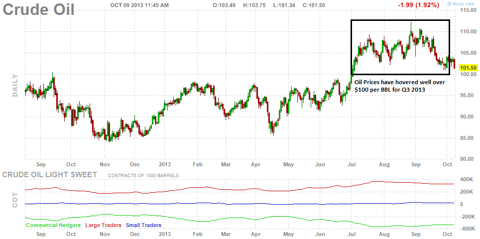 Click to enlarge
Conclusion
When taken altogether, ConocoPhillips still appears to be undervalued. With a forwards 2014 PE of only 11X, the market seems to be discounting or ignoring ConocoPhillips expected production increases.
Let us also not forget ConocoPhillips' outsized dividend yield. At around 4%, ConocoPhillips yields more than many of its peers and has arguably better growth prospects.
ConocoPhillips appears to be in a sweet spot. With the spin-off of its refining arm, the company does not need to worry about the shrinking spread between WTI and Brent. In addition, its North American focus should allow it to eventually trade at a premium compared to the larger integrated oil stocks.
Disclaimer: The opinions in this article are for informational purposes only and should not be construed as a recommendation to buy or sell the stocks mentioned. Please do your own due diligence before making any investment decision.
Disclosure: I am long COP, PSX. I wrote this article myself, and it expresses my own opinions. I am not receiving compensation for it (other than from Seeking Alpha). I have no business relationship with any company whose stock is mentioned in this article.