Tesla (NASDAQ:TSLA) sold 4750 Model Ss in the first quarter and 5150 in the second quarter in North America. The third quarter sales numbers are expected to be announced with its quarterly results on Nov 4. This article is an attempt to determine the sales more accurately than widely assumed.
Tesla buyers are known to post a lot of details about their purchases on online forums on the Tesla website. They post details from the day they placed their order, the day they were assigned a VIN number and the car went into production to the day it was delivered or picked up. There are also followers who analyze all this data and one of them - Craig Froehle - graciously contributed this graph below which plots VIN numbers to the day they were assigned.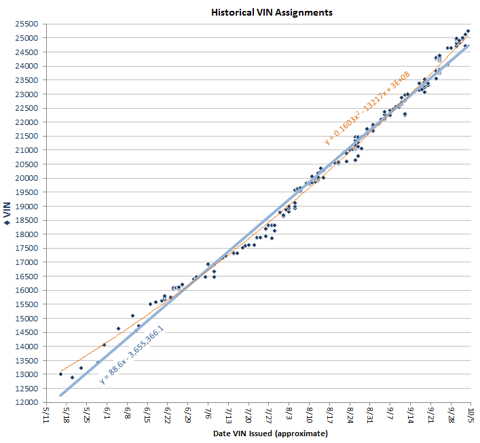 To get a complete picture of how many cars were delivered by Tesla, I make use of other information from numerous forum posts at the Tesla website such as the one below which documents VIN assignment to delivery date:
"Vin on approx. Aug 24
Pick up at factory Sept. 25
Car could have been picked up 9/21"
From such posts we can estimate an approximate 30-day time window from VIN assignment to delivery from Tesla. Using that information in combination with the graph above, I expect Tesla delivered VIN 21000 (approximately its 21000th Model S) at the end of September.
This would give us an approximate total for the first three quarters of 18350 cars based on 2012 total sales of 2650. The third quarter estimate from this information would be 8450 (21000 - 2650 - 4750 - 5150) cars.
Simple calculations based on last quarter's revenues of $405 million and assuming no other revenue than sales of Model S - I expect revenues of over $600 million in this quarter for Tesla. 8000 cars at $80,000 average selling price is $640 million.
Also, based on gross margin improvements from the last two quarters, I expect that Tesla will probably achieve its goal of 25% gross margin this quarter.
Recently Nissan (OTCPK:NSANF) announced that it sold 1953 Leafs in September and GM (NYSE:GM) sold 1766 Volts. In 2013 their total up to September was 16760 Volts and 16076 for the Leaf, essentially neck in neck. Both the Leaf and the Volt had price drops in the year. Unlike Nissan and GM, Tesla discontinued its cheaper model and raised prices this year. If we assume 75% of Tesla 3Q sales are in North America, sales will be comparable in numbers to Nissan and GM.
Additionally, based on another graph in the Tesla forum linked above, the weekly assignment rate of VINs has crossed 800 which is a strong indicator that Tesla has reached or is about to reach a production rate of 800 cars a week - the company's goal for next year. Tesla has just begun international deliveries this quarter and is already the top selling car in Norway. It is safe to say Tesla can sell as many Model S cars as it can build. Luxury car sales for German automakers are improving as evidenced by record sales in September for BMW, Audi and Mercedes. So Tesla is not only joining a growing market for luxury vehicles, it has only just begun to satisfy international demand.
At a delivery rate of 800/week, October - December quarter sales would be about 10,000. If that does happen, Tesla would deliver over 28000 cars this year - far more than expected by anyone. Again, if we do assume that 75% of the cars in the third and fourth quarter are in North America, the Model S will beat both the Leaf and the Volt and be the best selling EV in America. The Ford (NYSE:F) Focus Electric and other EVs barely sell at all. I'm only mentioning the Volt here because in my previous articles commenters keep mentioning the Volt as a Tesla competitor.
It is very difficult to estimate future sales for Tesla but it wouldn't be surprising if it produces and sells 44000 Model Ss next year. Tesla's goal is to sell 10,000-15,000 Model Xs in 2015 with production starting late 2014. Based on the production history described above it wouldn't be surprising if the company beats those numbers.
Once again if we assume that in 2014, 75% of Tesla's deliveries are in North America that will be half as many as BMW 5 and 7 series combined in the US in 2012 (about 68000). This would be fantastic for a car that will be two years old then from a newcomer.
In 2016 and 2017, Tesla could potentially sell 45,000 of both models. I expect Tesla to start selling their "affordable" Gen III (Model E) in 2018. Numbers are unknown so far for the Gen III but I'm assuming 25,000 in 2018 and annual increases of 25,000 to 50,000 every year. I will analyze these numbers in more detail in a future article.
In other Tesla news, the hype about the Tesla fire is dying down and the facts have come to light that not only did the Model S fare better than a regular car would have in the situation, the driver of the burnt car is planning to get another Tesla. I expect the short-term dip to end and Tesla continue on its quest to make the best new vehicles in decades.
Disclosure: I am long TSLA, OTCPK:NSANF. I wrote this article myself, and it expresses my own opinions. I am not receiving compensation for it (other than from Seeking Alpha). I have no business relationship with any company whose stock is mentioned in this article.
Additional disclosure: I might partially sell TSLA at 200, possibly acquire more if it falls to 100.