As someone who covers a lot of short ideas on this site, one of the most important items I follow is short interest data. One must always be aware of the short interest in a stock. A large short base could spark a short squeeze on good news, while low short interest could spark a huge drop on bad news. Every couple of weeks, we get an update from Nasdaq on short interest data, and I report on what I am seeing. Today, I'm here to discuss the end of September numbers. Today, I'll discuss five names that short sellers are running away from, whether just recently or over the longer term.
Apple (NASDAQ:AAPL):
The tech giant saw a decline of less than 400,000 shares in the last few weeks of September. So why did it make my list? Well, short interest dipped below 17.5 million at the end of September. This is the first time that Apple's short interest has been below that level since the end of October 2012, as you can see below. Yes, that's nearly a year. Short sellers are definitely running away from Apple, as short interest is down 58% since that end of April peak five months ago.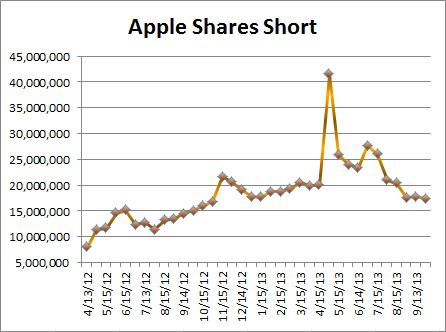 Apple's great opening weekend for the iPhone may have chased some short sellers away, but the critics are still out there. Apple will have its chance in a couple of weeks (the 28th) to set the story straight. While analysts are skeptical of Apple's sales figure, the company did update its guidance, moving to the higher end of the range. If it wasn't for the government shutdown, this stock would be over $500. I expect Apple to break through that level again soon, as positive momentum keeps pushing this name higher. Apple short interest is at its lowest point in 11 months, and that should tell you something.
BlackBerry (NASDAQ:BBRY):
Like Apple, the Canadian device maker only saw a small decline at this short interest update, but it is the longer-term trend that is important. As you can see from the chart below, BlackBerry short interest is at its lowest point since the middle of February. Since the end of June high, more than 42 million shares have been covered, a decline of nearly 23%. That's rather significant.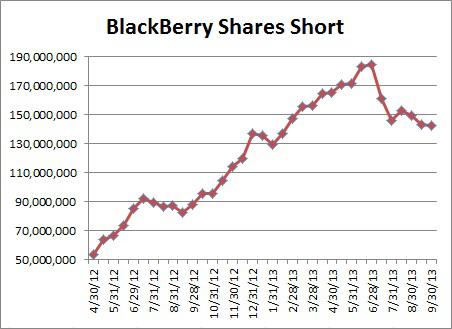 With BlackBerry shares were trading near their 52-week lows at the end of September, it makes sense that some short sellers are starting to cover. Not only do you have a stock that shorts can cover at a sizable profit, but the buyout/breakup potential will chase others away too. I was definitely a fan of shorting this name when we were in the low-to-mid teens, as BlackBerry 10 has turned out to be a complete flop. But at $8 a share, the potential reward for shorts just isn't there anymore. I wouldn't be surprised if more shorts cover by the end of this year, as we get more of a resolution on the future of this company.
lululemon (NASDAQ:LULU):
The Canadian apparel retailer saw about 1.4 million shares short covered in the final few weeks of September. That's about a 6.6% move, which isn't exactly a small one for a name like this. As you can see from the chart below, this is one of the largest declines in short interest in several months. Short interest in this name is starting to roll over again, and it just broke the 20 million mark.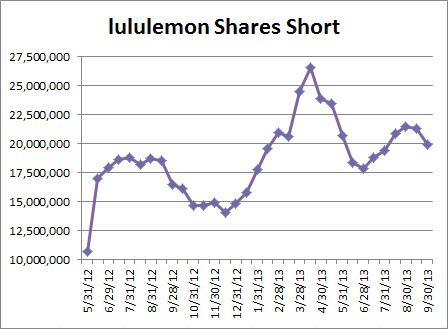 Shares in this name initially fell after the latest earnings report, but they've recovered since. Shares bounced into the low $70s in late September, and above $75 in early October, which will factor into the next short interest update. This company is one name that has something to prove, as they still have not found a new CEO. That might be something causing short sellers to panic, because the naming of a CEO could cause some of the clouds overhanging this name to lift. It was the resignation of Christine Day that sent short interest rising again this summer. An announcement could come any day now, and with the next earnings report not until early December, short sellers don't want to be on the wrong end of this trade.
Netflix (NASDAQ:NFLX):
Almost 1.3 million shares short in Netflix were covered during the last few weeks of September. That was a decrease of more than 18.3%, and it put Netflix short interest at its second lowest point in more than a year. As you can see from the chart below, Netflix short interest dipped below 7 million again, and is just 130,000 shares away from the year plus low. More than 10 million shares short have been covered since the peak nearly a year ago.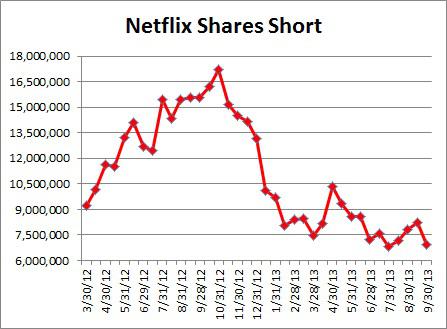 Netflix continued hitting new highs above $300 in late September, so it definitely makes sense that short sellers were just giving up. Those shares hit a 52-week high in early October at nearly $335, but have lost almost $50 since as many of the momentum names have collapsed. There have been growing concerns that Carl Icahn might soon exit his position, which would be a huge negative for shares. I personally think a 10%-15% decline could be seen overnight on an Icahn exit, and we've already lost that much. We are less than two weeks away from earnings (the 21st), so Netflix will need to prove itself again if shares want to get back above and stay above the key $300 level.
Sears Holdings (NASDAQ:SHLD):
The retailer made my list last time around because of a short interest decrease that stopped a recent sharp spike in short interest, as you can see below. Well, the trend lower continued, and in a much bigger way. More than 2.2 million shares were covered at this update, a decline of nearly 14%, the single largest short interest decline for Sears in more than a year. Almost 2.9 million shares short were covered in September, more than 17.4%. Short interest is still elevated, but it is at its lowest point in more than two months.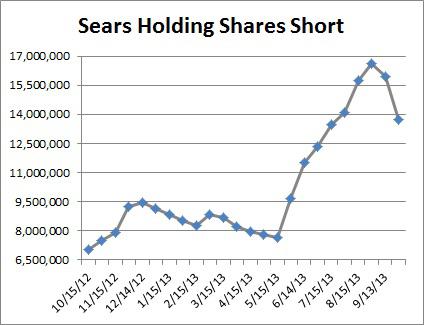 Shares of the retailer had a huge rally in late August and September, rising more than 50% from their lows in August. When you have a stock that makes a 50% move like this in a short time, especially one where the float only represents about 40% of the outstanding share count, shorts can be forced to cover quickly. That's what made this name a tremendous short squeeze candidate, and it still is. Even after the huge covering in September, nearly a third of this company's float is still short. With shares still well above where they were a month ago, it will be interesting to see if more shorts cover at the next update. If we get any positive news or the stock starts to rise, short sellers could be forced to cover quickly, sparking another squeeze.
Final thoughts:
All five names on this list have seen a significant decline in short interest, whether over one update or the longer term. Apple short interest is at its lowest point in nearly a year, as investors are bullish about the new iPhone line and upcoming holiday product launch. BlackBerry short interest has continued lower as the share price is near its yearly low and the buyout/breakup potential could lead to a stock pop. Canadian apparel retailer lululemon saw its short interest come down, as investors have shaken off the recent earnings report and eagerly wait the appointment of a new CEO. Netflix short interest is at its second lowest point in more than a year, and it will be interesting to see how the recent stock fall will impact short interest. Sears saw a large drop in short interest during September as the stock has rallied tremendously. Will any of these names make the list next time around? I'll be back in a couple of weeks with the next update.
Disclosure: I have no positions in any stocks mentioned, and no plans to initiate any positions within the next 72 hours. I wrote this article myself, and it expresses my own opinions. I am not receiving compensation for it (other than from Seeking Alpha). I have no business relationship with any company whose stock is mentioned in this article.
Additional disclosure: Investors are always reminded that before making any investment, you should do your own proper due diligence on any name directly or indirectly mentioned in this article. Investors should also consider seeking advice from a broker or financial adviser before making any investment decisions. Any material in this article should be considered general information, and not relied on as a formal investment recommendation.