As someone who covers a lot of short ideas on this site, one of the most important items I follow is short interest data. One must always be aware of the short interest in a stock. A large short base could spark a short squeeze on good news, while low short interest could spark a huge drop on bad news. Every couple of weeks, we get an update from Nasdaq on short interest data, and I report on what I am seeing. Today, I'm here to discuss the end of September numbers. I'll discuss five names that short sellers are going after, whether just recently or over the longer term.
Amazon (NASDAQ:AMZN):
Amazon saw its largest increase in short interest in more than a year. Short interest in the online giant rose by more than 1.2 million shares, a rise of 18.12%. As you can see from the chart below, short interest rose above the 8 million level for the first time this year. Short interest in this name rose by nearly 30% in September.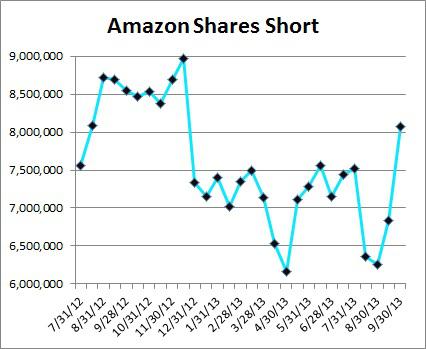 Amazon continued to new highs during late September, hitting a new all-time high in early October. At that point, I discussed the short case regarding Amazon, and that seems to have worked well. Amazon has gotten picked up in the momentum trade fall, with shares declining about $25 from their 52-week high just last week. I guess those shorts who piled into this name in late September are doing well, but will they cover by the next update?
Cisco Systems (NASDAQ:CSCO):
While there wasn't a huge one update jump in Cisco's short interest, the recent trend has been higher. As you can see from the chart below, this is the first time that Cisco's short interest has been above 60 million shares since the middle of March. Since the recent low in mid August, short interest is up nearly 23%.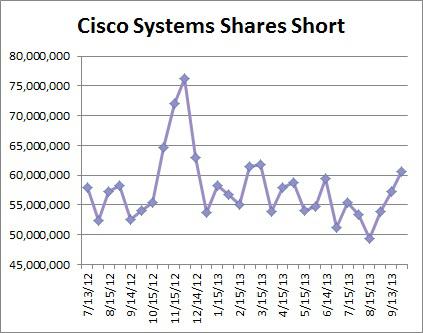 Cisco shares have fallen since issuing light guidance at their most recent earnings report, and they are currently at a 5-month low. It probably isn't a surprise that short interest has risen given the light forecast, as there are a few that want to continue betting against the name. Cisco isn't the only large cap tech name to see a rise in short interest to a multi-month high, as another name will be discussed later.
Dendreon (NASDAQ:DNDN):
The biotech name that brings you the prostate cancer treatment Provenge saw short interest hit another new high. I wondered at the last update whether positive European news would help short interest to decline. It did for one update, but since then, more short sellers have piled into this name.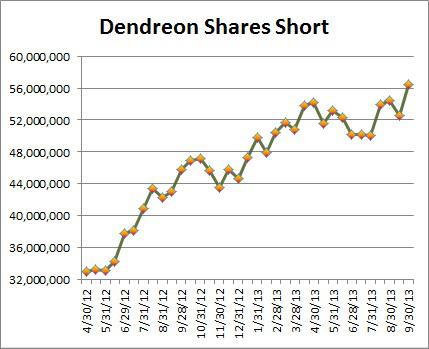 With Dendreon getting positive news in Europe, it is now time for the company to prove itself or perish. The company's revenues have stalled out, and a lack of cost controls have meant large losses and tremendous cash burn. Dendreon is very close to a significantly dilutive capital raise, and short sellers appear to be betting on that. Dendreon shares popped to $3.41 with the European announcement, but have only gone lower since. Dendreon hit a new 52-week low at $2.48 on Wednesday, closing at $2.56. With 38% of the float short, Dendreon is a name that could have a tremendous short squeeze on positive news. But a lack of positives have this name continuing to new lows.
Facebook (NASDAQ:FB):
The social media giant saw a 48% rise in short interest during the final few weeks of September. It was the largest short interest rise in about a year, as you can see from the chart below. This is also the first time since late 2012, as short interest was plunging, that we've climbed above the 40 million level. Facebook is a name that trades a lot of shares daily, so there's still not short squeeze potential here yet, but this is a large jump in short interest.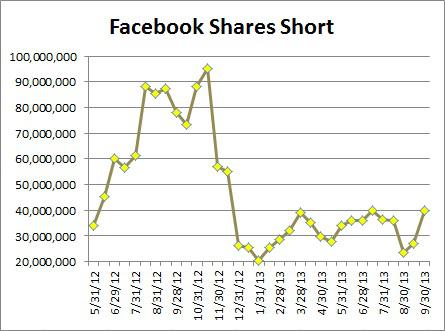 I'm assuming that the large rally in Facebook shares since the Q2 earnings report had a lot to do with the increase in short interest. Facebook shares nearly doubled from that report to the recent high of $51.60, making the valuation sky-high and many feeling they should step back. Facebook shares have come down from their highs in the last few days, which has sparked a sell-off in the momentum names. The question will be if the recent decline was enough to get short interest down at the next update.
Intel (NASDAQ:INTC):
The chip giant hasn't seen a lot of large single update short interest moves, but there definitely is a trend as you can see in the chart below. Intel's short interest hit another new high at the end of September, and now more than a quarter of a billion shares are short. Short interest is up 41% in the past year, and 184% since the middle of April 2012. There just have not been any real sustained downward moves in short interest for the chip giant over the past few months.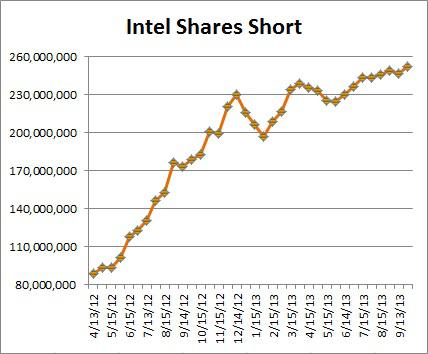 In my opinion, short interest continues to rise because this is a stock that continues to frustrate investors. The dividend was not raised at the latest payment, and if Intel doesn't raise it for the next payment to get back on a calendar cycle, panic will ensue. The buyback has also slowed down, and the company's 2013 growth story has completely evaporated. Now, Intel's 2014 estimates are being cut, and they are at their lowest levels. The stock is also close to a key technical level known as the death cross, which if hit, could spark another large round of selling. Right now, hope is fading when it comes to Intel, which is why short interest continues to hit new highs.
Final thoughts:
All five of these names have seen significant rises in short interest, whether over one update or the longer term. Amazon's short interest jumped to its highest point in 2013. Cisco's short interest is at its highest point in more than six months. Dendreon's short interest hit another new high as the company continues to struggle. Facebook's short interest hit its highest point in 2013, but a recent drop in the stock may change that. Intel's short interest hit another new high as the company continues to frustrate investors. Will any of these names make the list next time around? I'll be back in a couple of weeks with the answer to that question.
Disclosure: I have no positions in any stocks mentioned, and no plans to initiate any positions within the next 72 hours. I wrote this article myself, and it expresses my own opinions. I am not receiving compensation for it (other than from Seeking Alpha). I have no business relationship with any company whose stock is mentioned in this article.
Additional disclosure: Investors are always reminded that before making any investment, you should do your own proper due diligence on any name directly or indirectly mentioned in this article. Investors should also consider seeking advice from a broker or financial adviser before making any investment decisions. Any material in this article should be considered general information, and not relied on as a formal investment recommendation.