In case you missed it the other day, my fellow SA colleague Ashraf Eassa, perhaps the best technology writer on this site, wrote a compelling article on why Intel (NASDAQ:INTC) should buy NVIDIA (NASDAQ:NVDA). Ashraf made great points about removing a competitor from the space, and keeping NVDA out of a larger player's hands. He made a tremendous argument from the business and technology side of things. The question today for Intel is if this deal would make financial sense, which is what I will attempt to answer today.
First, a deal price:
NVIDIA closed Wednesday with a market cap of $8.81 billion and a share price of $15.22. Ashraf stated that a potential price could be $25 a share, which based on NVIDIA's share count which would mean an equity value of almost $14.5 billion. This size of deal would be similar to the Google (NASDAQ:GOOG) purchase of Motorola Mobility deal that was completed in 2012.
What would Intel get with this purchase? Here are some key NVIDIA balance sheet statistics, taken from their most recent 10-Q:
Cash and ST Investments of about $2.94 billion.
Current Assets of $3.92 billion, Total assets of $5.57 billion.
Current Liabilities of $936 million, Total Liabilities of $1.4 billion.
For argument's sake, let's assume Intel just swallows NVIDIA in a complete sense, adding everything to Intel's balance sheet. What do I exactly mean by that? Well, I don't want to get into a complex discussion about how Intel can reduce the purchase price by subtracting out cash, figuring out values for other asset/liability categories, etc. For this argument, assume that Intel writes out a $14.5 billion check, the maximum amount possible, and that all of NVIDIA's assets/liabilities go straight to the balance sheet. Intel can use the extra cash down the road for buybacks/dividends, etc., and figure out the rest later. But let's not subtract or add anything from the purchase price for now, and let's figure out if this is doable under the maximum dollar amount needed for the deal.
Deal with equity - erasing last few years:
For this part of the argument, let's assume Intel decides to pay for the entire $14.5 billion purchase with stock. At Wednesday's closing price of $22.59, that equals approximately 642 million shares of Intel. In the most recent 10-Q filing, Intel reported an outstanding share count of 4.981 billion, so this would represent an increase of about 12.9% to the share count, a sizable amount of dilution.
But it is not just dilution that concerns me. The following chart shows Intel's outstanding share count since the end of 2009. Intel has had a strong buyback plan in place, and although it has slowed down tremendously in recent quarters, it has been very effective.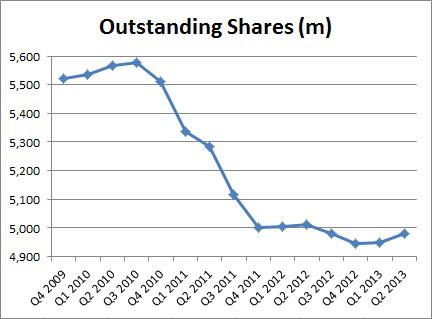 According to cash flow statements for the years 2010-2012 as well as the first half of 2013, Intel has spent $22.5 billion to repurchase stock over that 14 quarter period. That has reduced the share count by 542 million. That's slightly misleading because Intel has sometimes seen a rise in the first half of the year, followed by a decline in the second half. So by the time we finish 2013, they could be close to a 600 million decrease over 3 years. Anyway, since Intel would need to fork over 642 million shares for the NVIDIA deal, they would have completely negated the past three years of the buyback, and probably more than $23 billion worth of purchases (estimation based on 2nd half of 2013). Don't forget, adding on an extra 642 million shares would require an extra $575 million or so in annual dividend payments at the current rate.
Equity dilution - EPS impact:
Intel's earnings per share have fallen in the past few years, despite the aggressive buyback and all the good it has done. After posting an earnings per share (diluted) figure of $2.39 in 2011, Intel's earnings dropped to $2.13 in 2012, and that included a dime benefit from the buyback. Intel's earnings in 2013 are currently forecasted to drop to $1.87, and that will include even more buyback help.
So if you add the extra 12.9% or so to the share count, it obviously is going to have an impact on Intel's earnings per share. Now, some of that you would expect to be offset by the extra business Intel gains from the purchase. In its 2012 fiscal year (ending January 2013), NVIDIA had revenues of $4.28 billion and net income of $562.5 million. NVIDIA is expected to post a revenue and earnings decline this year, so that would bring both of those numbers down. Now we would expect Intel to be able to cut some costs thanks to the purchase, but it would take a lot of cost cutting to make the deal accretive to EPS right away. Intel would probably need about a billion dollars in net income from the "NVIDIA segment" to be accretive to EPS. So in the first year or two, it would actually hurt Intel's earnings per share, but after probably 18-24 months, you'd see some trending higher.
Deal with debt - high interest costs to bear?
Another potential route is to finance the entire acquisition with debt. At the end of Q2, Intel had $13.15 billion in long-term debt, with a little under $300 million in short-term debt. So a $14.5 billion deal would more than double the amount of debt on their balance sheet. The last time Intel had a major debt offering was in late 2012, when they took out debt for their buyback. Here are the details from that:
They issued $3 billion of 1.35 percent, five-year securities to yield 75 basis points more than similar-maturity Treasuries, $1.5 billion of 2.7 percent, 10-year bonds at a relative yield of 115 basis points, and $750 million each of 4 percent, 20-year securities at 130 basis points and 4.25 percent of 30-year debt at 150, according to data compiled by Bloomberg.
So this debt offering for a deal with NVIDIA would be more than twice the size of their previous debt offering. In that one, the key debt issue was the 10-year, which was a 115 basis point spread over treasuries. That implies a 1.55% treasury yield for the 10 year, which is now at 2.66%. So 10-year rates have gone up by about 110 basis points. With rates going up and Intel more than doubling their debt, you would figure the spread would have to be a bit wider now. Also, they got the 30-year debt when that 30-year rate was 2.75%, and the 30-year is now at 3.74%.
So what would a $14.5 billion deal look like now? Well, here's a potential offering that I could see happening:
$7 billion of 5-year notes at 2.40%.
$5 billion of 10-year notes at 4.15%.
$2.5 billion of 30-year notes at 5.50%.
This would result in an annual interest expense of about $513 million, which would be a weighted average interest rate of 3.54%. Obviously, Intel would recover some of that from reduced tax payments, which depends on their tax rate (running around 26% currently). This also assumes that Intel could get the above mentioned rates, and that's only my speculation for a potential debt offering.
A signal that Intel is really struggling:
The main issue I have with this deal is that I think it would send the wrong message to Intel shareholders. As those that have read my extensive coverage of Intel over the past two years know, I've been detailing a crumbling growth story. Intel, which has admitted it was late to the mobile party, has continued to disappoint on the revenue front. First it was 2012, now it is 2013, and 2014 estimates continue to come down by the week it seems.
That's why I am worried that a deal with NVIDIA would look like a quick revenue grab. Intel would be grabbing a company just to boost its revenues, and although it would certainly help, it could signal that Intel just can't do much on its own. That would be a negative signal in my opinion, as it might show that Intel's promising 2014 isn't happening.
Also, if you look at this space, there's another interesting name to look at, and it is Advanced Micro Devices (NYSE:AMD). Why do I bring up AMD? Well, AMD is currently generating a billion or so more a year in revenues than NVIDIA, and probably could be acquired for a third of the price. I'm not going to make this argument on the technology side, that's for someone else to do. But just looking at the numbers, AMD generates a lot more revenues and has a market cap well below $3 billion. It would be a lot easier for Intel to swallow.
The other item to think about is margins. Intel's margins have been coming down in recent years. 2013 gross margins were expected to show more declines, and that was before Intel cut their yearly forecast at the Q2 report. The following table shows GAAP margins for these two firms over the past three years.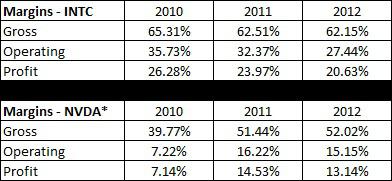 *Fiscal year ends in January, so 2012 year ended in January 2013.
Even though NVIDIA's revenues currently would represent less than 10% of Intel's revenues, you're still looking at a hit to margins. NVIDIA's gross margins have been running well below Intel's. Now, could Intel cut out some operating expenses and improve those numbers, sure. But as the numbers show, NVIDIA's margins are much lower than Intel's, and that is another item that has to be considered regarding a deal.
So what makes most sense?
Would an Intel acquisition of NVIDIA make financial sense? That is the overall question that needs to be answered. While you might not like this answer, my answer is "it depends", and it really does. I would not do this deal if I were Intel and I had to increase my share count by over 600 million. Wiping out more than three years of the buyback and immediately hurting EPS that are down significantly in recent years is not something I'd be a fan of. If I were forced to, I'd rather do a deal requiring all-debt than all-equity, but would Intel want to double its debt load overnight? They might not want to. Also, I think a deal of this size would seem to be a panic move based on Intel's flop during 2012 and 2013. It would signal to me that the company just can't get things going again. Now if Intel could use some of its current cash resources, and maybe do a hybrid debt/equity deal, I think it could be a wise purchase. But to go to one extreme or the other, via debt or equity, that doesn't make total sense to me.
Disclosure: I have no positions in any stocks mentioned, and no plans to initiate any positions within the next 72 hours. I wrote this article myself, and it expresses my own opinions. I am not receiving compensation for it (other than from Seeking Alpha). I have no business relationship with any company whose stock is mentioned in this article.
Additional disclosure: Investors are always reminded that before making any investment, you should do your own proper due diligence on any name directly or indirectly mentioned in this article. Investors should also consider seeking advice from a broker or financial adviser before making any investment decisions. Any material in this article should be considered general information, and not relied on as a formal investment recommendation.