Shares of Teva Pharmaceutical Industries (NASDAQ:TEVA) have gone nowhere for more than a year as the company faces a loss of patent protection on a blockbuster drug. The company's pipeline is weak over the next year and revenue estimates may be tough to manage. These problems are all priced into the shares with no credit for a stronger long-term pipeline, significant cash power and the possibility of an upside surprise on expense reduction. The company stands to be a long-term beneficiary of aging demographics and could provide a good way to hedge medical costs for retirees.
Hedging healthcare costs with healthcare stocks
Risk management is one of the most neglected exercises in investing. Investors spend hours looking for the next big thing but fail to think about how the stocks in their portfolio match their own financial risks. One of the best examples of this is owning too much stock in your own company or companies within your industry. What happens when the industry takes a tumble and you lose your job at the same time your portfolio tanks?
One of the biggest financial risks faced by almost everyone is the increasing cost of healthcare and prescription drugs. Healthcare costs are projected to increase by 6.2% a year over the next decade, while the economy may continue to struggle for growth of 2% a year. Worse yet, to keep premiums low for the exchanges participating in the Affordable Care Act, some may have to pay higher out-of-pocket costs for prescription drugs. The exchanges established by the Affordable Care Act are required to offer at least one drug in each class. This should favor generics as both the exchanges and patients look to lower cost options.
Combining the idea of risk management and increasing healthcare costs means that many investors may want to target a higher proportion of healthcare stocks in their portfolio. Beaten on fears of a weak pipeline and expiring drugs, Teva Pharmaceuticals is the largest generic drug company in the world. Generics accounted for 51% of 2012 sales, followed by branded drugs (40%) and OTC medications (9%).
Copaxone and current weakness
The shares have been rangebound since 2011 when the company reported disappointing results for its multiple sclerosis drug Laquinimod. Other than a breakout to $45 a share in early 2012, the shares have traded within a $6 dollar range from $36.60 to $42.80 over the last two years.
Recent weakness has been on the coming loss of revenue from patent expiration of Copaxone next year. In July, an U.S. court denied Teva's application for a 2015 patent on the drug. As it stands, Copaxone will lose patent protection in May 2014. Credit Suisse forecasts Copaxone sales of just $400,000 in 2019 off of $4 billion in the last fiscal year.
In a recent article, Seeking Alpha contributor Mark Chapman illustrates the before- and after-patent protection sales across four blockbuster drugs. Revenue after expiration ranged from just 3.8% of protected sales to 47.4% of protected sales and an average of 21% of previous year's sales. That means Teva could be looking to fill a $3 billion hole over the year following May 2014. These revenue cliffs are fairly extreme and I am modeling Copaxone to generate 60% of its 2012 sales next year, leaving the company to fill a gap of $1.6 billion. Much of this will be filled with respiratory treatments and other drugs but the risk to lower revenue remains.
To fill the void of lower Copaxone sales, the company plans on doubling revenue from respiratory treatments to $2 billion over the next five years with the possibility of $4 billion in a decade. Management has brought estimates for sales growth down from prior estimates of $2.4 billion set by former CEO Shlomo Yanai but the slower growth may already be reflected in the stock price.
What the company is not getting credit for is the fact that advertising expenses fall 20% on the off-patent year and are 60% lower four years after patent protection. While the company does not break out these costs by drug, it spent $3.9 billion in 2012 on selling and marketing. Over the next couple of years, I think the savings from Copaxone marketing could significantly add to profit margins and surprise the Street consensus.
Financial strength to weather the storm
The shares trade fairly cheaply at 7.8 times adjusted earnings of $4.92 per share. Expectations are for full-year earnings to come down 6.5% to $5.00 this year on $20.1 billion in sales. Expectations for next year are for an improvement to $5.24 per share on flat sales of $20.2 billion.
While lower growth over the next couple of years is a given on pipeline issues, I think the Street is being overly conservative. The company has managed sales growth above 10% a year over the last seven years and has held its net margin fairly consistently at 23% of sales over the last three years.
The company has a boom in its pipeline coming with just eight drugs subject to approval over the near-term but 15 in phase III trials, 13 in phase II and 16 in phase I trials. Management is projecting $4.5 to $5.5 billion per year in organic cash flow to 2017 with the ability to return between $1 and $2 billion to shareholders. That means management has more than $2.5 billion a year for acquisitions to fill its pipeline needs.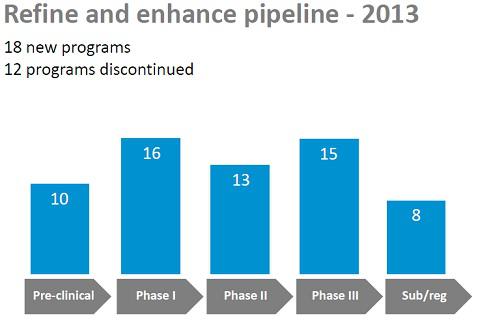 The company is also going through a significant cost reduction plan that could save between $1.5 billion and $2 billion through 2017. Management expects the majority of savings to happen next year and in 2015 with savings between $750 million and $1.25 billion achieved. I imagine much of this is expected off of the patent expiration of Copaxone and related marketing costs.
While near-term value can change quickly on sentiment and the price-earnings multiple, I like to use discounted cash flows for long-term valuation. The discounted cash flow model below assumes a 15% increase in annual dividends through the next four years, well below the company's ten-year compound annual rate of 20%. After the initial period, dividend increases slow to 12.5% in the second stage until the terminal growth rate of 4% per year. I am comfortable with these assumptions though they could be overly conservative given demographic trends and demand growth for generic drugs.
This produces a justified present value of $45.46 on the shares, more than 17% higher than their current price.

Click to enlarge
Adding to my Retirement and Income Portfolio
The company pays a 2.8% yield that is supported by solid cash flow and that has been increased every year since 1999. I am using fears on a weak pipeline and revenue growth to add the shares to my Retirement and Income Portfolio.
Not only does the company have a proven track record for growing revenue and paying a significant dividend but the stock also provides a good hedge for rising medical costs. Including dividends, the stock has provided a compound annual return of 7.6% over the last decade. Given demographic trends and the need for more generics, this rate of return could be beaten over the next ten years.

Click to enlarge
The addition follows Kinder Morgan Energy Partners (NYSE:KMP) on the strength of its long-term assets and Realty Income Corporation (NYSE:O) on its diversified properties and low debt. I will be adding a position each week to a maximum of 10 stocks and then will update the portfolio each month. While these should not be the only stocks in your portfolio, I think they will provide a strong cash and price return over the long-term and are worth a look.
The next couple of years will be challenging for Teva as it faces the patent expiration of Copaxone and waits for its pipeline strength to push through regulatory hurdles. Strong free cash flow should support the shares over the period with acquisitions adding to growth. Over the long-term, the company is well-positioned for changes in healthcare and the demographic shift. The shares will continue to pay a healthy cash yield and should offer long-term price appreciation.
Got a pick or suggestion for the portfolio? I am always open to discussing my analysis with readers. Please use the comment section below for any suggestions or questions.
Disclosure: I am long TEVA, KMP. I wrote this article myself, and it expresses my own opinions. I am not receiving compensation for it (other than from Seeking Alpha). I have no business relationship with any company whose stock is mentioned in this article.