Wynn Resorts, Limited (NASDAQ:WYNN) develops, owns, and operates lavish destination casinos in Las Vegas and Macau. Its flamboyant CEO has a track record of being a tremendous casino operator and top ticking the stock with capital markets transactions. Recently, Mr. Wynn sold 25% of his Macau operations thru an IPO, and we sold with him. Given the weak macro environment, poor operating results, consensus expectations, and an inflated valuation we have initiated a short position in WYNN shares. We added to this position after the company reported earnings on October 27th.
The Macro Landscape
The high end casino has become a crowded space, at no point in the history of mankind have people had more outlets to wager. As government at every level (federal, state, local) seeks tax revenue, the restrictions on gaming are become much more lax domestically. Abroad governments are limiting the amount of gaming in order to avoid saturation and employment volatility. The outlook for destination casinos is not favorable when combining these factors with: political risk, increased supply, a weak consumer travel environment, a pandemic, and a global recession.
Wynn competes in a depressed Las Vegas market with the likes of the Bellagio, Caesars Palace, Mandalay Bay, The Mirage, The Venetian, and The Palazzo. Two more major players will come online in the next 12 months, the Cosmopolitan and MGM's City Center. Along with other projects, 10,000 new hotel rooms will hit the Las Vegas strip by the end of 2010. This does not bode well for casino operators, specifically WYNN, who?ve seen gambling revenue in Las Vegas drop by 14 percent in the first 8 months of 2009. Looking at the revenue trends for the Las Vegas strip it is difficult to come up with any thesis for what will turn things around in the near term.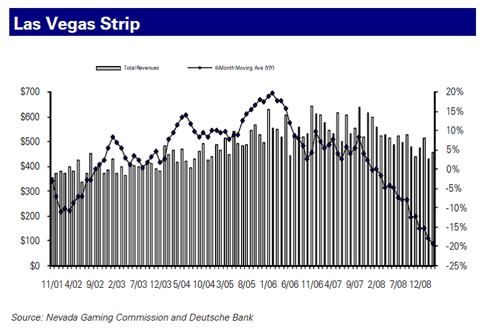 Click to enlarge
In Macau, the picture isn't much prettier. Wynn Macau (and eventually Encore at Wynn Macau) will compete against operators Las Vegas Sands (NYSE:LVS), MGM, and Stanley Ho's crew to name a few. The gaming industry in Macau will face a legitimate regional competitor for the first time as two major properties open in Singapore, adding to existing competition in Malaysia, the Philippines, and Australia. Bottom line, high-end destination gambling is becoming commoditized. So, how then does Wynn set itself apart? Good question. Stiff competition in Macau and the surrounding region will adversely impact EBITDA and the Wynn Macau IPO on October 9th will mark the high end of valuation for the foreseeable future.
Operating Business
WYNN currently relies on a three properties and locations for cash flow. They intended to fund a substantial portion of construction costs of Encore at Wynn Macau with cash flows from Wynn Macau, but operations in Las Vegas became so poor that in 2008 and 2009 Wynn Macau became an the company ATM. We view the IPO of Wynn Macau as a sign that the window to access the capital markets is closing quickly.
Gaming in Macau was liberalized in 2002 by the government who granted concessions (right to operate a casino) to three concessionaires. Wynn Macau was one of the lucky three to receive a concession was granted the right to sell a sub-concession to another operator, which Wynn did to the tune of almost $900 million in 2006. Later that year WYNN declared a $6 dividend ($609 mm) behind EPS of $6.24. CEO Steve Wynn's dividend check: $147 million. Coincidentally enough, the same year he lost $139 million on a Picasso that was destroyed. Again in 2007 WYNN declared a $6 dividend with EPS of $2.34. So how did they pay out $6 in dividends when they're only earning $2.34 per share? Simple, they issued more shares. WYNN paid out $658 million in dividends just three months after secondary offering in which they raised $592 million. A profitable move for the CEO, who pocketed a cool $143 million. As a growth company with billions of dollars in future construction costs it seems logical that WYNN would have kept a significant amount of cash on hand. However, this company is run for Numero Uno, Mr. Wynn.
WYNN shares reached $165 in October 2007 (a secondary was done a month before). Built in to this share price were unattainable expectations of consistent dividends as well as linear growth into infinity. The company had just approved a $1.7 billion dollar equity repurchase plan and operations in Las Vegas and Macau were booming. Fast forward to today. The company raised capital out of desperation in March at $19, and just did it again on October 9th. The balance sheet will be a mess again here shortly. The company is loaded with long-term debt and is struggling to keep cash on hand, thus the Macau IPO. Cash on the balance sheet is not coming from cash flows from operations (which management said would be the case in their 2008 10-K filing), but instead has come from burning up their credit lines, secondary offerings, and said IPO. WYNN cannot declare a dividend until a significant portion of their long-term debt is paid back and they reduce their leverage ratio.
The 2Q09 earnings beat was on cost control, not revenue, so the focus of tomorrows earnings release will likely be on the recovery of the Macau VIP business. If there is an upside surprise, we'll short more, as it will be a blip in a souring business.
Valuation (or lack there of)
Metric : WYNN vs. Peer Group
Price to Cash Flow: 19.39 vs. 9.46
Total Debt to Common Equity: 223% vs 129%
Forward P/E: 62x's vs. n/a
Price to Next Year's EBITDA - 13.76x?s. vs. 9.8x?s (Not good)
Free cash flow yield: -17% vs. 8.5%
Short Interest: 13%
Consensus Expectations
One of the most striking views from the analyst community is the admission that the historical 15-25 EBITDA multiple is not supported by either growth or earnings. What supports it? Free drinks and analyst field trips? Not only do we disagree that the current valuation is attractive, we think it's ludicrous. When you see Street research that is titled "Getting it While the Getting is Good", "Five Reasons We Are Buyers", and a whole slew of notes to the effect "Macau.. rebound, Upgrade, Buy" it is generally time to take a stab on the dark side (short). If Merrill Lynch upgraded it to a Buy and put it on the Top Picks list, we'd use everything including our mother as short collateral. (Since originally written ML did upgrade with a Buy, but our Mom is OK.. so far.) The point is that we are scaling into a short position here based consensus expectations that are laughable and revenues that are down 30%, and trending lower, in the company's cash cow (Macau).
The risk is that a rapid economic recovery takes place, sending shares much higher. We're willing to assume that risk. We recognize that 61% of EDITDA comes from Macau, and that trends appear to be improving based on easy comparables. This optimism is discounted in the stock, and is short sighted.
If the economic growth story in China does not turn out to be quite so pretty, look for analysts to get "pants-ed" in WYNN and take their estimates down just as quickly as they've come up. One thing is for sure, if you look at the time line below, you will see that Wynn generates plenty of underwriting fees for The Street, so no one will slap an outright sell on the name, but doesn't mean they shouldn't.
Anyone who listened to the company's most recent conference call had to have hung up scratching their head. Next to the clown at Overstock.com, it was one of the more bizarre calls I've listened to. When asked what he was going to do with the recently raised cash, Steve Wynn (Weinberg actually), went off on a rant about the government and dodged the question. Not surprisingly, he paid himself a monster dividend and squeezed the shorts within a couple weeks. Good work Steve, by the way, got any water over there?
This brings us to our investment conclusion. We believe a generous fair value of Wynn's shares is $40 based on 9x's 2011 EBITDA. Further, the stock could slide to $25 as EBITDA deterioration continues in the US and weakness starts to appear in the Chinese economy. We will be adding to our position into earnings, especially if the stock pops. This position will be volatile and require patience, but have conviction in our thesis that the macro environment, company fundamentals, operating business, and consensus expectations will pressure both the share price and multiple.
______________________________________________________________
Here's the time line referenced above:
October 2002 - WYNN IPOs at $13 per share raising $449 million
April 2005 - Wynn Las Veags Opens
September 2006 - Wynn Macau Opens
September 2006 - Wynn Macau completes sale of sub-concession for $899.4 million
November 2006 - WYNN declares $6 dividend, paying out $609 million ($147 to CEO Steve Wynn)
June 2007 - WYNN Board of Directors authorizes equity repurchase plan of $1.7 billion
June 2007 - The company enters into a $1 billion term loan facility to (a) fund equity repurchase and (b) $350 million for general corporate purposes.
September 2007 - WYNN secondary offering of 3.75 million shares at $158 raising $592 million
December 2007 - WYNN declares $6 dividend, paying out $658 million ($143 million to CEO Steve Wynn)
November 2008 - WYNN secondary offering of 8 million shares at $43.50 per share raising $348 million
December 2008 - Encore at Wynn Las Vegas opens
December 2008 - WYNN has purchased $1.1 billion of own shares at average price of $84 per share
December 2008 - Wynn Macau borrows $500 million
February 2009 - Wynn Macau borrows additional $500 million, all of which is added to cash balances
March 2009 - WYNN secondary offering of 9.6 million shares at $19 per share raising $175 million

What do you think so far?

Average buying price - $84 per share

Average offering price - $52 per share
One starts to wonder if these guys are managing a public company or the stock price. We don't think they are doing either very well.
Disclosure: We are short WYNN, however, I am booking a $129/night room in another window as we speak.. so, no hard feelings Steve.