We are seeing shares of Qualcomm (NASDAQ:QCOM) decline from the recent peak. During the previous quarter, the company reported outstanding financial performance. Further, the returning of capital to shareholders is boosting the valuations of the firm. Looking forward, the near term to intermediate term, industry dynamics remain favorable, but a transition to single mode 4G products remains a looming risk to the results of operations.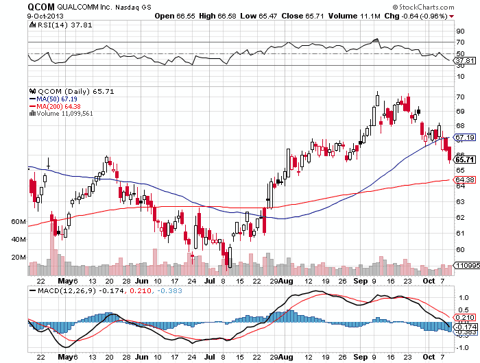 Click to enlarge
Qualcomm should benefit from the rollout of the iPhone 5S and 5C as well as the release of the Samsung Galaxy S4. The impact should be visible in the September, December and March quarters.
I continue to be bullish on shares of Qualcomm; I think the recent decline in the share price is an opportunity to accumulate shares at a reasonable valuation. But, Qualcomm could be more of a long-term investment as the market seems to be pricing in potential weakness of the underlying business.
Risks
The QCT segment derives a significant portion of revenues from a small number of customers, and Qualcomm may be unable to further diversify its customer base. In addition, the industry is experiencing and may continue to experience an increasing concentration of device share among a few companies, and this trend may result in an increasing portion of Qualcomm's revenues being derived from a small number of customers.

The royalty rates for single mode 4G products are generally lower than the royalty rates for 3G and 3G/4G multimode products, and therefore, Qualcomm might not achieve the same licensing revenues on LTE products as on 3G-based or 3G/4G-based multimode products.

The share price can go to $0 and investors can lose all of their investment.
Financial Analysis
I am going to analyze the historic financial performance of Intel (NASDAQ:INTC) and Qualcomm; the two companies compete in similar markets and could be substitute investments.
Qualcomm is growing at an unsustainable rate, but the transition to a sustainable rate could be smooth. Since fiscal 2003 to the twelve trailing months, revenue increased at a CAGR of 19.33%. During the same period, net income from continuing operations increased at a CAGR of 23.05%, but cash flow from operations increased at a 15.73% CAGR. The dividend CAGR was 30.19% during that period, but slowed to 17.06% between 2010 and the twelve trailing months.
On the other hand, Intel is growing at a sustainable rate. Revenue increased at a CAGR of 5.67% and EPS increased at a CAGR of 8.31%. Both companies expanded capacity in line with their growth rates.
Intel's profitability is improving while Qualcomm's profitability is deteriorating. At this point, the gross margins are roughly equal, but Qualcomm is more profitable in terms of net income. Intel is slightly more profitable in terms of EBITDA.
Qualcomm's chipset business is driving the gross margin lower and the decline could continue in fiscal 2014. We'll have to see what color management offers following the release of earnings.
In comparing these two companies on a consolidated basis, there are different exposures: Intel's Other Intel Architecture operating segment more closely aligns with Qualcomm's operations. Intel's revenue from the operating segment declined in fiscal 2012 and is on pace to decline this year. The company has some new offerings coming out late in 2013 and in the first half of 2014 that are expected to be more competitive in the market. Consequently, Qualcomm may not be adversely impacted until fiscal 2014-2016.
Overall, Qualcomm's financials paint a bullish picture. The cash usage has been excellent and the balance sheet appears clean. There was a substantial amount of EPS growth, but the rate may be tempered by increased competition in the coming years.
Valuations
To value the common equity shares of Qualcomm, I will use multiplier models, discounted cash flows, and an estimate of the market's growth expectations. At the end of this section is a conclusion based on the valuations.
For fiscal 2014, I am forecasting fiscal 2014 revenue of $27.8 billion. Operating income should be about $8.34 billion and net income should be about $7.98 billion.
Using the trailing P/E ratios, Qualcomm appears cheap relative to Intel: Qualcomm is growing at a much faster pace than Intel, but Qualcomm is trading at 17.7 times earnings and Intel is trading at 12.1 times earnings.
The discounted cash flow model suggests Qualcomm is undervalued. The intrinsic value using this model is $97.63. Previously, I estimated the intrinsic value as $66.50, but as new information was accounted for in my forecast, the equity spread tightened. The tightening of the equity spread is mostly attributable to a decline of the cost of equity.
Right now, the market price of Qualcomm includes a 22% growth premium. That is relatively low when you consider the growth rate of the company. Consequently, I think there is room for more growth to be priced into the share price.
Relative to its historic average valuations, Qualcomm is undervalued. On a short-term basis, the valuations may be a bit extended, but relative to the industry there is room for multiple expansion.
Overall, Qualcomm is undervalued. I would use this recent weakness to accumulate shares. Personally, I would like to accumulate shares below $65 and distribute shares in the $100 region.
Disclosure: I have no positions in any stocks mentioned, and no plans to initiate any positions within the next 72 hours. I wrote this article myself, and it expresses my own opinions. I am not receiving compensation for it (other than from Seeking Alpha). I have no business relationship with any company whose stock is mentioned in this article.