Halliburton (NYSE:HAL) is a U.S.-based multinational oilfield services company engaging in drilling and exploration services. From managing and analyzing geological data to drilling service and productivity optimization, Halliburton works with oil majors around the world to ensure efficiency of oil production. Halliburton provides essential engineering services to the oil and gas industry (an industry that has historically achieved large excess free cash flows). Halliburton shares have run up 166% over the last five years, quickly recovering from the Deepwater Horizon oil spill disaster in the Gulf of Mexico that affected BP, Transocean (NYSE:RIG) and Halliburton. BP clearly took the majority of the blame as evidenced by massive underperformance over any measurement period in the last five years.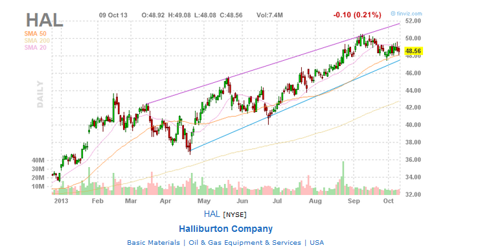 Industry trends
A variety of articles on SA are pointing out increasing global energy demand projections. Millions of millions of people in Asia are being lifted out of poverty every year raising demand for transportation means and energy commodities. In Q2 2013, Halliburton presented an insightful graph about projected world oil demand and drilling/completion spending until 2015 (provided below). It is no secret that global oil supplies are quickly running out as Asian consumption accelerates and new supplies coming to market are increasingly rare. A a result, drilling and completion spending is expected to rise as exploration becomes more and more difficult. Energy reservoirs are low lying and harder to reach than ever posting significant engineering challenges. Improving well productivity and increasing well life also require Halliburton's engineering know-how that will increase the relevance of Halliburton's services in the value chain.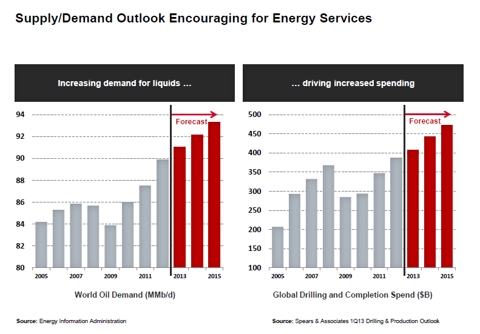 Segment growth above market growth
Based on Spears & Associates' April 2013 Oilfield Market Report Halliburton outperforms the market in terms of segment compound annual growth rates. The five-year Halliburton compound annual growth rates are above market rates in five out of six segments. In both Wireline and Drill Bits Halliburton substantially outperforms the market. An overview of segment market sizes, Halliburton's relative positioning and CAGR comparisons for each segment are provided below: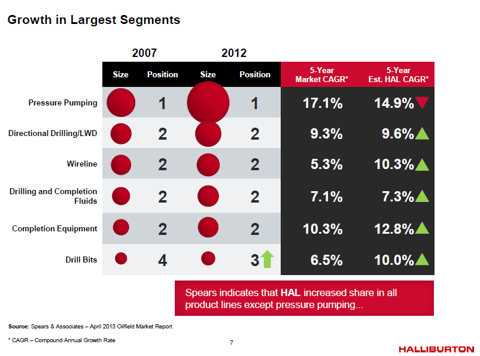 Revenue breakdown and development
52% of Halliburton's Q2 2013 revenues originated in North America with encouraging trends in the Gulf of Mexico, 18% in Europe/Africa, 17% in Middle East/Asia and 13% in Latin America. Given America's shale gas boom, I expect the United States to contribute the majority of Halliburton's revenues and earnings in the future. In terms of revenue growth, Halliburton was able to outperform its peers both in North America and internationally.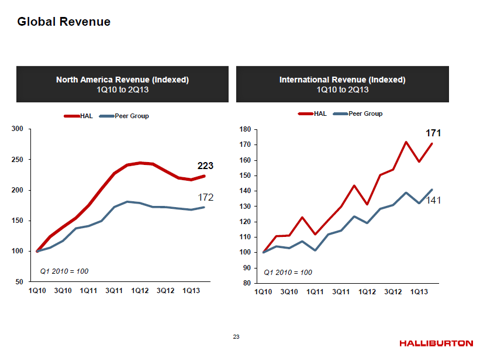 Market valuation
Despite share gains over the course of this year Halliburton is still the cheapest oilfield services company in the peer group. At 11.57 leading earnings Halliburton is much cheaper than Schlumberger (NYSE:SLB) at 15.15 and marginally more attractive than Baker Hughes (NYSE:BHI) at 11.87. In terms of EV/EBITDA Halliburton takes the second spot at 8.61 and Baker Hughes ranks cheapest at 7.18. Again, Schlumberger plays in its own league valuation-wise.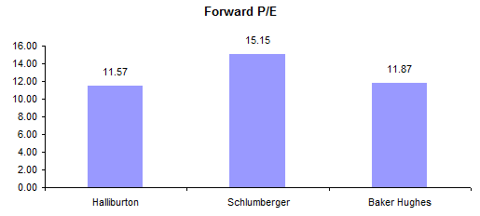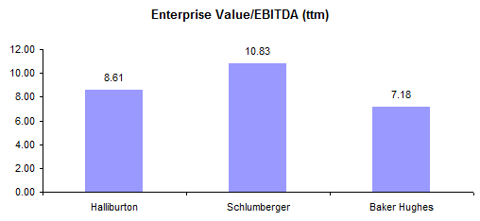 Income investors clearly should look outside the oil service sector for dividends. Revenues, earnings and cash flows will depend on future exploration activities, which are also influenced by volatile oil prices. Oil service companies are still cyclical in nature. The resulting risk premium embedded in shares means that share gains will come from price appreciation rather than cash flows. Investors looking for dividend plays may look for BP or Total, which have above-peer average yields.

A summary table containing the most relevant valuation metrics as well as discounts/premiums to peer group P/E, EV/EBITDA, PEG and dividend yield averages is provided below:

Conclusion
Halliburton operates in an industry that is confronted with increasingly complex drilling and exploration work. Halliburton has the expertise to implement drilling solutions, increasing well lives, which increases well productivity for oil majors. The company provides an essential service to large-cap oil companies that depend on outsourced engineering know-how to assure much needed oil supplies can come to the market. Halliburton has impressive growth records compared with the market over the last five years and despite a run-up in share price is still fetching a comparatively low valuation. A strong market position in the U.S., above-average segment growth compared to the market and outperforming revenue growth all justify a higher market valuation. I believe premium results also deserve a premium valuation and Halliburton could achieve a forward earnings multiple of 15 in the long-term which would better reflect the strong fundamentals of the company. The current earnings multiple stands at 11.57 giving the shares 30% upside potential. A long-term Buy for investors looking for capital gains rather than dividends.
Disclosure: I am long BP. I wrote this article myself, and it expresses my own opinions. I am not receiving compensation for it (other than from Seeking Alpha). I have no business relationship with any company whose stock is mentioned in this article.