Enrollment in Phase I Study of ARC-520 Completed
On October 8, 2013, Arrowhead Research Corporation (ARWR) announced that it has completed enrollment in a Phase I clinical trial of ARC-520, its RNAi-based candidate against chronic hepatitis B virus infection.
ARC-520 is an RNAi-based therapeutic in development by Arrowhead for the treatment of hepatitis B virus (HBV) infection using the Company's Dynamic Polyconjugate (DPC) technology.
ARC-520 consists of two siRNA (siHBV-74 and siHBV-77) trigger molecules which target a sequence that is shared by all four of the mRNAs produced by the HB virus. The targeted sequence is highly conserved across HBV. The duplexes provide coverage of over 99.6% of known sequences. These RNAi triggers incorporate structural modifications to enhance stability in biological fluids and are conjugated to cholesterol, which acts as a liver-targeting group. These conjugated RNAi triggers (siHBV-74 and siHBV-77) are co-injected with a targeted endsomolytic agent, NAG-MLP. NAG-MLP is composed of the amphipathic polymer bee venom melittin, to which the targeting ligand N-acetylgalactosamine has been attached via acid-sensitive linkers. Once the siRNAs and the active excipient are taken up by the hepatocytes, the polymeric amines are unmasked in the endosome and disrupt the endosomal membrane, releasing the siRNA to the cytoplasm where it can engage the RNAi machinery of the cell.
The siRNAs in ARC-520 target the mRNAs that produce HBsAg proteins, the viral polymerase, the core protein that forms the capsid, and the HBeAg.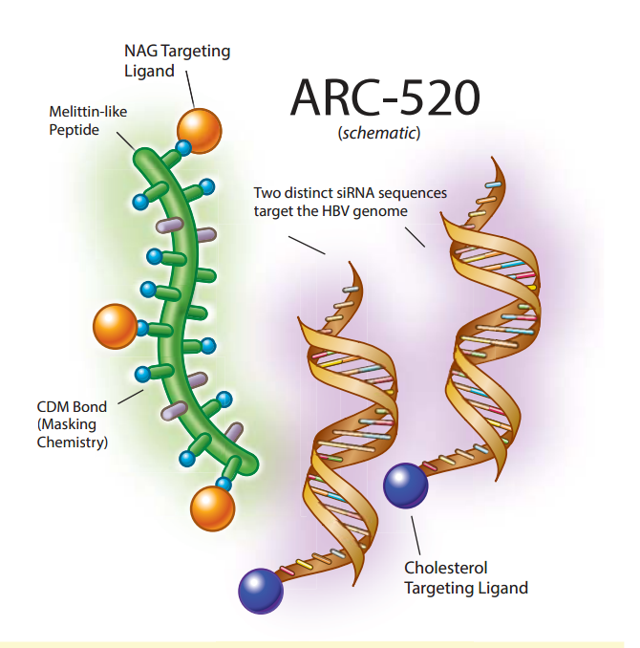 Click to enlarge
Arrowhead began dosing in a Phase I clinical trial of ARC-520 on July 23, 2013 in Australia.
The Phase I trial was designed to characterize the safety profile of ARC-520 across a range of doses and evaluate pharmacokinetics. It is a single-center, randomized, double-blind, placebo-controlled, single dose-escalation, first-in-human study of ARC-520 administered intravenously to healthy adult volunteers. All subjects have been dosed and received either placebo or ARC-520 in doses ranging from 0.01 mg/kg to 2 mg/kg.
The study was planned to enroll 36 subjects in six cohorts of six subjects each, with 2 subjects receiving placebo and 4 receiving ARC-520. The study successfully enrolled all 36 subjects (24 received ARC-520, 12 placebo) at a single center in Melbourne, Australia. All subjects received their full, assigned dose and there were no discontinuations for adverse events or otherwise.
Initial data indicate that ARC-520 is generally safe and well tolerated at all six dose levels studied, enabling the company to proceed with plans to initiate a Phase IIa pilot efficacy study in chronic HBV patients.
In this Phase I study, laboratory results have not indicated any organ toxicity involving the liver, kidney, or muscle in any subject. There have been no serious or severe adverse events reported in any subject. Overall, adverse events have been consistent with those typically seen in normal volunteer studies, including in placebo subjects.
The most common events reported were upper respiratory infection (7), which were not unexpected as the trial was enrolled during the Australian winter, and headache (7). The only other events reported in more than one subject were mild lightheadedness (2), which were not accompanied by any changes in vital signs, laboratories or physical examinations. One subject developed an urticarial rash with no other physical findings, and was treated successfully with anti-histamine. Adverse events appear to have been randomly scattered across all six dosing groups with no apparent dose-related increases in occurrence rate or severity with the possible exception of mild lightheadedness. Both subjects with mild lightheadedness were in the 2 mg/kg group. Laboratory abnormalities have occurred sporadically across groups and time points pre- and post-dosing. None of these indicate any organ toxicity and the frequency and severity do not appear to be dose-related.
The study remains blinded and follow-up is ongoing. Arrowhead intends to report additional data including pharmacokinetics and relative occurrence rates for adverse events in placebo and ARC-520 treatment groups at an appropriate venue when those data become available.
Phase IIa Trial is Planned for ARC-520
The company plans to use the blinded analysis available now to move forward with a filing seeking approval to proceed with a Phase IIa trial in Hong Kong in early 2014 in Hong Kong. A Phase IIb study of ARC-520 will begin in the second half of 2014.
We think ARC-520 is the primary value driver in near- and mid-term for Arrowhead. The successful development of ARC-520 is critical to Arrowhead because the HBV market offers opportunities for substantial revenues, and because validation of the Company's RNAi delivery technology opens broad opportunities both for other therapeutic programs and licensing opportunities.
In this regard, the completion of the Phase I study of ARC-520 represents an important milestone for Arrowhead in achieving its long term growth goal. One of the attractive features of RNAi and of DPCs specifically is once the safety profile in man for the delivery system has been established, additional targets and candidates can be studied rapidly. Therefore the Phase I trial of ARC-520 will provide the company with the data needed to accelerate the development of its pipeline and bring additional candidates into the clinic.
Beyond ARC-520, Arrowhead is actively working on designating its next clinical candidate that will use DPC delivery. The company has consulted with expert advisors on targets of interest and will convene a meeting with the full board next week. Arrowhead intends to have at least one candidate nominated next year.
Market Opportunity for ARC-520
Two billion people globally have been infected with HBV, and approximately 350 million are chronic carriers, including approximately 1.5-2.2 million people in the US. Among the chronically infected, 15% - 40% will develop cirrhosis and/or hepatocellular carcinoma. Each year approximately 5000 people in the US and 1 million worldwide die from cirrhosis, liver failure or hepatocellular carcinoma resulting from HBV infection.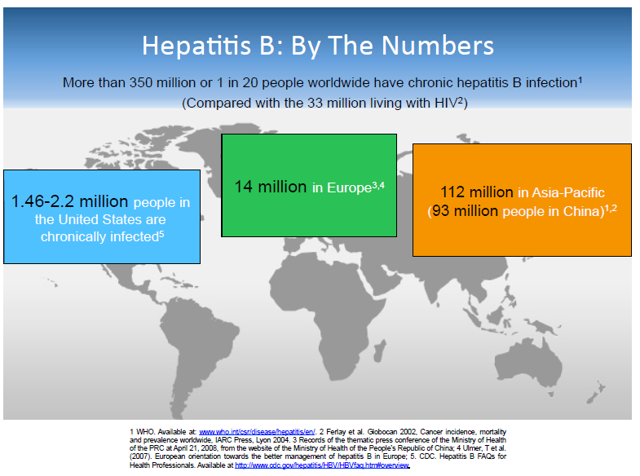 Click to enlarge
Currently seven drugs are available in the US for the treatment of HBV. They are classified as two classes: Interferons include Pegasys and Intron A; and Nucleosides/Nucleosides include Lamivudine, Telbivudine, Entecavir, Tenofovir, and Adefovir dipivoxil.
None of the above available treatment options offers a significant opportunity for HBsAg clearance, which is considered a functional cure.
HBV market represents a multi-billion dollar opportunity and current therapeutic regimes have limitations. There is an unmet medical need for HBV patients, especially for patients with chronic HBV infection. Any new medicine with increased efficacy and/or safety profile will be in high demand.
ARC-520 is a siRNA therapeutic in development which may provide a meaningful alternative for the treatment of chronic HBV. ARC-520 has a differentiated mechanism of action compared to that of existing anti-HBV drugs. The mechanism of RNA interference could provide a powerful new treatment for hepatitis B through the unique ability to specifically reduce the amount of circulating HBV antigens.
ARC-520 has already demonstrated the ability to reduce HBsAg, HBeAg, and viral DNA dramatically in multiple animal models with excellent safety profile. The Phase I trial demonstrated that ARC-520 is safe in humans.
Balance Sheet Boosted With Recent Financing
On October 8, 2013, Arrowhead announced that it has priced a private offering with net proceeds expected to be $60 million. The offering was priced at $5.86 per share of common stock.
Approximately 3,071,000 shares of common stock and 46,000 shares of a newly issued class of preferred stock to be designated as the series C convertible preferred stock are expected to be issued at closing. The series C preferred shares, which are non-voting securities, are priced at $1,000 per share, are convertible into shares of common stock at a conversion price of $5.86 per share of common stock, pay no dividend, and include no liquidation preference. The offering is expected to close on or about October 11, 2013, subject to the satisfaction of customary closing conditions.
We are very pleased that Arrowhead priced its share offering at market price. This not only strengths its balance sheet, but more importantly, validates Arrowhead's technology.
The company's cash and short-term investments were $33.1 million at June 30, 2013. With the proceeds from the new financing, the company's cash should be able to last into fiscal 2016. The strengthened balance sheet will allow the Company to accelerate the development of its pipeline.
Diversified Pipeline Based On Three Platform Technologies
Over the years, Arrowhead has developed/acquired three proprietary drug delivery platform technologies:
The Dynamic Polyconjugate (DPC) platform is an siRNA delivery system. It is a modular system that may be optimized on a target-by-target basis and has been demonstrated to promote multi-log gene knockdown in rodents and non-human primates, induce efficient endosomal escape, and has wide safety margins using a variety of siRNA molecules.
RONDEL is also an siRNA delivery system that has demonstrated effective systemic siRNA delivery, RNAi-mediated mRNA and protein knockdown in human melanoma patients.
Homing Peptides platform is a vast, proprietary library of short peptides that have demonstrated rapid and specific internalization into a wide variety of cell types. This library is being mined for the potential development of peptide-drug conjugates (PDCs) and companion diagnostics. Arrowhead plans to develop the targeting peptides for use with its RNAi delivery platforms.
The modular and synergistic design of each platform provides a broad base for the development of further products through the optimized combination of delivery vehicle, targeting agent and therapeutic agent.
Based on the three platform technologies, Arrowhead has built a diversified pipeline with development programs in oncology, obesity, and chronic hepatitis B virus (HBV) infection. These targeted drug candidates are under both internal and partnered development.
Arrowhead's pipeline is intended to drive value directly through the development process and to provide proof of concept for the platform technologies. The Company actively seeks collaboration and licensing agreements with leading biopharmaceutical companies to advance the development and commercialization of its technology platforms and drug candidates. Partnerships provide to access external expertise and capital to complement its internal research and create commercialization opportunities in areas outside of the Company's core focus.
In addition to ARC-520, another internal lead program is Adipotide.
Adipotide for Obesity
Adipotide for obesity is Arrowhead's first candidate using Homing Peptide Technology. Adipotide is being developed by Arrowhead's majority-owned subsidiary Ablaris Therapeutics. Arrowhead owns 64% of the fully diluted shares of Ablaris.
White adipose tissue (fat) is highly vascularized and both the expansion and maintenance of adipose tissue depend on a continued ability to build supporting vasculature. Targeting vasculature allows for specific delivery of drug payloads to specific target cells, while avoiding collateral injury to other healthy/non-targeted cells.
Adipotide is designed to selectively destroy the blood supply that supports the growth of unhealthy fat by the targeted induction of apoptosis (cell death) in the vasculature of adipose tissue. The peptide consists of two functional domains. The homing domain targets a membrane associated protein, Prohibitin, on adipose vascular endothelial cells. The membrane disrupting domain causes apotosis by disrupting mitochondrial membranes inside the cells.
The design of Adipotide provides a novel mechanism of action compared to other therapeutics on the market or in trials. There is no modulation of neurotransmitters for Adipotide, thus unlikely having psychological side effects. Adipotide has no amphetamine-like mechanism of action and thus unlikely to yield gastrointestinal side effects.
In preclinical studies, obese mice treated with Adipotide lost 30% of their body weight over 4 weeks, experienced appetite suppression, reduction in the symptoms of diabetes, and reversal of steatosis (fatty liver).
In association with MD Anderson, which is assuming all costs of the trial, the Company is conducting a Phase I trial of Adipotide (initiated in 2012). Up to 39 obese prostate cancer patients will be treated in the Phase I study. Up to 5 dose levels of the drug will be tested. Three participants will be enrolled at each dose level, with the first group of participants receiving the lowest dose level by injection under the skin once per day for 28 days and each new group receiving a higher dose than the group before it, if no intolerable side effects are seen. This will continue until the highest tolerable dose is found.
Patient recruitment for the Phase I study is ongoing. Accrual was slower than anticipated because the principal investigator left MD Anderson to join another institution and a new PI had to be identified to restart recruitment. The inclusion/exclusion criteria have also since been revised to broaden the patient population that may participate. Arrowhead expects to have some interim data available within the next year.
Obesity is the number one health threat and one of the leading causes of preventable deaths in the United States. Roughly one third of the U.S. adult population, according to the CDC, suffers from obesity. Obesity is also a significant health problem outside of the United States. According to the World Health Organization, there are as many as 1.6 billion people worldwide considered to be overweight, with at least 400 million estimated to be obese.
While there has been a broad recognition of obesity as a public health crisis, there continues to be a significant unmet need for more effective pharmacological interventions. Obesity is related to the increased prevalence of diabetes, cancer, hypertension, high cholesterol, coronary artery disease, sleep apnea, liver and pulmonary disease, among other conditions. Beyond these consequences, a number of co-morbidities involving the CNS may be complicated by obesity. These co-morbidities include anxiety, depression, substance abuse, chronic pain and insomnia. Physicians in the United States report that approximately 63% of their obese patients have been diagnosed with depression or display signs and symptoms of untreated depression.
The FDA recently approved Qsymia (Vivus) and Belviq (Arena Pharmaceuticals) for the treatment of obesity. Qsymia and Belviq have demonstrated meaningful efficacy for obese patients in human trials, but both have cardiovascular side effects. Qsymia may also be related to birth defect if used by pregnant women.
Adipotide is a targeted therapy and has a differentiated mechanism of action for obesity. This leads to a favorable safety profile. If successfully developed, Adipotide could capture a significant share of the obesity market.
Valuation Is Still Attractive
We reiterate our Outperform rating on Arrowhead shares, and raise our price target to $10 per share from previous $7.50.
Since we initiated the coverage of Arrowhead in mid-June 2013, share price has tripled as of this writing. We think there is still enough room for further appreciation.
Currently, Arrowhead shares are trading at around $6.80 per share, which values the Company at about $265 million in market cap based on 39 million outstanding shares. This is still a deep discount.
Most small biotech companies of development stage are valued from $50 million to $500 million depending on how advanced the pipeline is and which indications the company is targeting. Arrowhead has built a diversified pipeline and its three lead candidates are all in Phase I studies and will enter Phase II soon. The Company's anti-HBV drug candidate ARC-520 has demonstrated compelling efficacy data and safety profile in animal studies and has the potential for functional cure of HBV infection. We estimate that ARC-520 could be approved in the US in 2017 and has a blockbuster potential.
Our price target values Arrowhead at $390 million in market cap, which we think is conservative compared to its peers.
| | | | | | | | |
| --- | --- | --- | --- | --- | --- | --- | --- |
| Name | Ticker | Share Price | Market Cap ($million) | Phase I | Phase II | Phase III | Marketed Products |
| | | | | | | | |
| Isis | ISIS | $31.37 | $3,620.00 | 5 | 15 | 2 | 1 |
| Alnylam | ALNY | $57.00 | $3,590.00 | 4 | 3 | 0 | 0 |
| Regulus | RGLS | $9.28 | $336.00 | 0 | 0 | 0 | 0 |
| Tekmira | TKMR | $10.80 | $129.00 | 3 | 2 | 0 | 0 |
| Sarepta | SRPT | $50.05 | $1,680.00 | 3 | 1 | 0 | 0 |
| RXi | RXII | $3.39 | $40.00 | 1 | 0 | 0 | 0 |
| Bio-Path | BPTH | $1.75 | $132.00 | 1 | 0 | 0 | 0 |
| Arrowhead | ARWR | $6.80 | $265.00 | 2 | 1 | 0 | 0 |
| | | | | | | | |
| Average | | $21.31 | $1,217.75 | | | | |
Disclosure: I have no positions in any stocks mentioned, and no plans to initiate any positions within the next 72 hours. I wrote this article myself, and it expresses my own opinions. I am not receiving compensation for it (other than from Seeking Alpha). I have no business relationship with any company whose stock is mentioned in this article.
Disclosure: I/we have no positions in any stocks mentioned, and no plans to initiate any positions within the next 72 hours.
Business relationship disclosure: I work as a Consultant Analyst for Zacks Investment Research. The article is written by me and is 100% my opinion. I receive compensation from Zacks for writing equity research reports and providing valuation analysis on this company's stock and expect to do so in the future. Zacks receives compensation from the company. Please see the Zacks Disclaimer for further information: http://scr.zacks.com/Disclaimer/default.aspx