Sprint Inc. (NYSE:S) is on track to posing a serious threat to the major players in the communication sector. Its major deals with Softbank (OTCPK:SFTBF) and Clearwire (CLWR) will provide large-spectrum financial backing and a solid product line to challenge its competitors. The company provides communication solutions that incorporate the wireless and wireline services. It is the third largest wireless communications company in the U.S. (based on wireless revenue), one of the largest providers of wireline long-distance services, and one of the largest Internet carriers in the nation.
The company offers wireless and wireline voice and data transmission services to subscribers in all 50 states, Puerto Rico, and the U.S. Virgin Islands under the Sprint corporate brand; includes its retail brands of Sprint, Boost Mobile, Virgin Mobile and Assurance Wireless. The company offers services on networks that utilize third- generation (3G), code division multiple access (OTCPK:CDMA), integrated Digital Enhanced Network (iDEN), or Internet protocol technologies. The company also offers fourth generation (4G) services through its deployment of Long Term Evolution (LTE) as part of its network modernization plan and Network Vision plan.
Operating Segmentation
Sprint operates two reportable segments: wireless and wireline. Its wireless segment includes retail, wholesale and affiliate revenue from a wide array of wireless voice and data transmission services as well as equipment revenue from the sale of wireless devices and accessories in the U.S., Puerto Rico and the U.S. Virgin Islands. Similarly, its wireline segment includes revenue from domestic and international wireline voice and data communication services primarily used by residential end-use subscribers.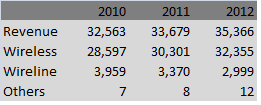 The majority of the company's revenue comes from its wireless segment that constitutes 87.8%, 90% and 91.5% in year 2010, 2011 and 2012, respectively. The company's wire line segment has been experiencing a decrease as prices decline and many customers decide to in-source their digital voice products.
Wireless Segment
The wireless segment generates revenues from the sale of wireless services, the sale of wireless devices and accessories and the sale of wholesale and other services. The service revenue consists of fixed monthly recurring charges, varying usage charges and miscellaneous fees such as activation fees, directory assistance, roaming, equipment protection, late payment, early termination charges and certain regulatory related fees, net of service credits.
The retail service revenue increased $1.5 billion, or 6%, in 2012 compared to 2011 and increased $1.5 billion, or 6% in 2011 compared to 2010. The increase in retail service revenue in 2012, in comparison to 2011, reflects an increase in Sprint platform postpaid service revenue that refers to our $10 premium data add-on charge, required for all smartphones, and continued popularity of unlimited and bundled plans combined with increases in roaming and miscellaneous fees. The increase in revenue can also be attributed to the continued growth of subscribers from its Assurance Wireless brand as well as a growing number of subscribers on their remaining prepaid brands who are choosing higher rate plans as a result of the increased availability of smartphones.
For communication companies like Sprint, average revenue per user is important for tracking revenue sources and growth.

Source: Annual report 2012
The table above shows the company's end of period postpaid and prepaid subscribers and its ARPU over the three-year period. There is an increase in postpaid subscribers due to the attractive packages offered by the company. On other hand, its postpaid ARPU increased over the years primarily due to increased revenues from the $10 premium data add-on charges for all smartphones and increases in roaming and other fees. There is a 3.10% drop in prepaid subscribers, compared to last quarter due to the shutdown of its Nextel business segment. However, the prepaid ARPU improved in the last quarter of 2013, as subscribers opt for higher priced plans to take advantage of international offerings and the increased availability of smartphones.
The company formalized its plan to decommission the Nextel platform as part of Network Vision and sought to shut down the Nextel platform by June 30, 2013. During 2012, the company focused its efforts on enveloping Nextel platform subscribers under its ongoing Sprint platform. As a result of these efforts, the company successfully recaptured 55% of the postpaid and 33% of the prepaid subscribers who had previously deactivated their service from the Nextel platform during 2012. As of June 30, 2013, the company has added over 4 million Nextel subscribers to the Sprint platform since Network Vision commenced in early 2011.
Wireline Segment
The company's wireline segment is divided into three sub-segments: voice, data and Internet.

Source: Annual Report 2012
Voice revenues decreased $288 million, or 15%, in 2012 compared to $334 million or 15% in 2011. The decrease was driven by overall price declines, out of which $174 million was attributed to the decline in prices for the sale of wireless services as well as a decline in product demand due to the unpredictable nature of customers. Data revenues reflect the sales of data services, primarily Private Line, and also include ATM, frame relay and managed network services bundled with non-IP data access. Data revenues decreased $62 million or 13%, in 2012 compared to sales data in 2011 and $59 million or 11%, in 2011 compared to sales data in 2010. This can be attributed to changes in customer preferences and driven by the focus to no longer provide frame relay and ATM services in each of those periods. Internet revenues reflect sales of IP-based data services including MPLS, VoIP and SIP and managed services bundled with IP-based data access. Internet revenues decreased $97 million, or 5%, in 2012 from 2011 and $297 million, or 14%, in 2011 from 2010.This can be attributed to the fact that some customers decided to in-source their digital voice products resulting in a $98 million decrease in 2012.
Phases of Turnaround
Over the past few years the company has struggled to generate profit margins, despite a consistent growth in revenue, because the company was attempting to improve brand image and eliminate costs to stay competitive.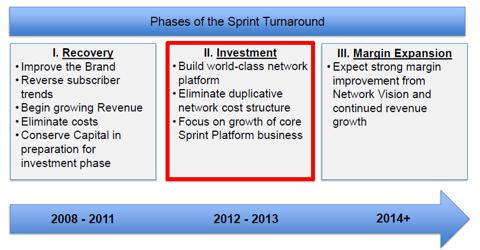 Source: Q1Y2013 earning presentation
The company is moving ahead with a new strategy after its long and troublesome merger with Nextel. The partnership with Nextel finally came to an end after the complete shutdown of Nextel Network in June 2013. The company continues to invest and has acquired Clearwire. Also, Sprint was recently acquired by Softbank. The potential synergies of the two acquisitions would help Sprint create a platform for the 4G technology in the U.S. With the help of Clearwire's spectrum and the financial muscle of Softbank the company is planning to challenge its biggest rivals AT&T (NYSE:T) and Verizon (NYSE:VZ).
New iPhone To Boost Sales
The launch of the iPhone 5C and 5S entered the market on September20, 2013. In just three days after the launch, Apple sold 9 million new iPhones, setting a new record. With such record sales, Sprint launched iPhone 5S and 5C on its network on Sep 20, 2013. It rolled out its upgrade plan "One Up" to give users unlimited 4G speed at a lower price than any national carrier and the option for customers to upgrade their phones every 12 months. It also waived $100 from the price of the iPhone 5S and 5C to lure new subscribers from rival networks. New customers were needed urgently after losing many subscribers due to the shutdown of its iDen network and Clearwire's Wimax network. The shutdown of Nextel proved to be an effective strategy since it was an aging 2G network, and other carriers were already moving on from 3G to 4G networks.
4G LTE Expansion
In order to compete against its rivals AT&T and Verizon, and keep up with the growing demand for high-speed data, the company is planning to expand its 4G LTE services in 34 additional markets totaling 185 markets in the U.S. wireless service market. Currently, as part of Network Vision, Sprint has launched 4G LTE in 151 cities, including Los Angeles, Dallas, Atlanta, Miami, and Boston. Sprint expects to provide 200 million customers with LTE by the end of 2013. Furthermore, more than 20,000 Network Vision sites are on air compared to the 13,500 reported in the first quarter of 2013. The number of sites that are either ready for construction, already under way or completed has now grown to more than 30,000. Softbank's acquisition of Sprint gave the company strong financial backing and advanced 4G technology. With the help of Clearwire's vast spectrum and Softbank 4G technology, Sprint will be able to build a strong 4G LTE network in the U.S. to compete against the market leaders.
Conclusion
Sprint is well on its way to releasing its 4G network but is still very distant from the market leaders. However, the company's association with Softbank and Clearwire will help it procure a dominant position in the wireless market in the coming years. In addition, the company is aggressively targeting its rivals with promotional offers and unlimited data service to snatch their subscribers. The important task for the company is increasing the speed at which it will expand its 4G network and grab market share in order to show positive earnings to investors.
Disclosure: I have no positions in any stocks mentioned, and no plans to initiate any positions within the next 72 hours. I wrote this article myself, and it expresses my own opinions. I am not receiving compensation for it (other than from Seeking Alpha). I have no business relationship with any company whose stock is mentioned in this article.