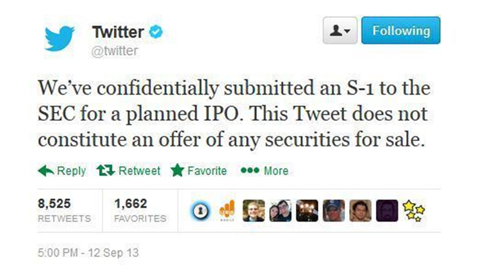 If you haven't already noticed by now Twitter's (NYSE:TWTR) initial public offering [IPO] is in full swing. From newspapers to blogs, to radio and TV, Twitter has become the talk of the town as it looks to go public soon.
News of Twitter's IPO has even caught the world's attention as the company looks to capitalize on being the next big thing since Facebook (NASDAQ:FB) went public last year.
However, news of Twitter's IPO brings with it many questions. Is the industry here to stay, or is it just a passing fad? How much is the company worth? One of the biggest things to determine when companies go public is determining the right valuation.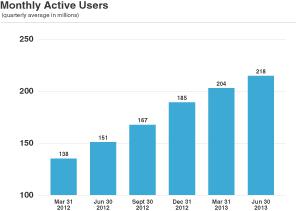 With over 200 million monthly active users, is it worth $2 billion or $20 billion? Some people have Twitter valued at $12.8 billion which is 28.6 times revenue over the past year, compared with 26 and 14.5 times revenue when Facebook (FB) and LinkedIn (NYSE:LNKD) went public.
Over the last couple of years there has been a great deal of technology and social media companies going public. Last year Facebook raised over $16 billion, making it the largest tech IPO in United States history.
Internet radio giant Pandora (NYSE:P), as well as daily deals site Groupon (NASDAQ:GRPN), both went public back in 2011 raising $235 million and $700 million respectively.
Chinese social networking company Renren (NYSE:RENN) also went public in 2011 raising $743 million. Renren is often referred to as the Facebook of China.
As we can see a significant amount of technology and social media stocks have gone public over the last couple of years. So what can we learn from them? Seeing how they have fared can help us determine what kind of course Twitter most likely goes on. Not only that, but those investors who feel that the Twitter IPO will lift all social media stocks should take a look at recent history.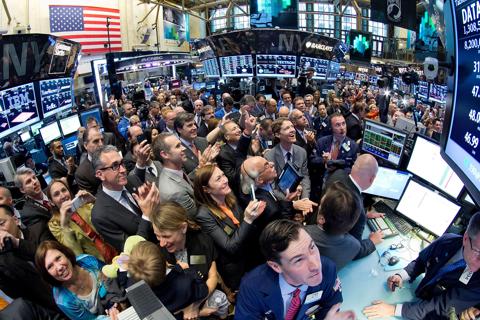 I clearly remember the excitement, hype and hysteria surrounding Facebook's first day of trading. I was an investor waiting to capitalize (so I thought at the time) on Facebook's giant halo effect on social media stocks. That day has since turned into a day I never want to remember.
With such a high demand put on shares of Facebook, I knew there was no way a small investor like me was going to get my hands on shares at a reasonable price. So instead, I put my money on other social media stocks like Groupon, Renren, Zynga (NASDAQ:ZNGA) and others.
We have all heard the analogy of a rising tide lifts all boats. I came to the conclusion that many investors would be in the exact same position and would resort to buying other social media stocks. Leading up to Facebook's big day I was feeling pretty good about myself. Shares were up for the week and the excitement was crazy.
*Image from Reuters
As luck would have it, Facebook's big day turned into be a huge Wall Street disaster. Shares opened up climbing as high as $45 only to end the day just above $38 for a whopping gain of 0.6%. So what happened to other social media stocks that day? Let's take a look.
Zynga (ZNGA) had a volatile day as shares were halted not once, but twice. Zynga which at that time depended a great deal on Facebook, had one of its worst days in the market. Here is the chart from that day.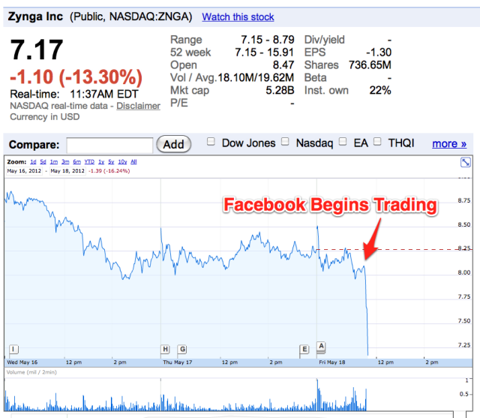 (Click to enlarge)
So how did the Facebook of China do? As we can see from the chart below, Renren did not fare any better as shares were extremely volatile. Shares of Renren tumbled, as it had one of its worst days since going public. All thanks in large part to Facebook's less than stellar debut.
Looking at the chart investors will probably say that Renren was already falling before Facebook started trading. This is true. However, investors should remember that Facebook had more than a 30 minute delay which caused even more pressure on social media and technology stocks.
It shouldn't be surprising to see that Facebook's less than stellar debut had a very negative effect on technology and other social media companies. Not to be outdone, here is the chart for LinkedIn.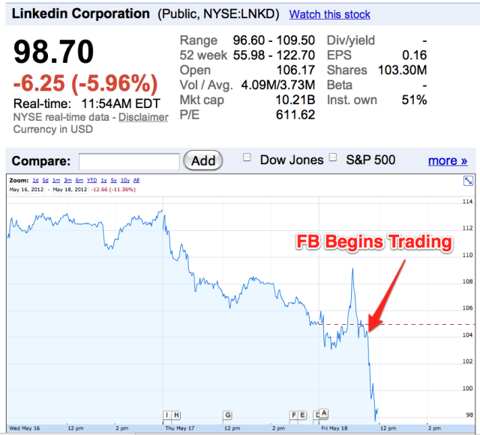 (Click to enlarge)
As we can see, technology and social media stocks had a rough day. At the same time, stocks were not the only one's influenced by Facebook's lackluster performance. Exchange Traded Funds (ETFs) were hit hard as well. Here was the monthly chart from (NASDAQ:SOCL) a global social media index ETF. The bottom right of the graph shows what happened on Facebook's first day.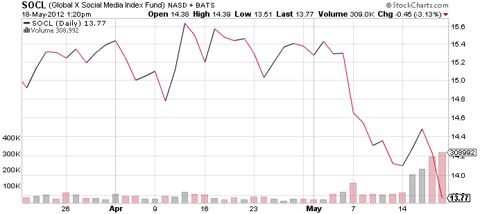 * Image from Yahoo!Finance
There is no doubt that Twitter's IPO will be a test for investors who were burned in recent years by the offerings of technology companies such as Facebook, Zynga, and Groupon. Looking at history we can see that the share prices of these companies took a hit after their initial offerings. While shares of Facebook and LinkedIn are above their IPO levels, Groupon, Zynga, and Renren are still trading far lower than their IPO prices.
Conclusion
Working in the media industry has taught me many things. Everybody is either looking to be the next big thing or is looking to cover the next big thing. News of Twitter's IPO certainly falls under these two categories.
It's no secret that shows such as CNBC, Bloomberg and many others are constantly talking about the Twitter IPO in order to boost ratings. Why wouldn't they, Twitter has a good story and people are interested. However, overdoing it is another thing.
I remember the media touting Facebook as the greatest thing since sliced bread. Investors were told that Facebook was changing the world and that they could take part in this great change. I remember some people using examples such as Google's IPO to justify their reasoning saying things like, "It's like buying shares of Google (NASDAQ:GOOG) when it first came out". "This is your opportunity, don't waste it"!
Not only should investors look at recent history, but they should learn from it as well. Do not invest in a company just because somebody told you about a "hot" stock or because you are hoping that an IPO like Twitter will be the tide that lifts all boats. Invest because you have researched thoroughly about a company and feel good about its prospects, and fundamentals.
A good friend of mine once told me to always challenge my ideas against others. So what does he mean by this? It comes down to playing both sides. If you are positive about a company you should try and find all of the negatives about it and vice versa. Challenging your ideas against others isn't to see who is right and who is wrong. It's to learn from each other and to look at things differently in case you might have missed something during the first go around.
Learning as much as you can will help put you in better situations as an investor. History does have a funny way of repeating itself so make sure you are prepared, protected, and take advantage of those situations when they come. For those wondering about my track record and other particular stocks that I like, click on the link provided.
Disclaimer: Investors are always reminded that before making any investment, you should do your own proper diligence on any stock mentioned in this article and to make sure you are comfortable with your investment strategy. Have a great day and as always, I look forward to hearing your thoughts or questions that you might have.
Disclosure: I have no positions in any stocks mentioned, and no plans to initiate any positions within the next 72 hours. I wrote this article myself, and it expresses my own opinions. I am not receiving compensation for it (other than from Seeking Alpha). I have no business relationship with any company whose stock is mentioned in this article.