Procter & Gamble (NYSE:PG) is among the world's leading retail goods companies and has markets all around the globe. Its diverse geographical revenue base and strong emerging market exposure remain key earnings growth drivers for upcoming years. I reiterate my bullish stance on the stock and believe PG is a good investment opportunity for investors seeking income and growth; it offers a safe dividend yield of 3.2% and analysts have projected an attractive growth rate of 8.2% per annum for the next five years.
PG has a solid brand portfolio and a great business model. The company owns dominating market positions in the different product ranges it offers. According to PG's last earnings release, the company grew or held its market share in businesses representing approximately 60% of its global sales. The company has also been doing well in U.S. markets, as PG grew or held value share in businesses representing more than 70% of sales. I believe the company will continue to improve its market position across key markets and product categories, as the company remains committed to focusing on its core business.
To further strengthen its financial performance and market position, PG has been targeting its top 10 emerging markets, 40 top businesses and 20 biggest new products. Also, the company has been taking initiatives to improve upon its cost structure, which are anticipated to result in cost savings of $10 billion by 2016. As the company plans to focus on its core business, it may announce some acquisitions or divestiture as we move forward.
Earlier this week, PG hosted its 2013 annual meeting with its shareholders. The important takeaways from the meeting were that the company's priorities for the future centered around four areas, including value creation, productivity and innovation, operating discipline and execution, and capabilities for growth.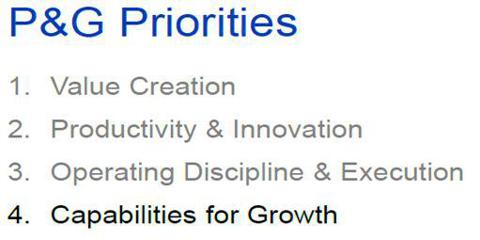 Source: Presentation Slides
For value creation for shareholders and consumers, PG is targeting its most profitable brands, categories and markets, under which the company might opt for strategic acquisitions or divestitures. To improve upon its bottom line results, the company has been aggressively working on a productivity program, which is expected to deliver cost savings of $10 billion by 2016. PG has been redesigning its supply chain to improve margins in developed markets, and is further localizing in developing markets to improve margins there, which I believe will bode well for PG's future earnings and stock price. Other than its ongoing efforts to improve productivity, PG indicated that it has been working to identify the next round of productivity enhancing initiatives. Also, to keep up with changing consumer patterns and tap available market opportunities, PG has been working on product innovation and targeting consumers in different income groups. The company plans to come up with a new product range of its brand 'Tide' to target different income groups. Also, to address potential growth opportunities, PG plans to focus more on the Oral Care category.
As the company continues to target its core businesses and markets, it will result in robust future earnings growth for PG. Also, analysts project a healthy next five-year growth rate of 8.2% per year. PG has a shareholder-friendly management team, which has been consistently sharing its success with shareholders. Earlier this week, on September 8, PG declared a regular quarterly dividend of $0.6015, translating into an annual dividend per share of $2.41 and a dividend yield of 3.2%. Dividends offered by the company are safe, as they are backed by solid annual free cash flows, as shown in the chart below. PG increased its dividends by 8.6% and 7% in fiscal year 2012 and 2013, respectively, and I believe the company will continue to increase its dividends in line with its EPS growth in the future. The following chart shows shareholder return for the fiscal year 2013, and the comparison between dividends and free cash flows for PG.


Source: Investors Presentation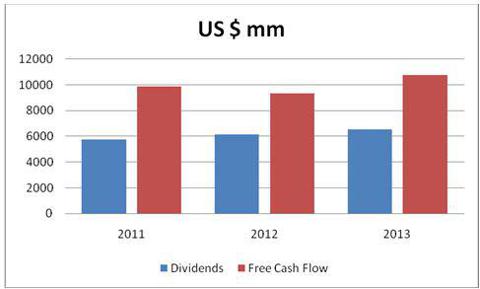 Source: Company Reports and Calculations
Conclusion
I believe the company has been taking the right decisions to strengthen its market share and financial performance, as it targets productivity improvement, product innovation and key markets to drive growth. Also, PG's significant international market exposure remains a key growth driver for the future.
Moreover, the stock is trading at attractive valuations, as it is down nearly 7% since August (2013). The recent pullback offers investors a good entry point. The stock is currently trading at a forward P/E of 16.45x, in comparison to its historical five-year average of 17.3x. According to my calculations, the stock offers a potential total return of almost 8.5%; potential price appreciation of 5.2% and a dividend yield of 3.2%. I calculated a price target of $81, using PG's historical five-year average P/E of 17.3x and FY 2015 EPS forecast of $4.67. Therefore, I reiterate my bullish stance on the stock.
Disclosure: I have no positions in any stocks mentioned, and no plans to initiate any positions within the next 72 hours. I wrote this article myself, and it expresses my own opinions. I am not receiving compensation for it (other than from Seeking Alpha). I have no business relationship with any company whose stock is mentioned in this article.