Just over a week ago, I published an article on international telecommunications operator VimpelCom (NYSE:VIP). As I discussed in that article, VimpelCom has a particularly strong presence in the emerging economies of the former Soviet bloc. The company also has operations in a few African nations and some emerging nations in South Asia such as Pakistan and Bangladesh. This provides it with considerable growth potential. Unfortunately, the company has incurred considerable debt as it has built up its infrastructure in these nations. This high level of debt is likely to be concerning for investors, particularly in light of former dividend king Telefonica (NYSE:TEF) canceling its dividend in order to pay down its considerable debt.
According to the company's most recent financial report, VimpelCom has $27,386 million in total long- and short-term debt. The company also has total shareholder equity of $14,467 million according to the same report. This gives VimpelCom a total debt-to-equity ratio of 1.89. For comparison purposes, Swedish telecommunications operator TeliaSonera (OTCPK:TLSNF) also has a significant presence in many of the same markets in which VimpelCom operates. That company has total short- and long-term debt of SEK 86,487 million compared to total shareholders' equity of SEK 106,459 million. This gives it a total debt-to-equity ratio of 0.81. As is immediately apparent, VimpelCom is significantly more highly levered than its peer company in many of the same markets.
As can be expected, carrying all of this debt is not an insignificant expense for the company. In the second quarter alone, VimpelCom paid $548 million in interest to service this debt. This would give the company an average interest rate of approximately 7.47%. This is a considerably high interest rate in today's environment in which so-called high quality debt carries interest rates in the low- to mid-single digits. Credit rating agency Moody's assigned a Baa rating to the company's February 2013 proposed Eurobond with a stable outlook implying that the company's debt is at least investment grade, at least in Moody's eyes. This is an improvement over the speculative grade status that the company's debt held in the earlier years of this decade. At least on the surface, VimpelCom's debt situation appears to be improving. But, is it yet to a point where investors no longer have reason to be concerned?
Over the past twelve months, VimpelCom had total operating cash flows of $6.50 billion according to Yahoo Finance. The company also had a leveraged free cash flow of $2.50 billion over the past twelve months. Levered free cash flow is defined as the cash available to shareholders after paying all interest payments on debt. This strong free cash flow is one reason why the company was able to reduce its debt and thus improve its credit standing with Moody's as discussed above.
VimpelCom has an interesting financing structure, which should help further reassure investors about the future of the company.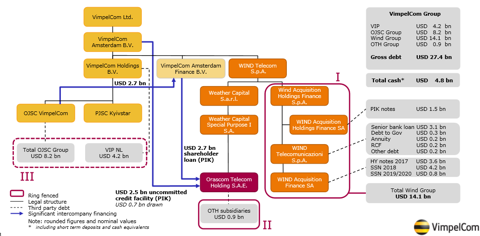 Click to enlarge
Source: VimpelCom
Note that of the company's total long-term debt of $27.4 billion, approximately $14.1 billion is debt of Italy's Wind Telecom Group and is by extension included on the company's balance sheet through the consolidation process required by GAAP. This debt is thus not directly debt of the VimpelCom parent. As VimpelCom owns 100% of the outstanding shares of Wind Group, this difference is largely academic. However, presumably VimpelCom could sell some or all of its stake in Wind Telecom Group should the debt become a significant burden.
That does not appear to be a significant problem at this time, however. VimpelCom's already mentioned strong levered free cash flow is evidence of the company's ability to carry its debt. VimpelCom also looks well positioned to grow its earnings going forward in countries that still have relatively low wireless penetration rates such as Pakistan, Bangladesh and Uzbekistan. Uzbekistan in particular is a nation targeted for growth by already mentioned peer company TeliaSonera. As the company increases its free cash flow from these countries as its subscriber count grows, its debt burden should become lessened. This very thing played out over the last quarter as the company grew its subscriber counts in the emerging nations in which it operates. At the beginning of the second quarter, VimpelCom had total gross debt of $28,615 million. The company managed to reduce this to $27,386 million at the end of the quarter.

Click to enlarge
Source: VimpelCom
One factor that could derail this optimistic scenario would be customer defections in Russia. As ilya716 points out in the comments to my last article on VimpelCom (linked above), VimpelCom's mobile network in Russia is perceived to be inferior to that of its competitors. This could become a real problem for the company beginning in the first quarter of 2014 as MNP (mobile number portability) comes into effect in the transcontinental nation. This will remove a large barrier that is currently preventing Russian customers from leaving the company in favor of other companies that are considered to have better networks. According to Idiro Technologies, subscriber churn typically follows the implementation of MNP in any given market. Subscriber defections in Russia would represent a true problem for VimpelCom as the company generated total revenues of RUB 73,800 million ($2.286 billion) in the Russian market in the latest quarter. This makes the company's Russian operations by far the largest segment of the company, accounting for approximately 40.10% of the company's total revenue. However, there does not appear to be any signs at present of this potentially impending subscriber churn. In the second quarter, VimpelCom reported very good numbers from its Russian operations:
Total revenue in Russia increased 5% year-over-year with 6% growth in mobile revenues and 2% growth in fixed-line revenue.
Mobile data revenue grew 37% year-over-year with a 48% year-over-year improvement in data revenue from small screen devices (i.e. smartphones)
EBITDA of the Russian operations grew 4% year-over-year and the company achieved an EBITDA margin of 42.7% on its Russian operations
The Russian mobile subscriber base increased 2% year-over-year
The Russian mobile broadband subscriber base increased 10% year-over-year
Based on these numbers, the company has managed to grow its subscriber base and its revenues and profits over the past year despite the perceived inferiority of its network. VimpelCom's management is also investing heavily to bring its mobile network up to par with its competitors in major strategic areas by the time mobile number portability comes into effect in Russia. The company may still suffer some defections as it will still likely have perceptions of inferiority that will persist after its upgrades are complete but these improvements should make the company a more powerful competitor in its largest market and prevent a significant revenue hit that could leave the company in trouble.
Disclosure: I am long OTCPK:TLSNF, TEF. I wrote this article myself, and it expresses my own opinions. I am not receiving compensation for it (other than from Seeking Alpha). I have no business relationship with any company whose stock is mentioned in this article.
Additional disclosure: My long position in TeliaSonera consists of the shares that are traded in Stockholm and not the ADRs trading on the pink sheets.