Staples (NASDAQ:SPLS) is the world's largest office product company and second largest Internet retailer. The company has served the needs of its business customers by providing every product businesses need to succeed. With the help of its world-class retail, online and delivery capabilities, the company offers a large and well-diversified stock of office supplies, technology and services, facilities and break room supplies, furniture, copy & print services and a wide range of miscellaneous products and services.
The company's businesses attract various customer groups with distinct purchasing behaviors. Its retail stores and Staples.com website target small businesses and home offices. The company's catalog customers are generally small businesses and organizations with up to 20 office workers while its contract businesses target mid-size businesses and organizations with 20 to 500 office workers, as well as Fortune 1000 companies.
Segment performance
Staples has three reportable segments, which include North American Stores & Online, North American Commercial and International Operations.

The company showed a consistent but slow, growth over the period of five years at CAGR 1.8%. Sales for 2012 were $24.38 billion, a decrease of 1.2% from 2011. Sales for 2012 include $461.2 million of revenue related to the additional week in 2012; excluding the additional week, sales for 2012 decreased by 3.0% from 2011. Its sales decline for 2012 reflected decreased sales in International Operations, a 2% decline in comparable-store sales in North America and a $193.6 million unfavorable impact from foreign exchange rates. Declines in the demand for computers, technology accessories and software were partly offset by growth in facility and breakroom supplies, tablets and other mobile technology, as well as copy and print services.
Restructuring
During 2012, the company realigned its organization by combining its North American retail stores with its public websites in the U.S. and Canada, to provide a more integrated and consistent shopping experience for its small business and home office customers. The company is also currently engaged in a multi-year effort to reduce its retail square footage in North America and Europe and restructure its European Operations by closing inefficient stores. In addition, the company has initiated a multi-year cost savings plan to improve efficiency and provide funding to accelerate its growth.

As a part of its restructuring plan, the company has closed 104 stores and only opened 24 stores in 2012. In 2011, the company opened 37 new stores and closed 23 stores. Due to tough competition and economic conditions, the company has closed 56 stores in international market, while it closed those 48 stores in the U.S. and Canada, that were performing poorly. The closure of inefficient stores will also help the company to reduce costs. Moreover, the company has not planned to open a significant number of new stores in 2013, but will instead continue to focus on improving the productivity of existing stores. The company also expects that the source of funds for its capital expenditures will come from operating cash flows, as its operations will improve due to inefficient stores being closed.
Diluted Earnings Per share
Over the last five years, the company has been invested in restructuring and integrating business segments, which is why I exclude those investment from this analysis. I excluded charges of $173.5 million, $84.2 million and $57.8 million related to integration and restructuring associated with Corporate Express in 2008, 2009 and 2010 as well as a $42.0 million charge related to the settlement of wage and hour class action litigation in 2009. I also excluded a $20.8 million tax refund in 2011 and $1.1 billion of charges related to the impairment of goodwill and other assets, restructuring charges, a loss on the early extinguishment of debt, charges related to the termination of a joint venture agreement in India, and accelerated trade name amortization in 2012.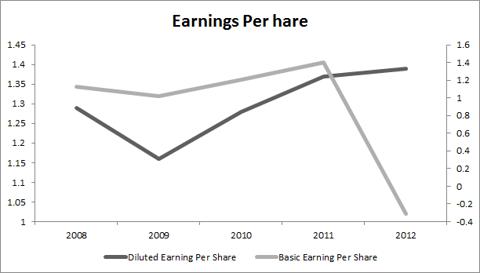 The chart above represents basic EPS and diluted EPS of the company. Diluted EPS offers a representation of the company's performance and shows recognizable trends. Diluted EPS grew 10 basis points over the period of four years, from 1.29 in 2008, to 1.39 in 2012. The company's negative 2012 basic EPS was a result of negative earnings due to pre-tax charges of $811.0 million for the impairment of goodwill and long-lived assets; $207.0 million for restructuring activities related to a strategic plan announced in September 2012 aimed at accelerating growth; $57.0 million for a loss on early extinguishment of debt; $26.2 million related to the termination of the company's joint venture agreement in India; and $20.0 million for accelerated trade-name amortization related to the rebranding of the company's business in Australia.
Valuation
Over the last few years, many companies in the U.S. have shifted to stock buybacks as a way of returning cash to stockholders and the trend is very strong. When evaluating companies, based on dividends, investors focus strictly upon the dividends cash flow, ignoring the fact that the company is returning significant cash to stockholders in the form of buybacks. Therefore, it is important to incorporate stock buybacks into the dividend discount model, to compute a modified payout ratio.

Over the last five years, the company has returned value to its shareholders in the form of dividends and share buybacks. The modified payout of 62.9% has been obtained by adding the dividends and stock buybacks over the past five years and dividing the sum by net income over the five-year period. The expected growth in earnings, 5.12%, has been calculated by subtracting the modified payout ratio from one and multiplying it by an adjusted return on equity of the company (excluding extraordinary items). Terminal growth has been assumed to be 3%, which is in line with the inflation rate of the economy.

After projecting the dividends for the next five years, a rate of return is calculated to discount the cash flows. In order to do so, some assumptions must be made. Assuming a market rate of return of 12.28% (calculated using S&P 500 growth of post financial crisis) and a risk free rate of 2.66%, 10-year Treasury yield equals a required rate of return of 9.12%. This will result in a price target of $14.84 with an upside potential of 8.59%.
Sensitivity Analysis
The dynamics of the business can be unstable, due to increasing competition and changing economic factors, which can directly affect the stock price of the company. In order to incorporate this fluctuation, a sensitivity analysis has been done.

The table above shows the company's stock price volatility with respect to the expected growth rate and required rate of return. In the best-case scenario of a 7% expected growth rate and 8.6% required rate of return, the stock presents an upside potential of 28.92% with a price target of $19.13. In the worst-case scenario, where the expected growth rate is 3% and required rate of return of 10.1%, the stock shows a downside potential of 14.36% and a stock price of $12.71.
Conclusion
Office supply stores are poised for a rebound. Competition remains high from online retailers, supercenters and warehouse clubs forcing some operators to leave the industry in the midst of the recovery. However, corporate profit and consumer spending are projected to improve over the next five years and drive modest growth in revenue for many office supply companies. Staples, with its strong network of stores and online platform, will reap the benefits from this steady growth. Its restructuring efforts will also reduce its costs and result in higher revenues for the company. The company is also paying regular dividends and buys back stock, which is a great way to attract value investors. Moreover, the valuation favors the company as it indicates that the company is currently undervalued and has an upside potential of 8.59%. I believe that the investors should consider the potential of this stock.
Disclosure: I have no positions in any stocks mentioned, and no plans to initiate any positions within the next 72 hours. I wrote this article myself, and it expresses my own opinions. I am not receiving compensation for it (other than from Seeking Alpha). I have no business relationship with any company whose stock is mentioned in this article.