Some growing sectors of the economy often see situations in which some companies tend to become overvalued. A number of factors can contribute to stock being overpriced, such as market sentiment or false indicators. The internet and technology industry has mostly been victimized by such factors. As consumers have adapted to the most recent mobile trends, analysts believe that growth will continue. Amazon (NASDAQ:AMZN), a well-diversified online retailer, has a very different business strategy. This strategy has led analysts to expect the company to produce different results. Despite these facts, some serious concerns need to be addressed before a conclusion about the future of Amazon's stock can be drawn.
Company's Introduction
Amazon is an online retailer which offers products such as books, magazines, movies, music, computers, electronics, home and garden products, groceries, health products, clothing, video games, sports accessories, and shoes. It also offers cloud storage services.
The Company's Strategy
Amazon is the market leader in some of the strongest parts of the internet industry. Its large number of data centers has enabled the company to become the market leader in cloud computing. Similarly, the intelligent strategy of combining Kindle Fire with the company's online services has proven successful in generating revenues. The company has been able to tap into recent trends by introducing products that keep up with the market pace. However, the profitability of the company has been subject to severe limitations.
Amazon's corporate strategy is different from many other players in the industry. The company management claims that it aims for long term growth. By doing so, the short term profitability is completely ignored, as are short term investor considerations. In this situation, investors are left with a promise of growth in the long run. In the past, investors have bought into this promise as the company's revenue growth has been phenomenal. Over the past three years, the company's sales have projected a CAGR of 33.65%. Despite this growth, this is the right time to ask questions about Amazon's strategy. Another big concern the company is facing is that it has never paid out any dividends so far, so the investors who look for regular income in the form of dividends are avoiding the stock. The only way investors can generate returns from the company's stock is by means of capital appreciation.
Financial Performance
Over the past few years the company has shown a tremendous growth in sales, but the biggest concern the company faces is that besides the sales growth, there is nothing attractive in its financials.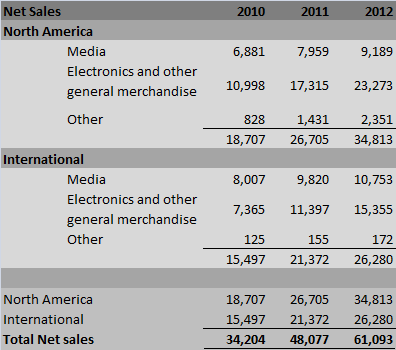 Source: annual report 2012
If you look at the total net sales, you can see a CAGR of 33.65%, which is quite impressive. Net sales were $61.09 billion, a 27.1% increase from $48.08 billion in 2011. North American net sales totaled $34.81 billion, up 30.4% from $26.70 billion in 2011. North America accounted for 57% of sales in 2012.International net sales totaled $26.28 billion, up 23% from $21.37 billion in 2011. International sales accounted for 43% of sales in 2012. The increase was primarily reflected by improved unit sales of books, music, and videos, which increased 12.1% in 2012 from $17.78 billion to $19.94 billion, and electronics and other general merchandise, which increased 34.5% from $28.71 billion to $38.62 billion.
The company has increased its expenses more than its sales over the past years. This has resulted in a decreased net income and EPS. This is the reason that the company has posted a loss in the last year.
The company has increased spending on marketing by 47.2% to $2.40 billion, up from $1.63 billion in 2011. Marketing expenses accounted for 3.9% of net sales. Similarly, spending on technology and content increased by 57.2% to $4.56 billion, up from $2.90 billion. Technology expenses accounted for 7.5% of net sales. Also, spending on fulfillment increased by 40.3% to $6.41 billion, up from $4.57 billion. Fulfillment expenses accounted for 10.5% of net sales. The company's general and administrative spending jumped36.2% to $896 million, up from $658 million. General and administrative spending accounted for 1.5%of net sales. Furthermore, the company said that it continues to spend heavily on its Kindle electronic reader, its tablet business, and on developing more digital content.
Source: Morningstar
As you know, ROE measures the management efficiency and profitability of the company. The above analysis indicates the mismanagement of the company as its ROE and ROA are consistently decreasing over the long run. On the other hand, its increasing financial leverage is also a major concern for investors.
Additional Concern
The U.S. Senate has passed the Marketplace Fairness Act which enables state governments to collect and use sales taxes from retailers with no physical existence in the state. This tax will affect almost all products sold by Amazon. The strong segments of the company such as cloud computing and media downloads will be especially affected by the tax bill. The change could affect the shopping habit of customers, which would further hurt the company's earnings.
Conclusion
There is no doubt that Amazon has been the most disruptive force in online retail in recent years. The company's low-cost operations, network effect, and tight focus on customer service provided the company with sustainable competitive advantages that traditional retailers cannot match, including the recently launched "Mayday" button on the new Kindle Fire. But despite all its efforts to aim for long-term goals, management has completely ignored short term profitability along with short term investor considerations. Moreover, the DuPont analysis also points out the management's weaknesses. I believe that this is the time to seriously consider revising the stock price.
Disclosure: I have no positions in any stocks mentioned, and no plans to initiate any positions within the next 72 hours. I wrote this article myself, and it expresses my own opinions. I am not receiving compensation for it (other than from Seeking Alpha). I have no business relationship with any company whose stock is mentioned in this article.