Investor angst with regard to "taper talk" has created a highly erratic pricing environment for bond-related closed-end funds despite the fact that most low duration/limited maturity offerings have exhibited fairly little asset value volatility. Hawkish rate policy commentary earlier this year seems to have scared away yield chasers/momentum players and caused more legitimate bond investors to reconsider their commitment to the space. This pricing/asset disconnect has created substantial discounts across the entire closed-end bond fund universe.
Thus, with investors now exposed to in some cases double-digit discounts, the question becomes whether the enticing pricing environment in the CEF space has created a value-packed buying opportunity or is merely indicative of a capital trap. From my perspective, thoughtful perusal of the space and a prudent purchase approach can mitigate the potential pitfalls of an asset that can certainly be viewed as running on fumes.
10 yr. Treasury since 1980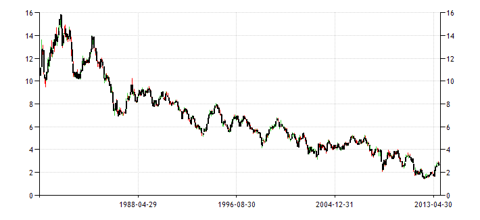 (Click to enlarge)
Strategy Session
Since the odds of a protracted increasing rate scenario have certainly increased given historically low rates, investors would be wise to buy bond funds with limited duration and shorter-term average weighted maturities. And though this may protect capital to an extent, in the event of a prolonged, swift rate move to the upside, bond funds pose potentially substantial principal peril as compared to individual issues with stated maturities. Funds with longer maturities and duration have suffered 10-15% NAV destruction this year, while shorter maturity funds have seen only about half as much downside.
The charts below illustrate percentage pricing differentials over the past year for two funds with vastly different maturity profiles. AllianceBernstein Global High Income (NYSE:AWF) has about a 7-year average weighted maturity, with less than 10% leverage, while Invesco Municipal Value (NYSE:VMO), a 40% levered fund, has a 17-year average maturity. The green line represents NAV while the blue line represents market price. Notice in both the rather smooth movement of the NAV, but the rather erratic nature of the price. Further notice the differentials in both NAV and price decline.
I feel bond CEFs are best utilized when purchasing lower quality or difficult to access credit. High-yield or junk issues and global or emerging market credit seem the ideal candidates for investors to reap the immediate benefits afforded by a pooled product's diversified, professional management. While investors can gain such access also with an ETF, given the current discounts CEFs currently offer, they are a better value in my view.
While investors can also purchase investment grade and municipal credit through a closed-end fund, I feel the long-term fees associated with funds and negligible principal risk make individual bond purchases a better choice for those segments of the market. However, for those choosing a more aggressive route with a leveraged product, the simplicity of a CEF may make sense. But then leverage raises the risk/reward bar of the overall portfolio, so caveat emptor.
So, Is This A Trap Or Not?
I don't profess to know more than anyone else about the forward rate picture. My personal feeling, as it has been for some time is that the economy may be in for a lengthier period of "bottoming out" than most are predicting. I'll admit I was somewhat surprised by the knee jerk reaction in long rates earlier this year, but meanwhile cannot fathom why the Fed is reluctant to even on a negligible level push us closer to a normalized rate environment. Thus, while it appears monetary policy will remain accommodative near term, I would still be reluctant to extend maturities or take chances on the yield curve, given the possibility of another sentiment led upside long-rate move or more surprises from Mr. Bernanke or his successor, the dovish Ms. Yellen.
Bottom line for me is that while I do currently see some value in buying higher-yielding CEFs trading at an asset discount, I advise limited exposure, avoidance of funds holding lengthy maturity paper, and a somewhat wary eye on leverage. This isn't exactly the space for risk-averse investors to be lounging around sipping margaritas in.
Recommendations
I currently own three higher yielding CEFs that comprise a relatively small portion of my overall bond portfolio. These include AWF, mentioned above, Western Asset High Yield Opportunities (NYSE:HYI), which I have previously written on, and Western Asset Emerging Markets Income (NYSE:ESD), which while possessing an 11-year average maturity, was trading at a discount recently, which I considered far too generous to pass up.
I would probably still be a buyer of all three, with a preference to AWF, HYI, then ESD, although AWF's discount is now less than 5%, so it has become somewhat less attractive in my mind. There are certainly other taxable and municipal CEF offerings from which to choose - according to CEFconnect, there are 382 of them, although for various reasons I probably wouldn't touch the vast majority of them.
Disclosure: I am long AWF, ESD, HYI. I wrote this article myself, and it expresses my own opinions. I am not receiving compensation for it (other than from Seeking Alpha). I have no business relationship with any company whose stock is mentioned in this article.
Disclaimer: The above should not be considered or construed as individualized or specific investment advice. Do your own research and consult a professional, if necessary, before making investment decisions.