We are not sure what to make of the news out of Libya this morning where gunmen abducted the country's Prime Minister and then freed him just hours after taking him hostage. It is a very weird turn of events but one which has turned out well for the markets and particularly the oil markets as it will not add on any stress already there. The Middle East is a tinder box always waiting to have a spark set it off and a Prime Minister being abducted and held hostage, or worse, is the type of storyline the world does not need right now as it deals with the US political issues, Syria and the threat that is always Iran.
Chart of the Day:
Coffee continues to remain in a bear market, and as such we remain bullish those who use coffee in their products. We are still not ready to make a jump to the bull side just yet as this trade has continued to trickle lower.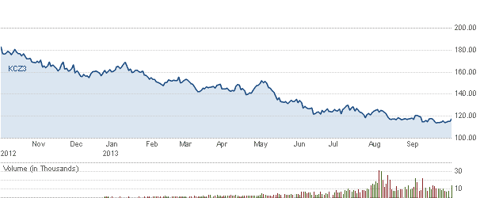 Source: CNBC
Commodity prices this morning are as follows:
Gold: $1300.90/ounce, down by $6.30/ounce
Silver: $21.95/ounce, up by $0.059/ounce
Oil: $103.13/barrel, up by $1.52/barrel
RBOB Gas: $2.6987/gallon, up by $0.0757/gallon
Natural Gas: $3.764/MMbtu, up by $0.085/MMbtu
Copper: $3.248/pound, up by $0.017/pound
Platinum: $1396.00/ounce, up by $13.00/ounce
Chevron Warns…
Many will recall our move to exit the refiners at or near the top for many of the names which were pure plays and flying high earlier this year. Tesoro and Valero were among those names which we recommended moving out of, but we did leave out the integrated oil companies believing that they still provided upside for investors' portfolios due to their diversified revenue streams and exposure to the E&P business. Well Chevron (NYSE:CVX) has told us today that it expects to miss numbers due to weakness at its refining business and this leads us to wonder if margins are continuing to get squeezed and whether there is further downside ahead.
With Chevron it appears that the issue is the refining and retail segment is performing poorly with the recent drop in gasoline prices with oil prices remaining relatively strong, or at least outperforming gasoline. The company also stated that it had higher maintenance costs for the quarter, but we hardly view this as a company specific event. Chevron will not release earnings and full quarterly report until November 1st, but based on what we see here our move would be not to go short Chevron or even minimize exposure, but to instead still be skeptical of the other names in the refining industry with far more exposure.
Which Means We Continue to Stay Away From Tesoro And Valero…
Tesoro has seen its gains dissipate and underperformed against Valero as of late. Right now Valero offers the more compelling trade if you have to have exposure to the refiners.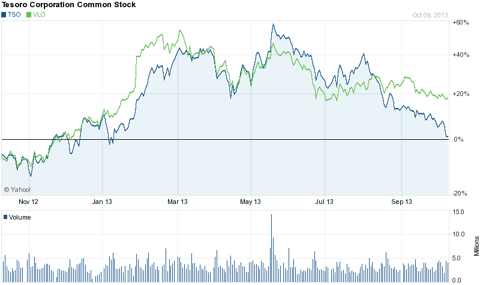 Source: Yahoo Finance
That would include Tesoro (NYSE:TSO) and Valero (NYSE:VLO), although we would like to make a distinction in both companies' outlooks from the start. Although we are not bullish of the refiners at this stage, we both recognize and respect the fact that Valero is the one refiner which could vastly outperform the sector as it lookd to better allocate capital and potentially spin-off assets to shareholders. With that said, it is still in the refining business and margins are under pressure so we would look for another quarter or two of weaker results for these names before we see an opportunity for margins to once again increase significantly.
Yet We Find Uranium Compelling…
More simply put we find Cameco (NYSE:CCJ) to be a compelling buy at these levels. Over the past few years this level has been a very good place to either initiate positions or add to existing positions. The shares are "cheap" and they are trading with a yield that is slightly above 2%. Whether one believes that this name is going higher or not over the next few months, the 2% yield is a great bonus for those looking to gain exposure to the uranium sector and the value presented by the shares at their current levels minimizes the future downside risk. Cameco is one of the big players in the sector and we like this name because it can fit into many different types of portfolios because of its yield, value and solid business positioning. This is one of the few ideas we have right now where the shares are not overly expensive and the value has not been created by missteps.
Cameco is in the area where readers have had success in buying it lately. The chart shows support and it seems like a no brainer.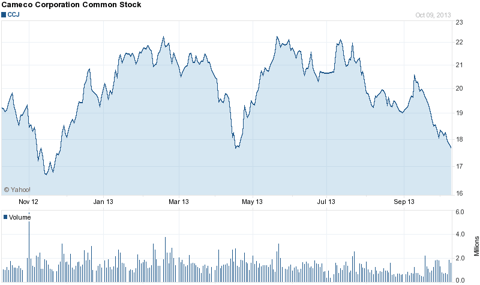 Source: Yahoo Finance
While we are discussing uranium we might as well also point out that UR-Energy (NYSEMKT:URG) has also backed off of its highs in recent months and now sits at the top end of our buying range. We like the shares at $1/share if you can get them for that price and do think that 2014 and 2015 will be good years for the company. Investors can expect start-up and production issues and delays but that is all the nature of the business. In our discussions with management over the years it has become our belief that the company will have a huge advantage over competitors due to the size of its project and the proximity of its various pipeline projects that can be used as satellite mines. When comparing the costs between UR-Energy and others, remember that management has always used an all-in cost per pound measurement where others use the mining cost per pound. There is a big difference, and it is that transparency that we really appreciate and respect.
Disclosure: I have no positions in any stocks mentioned, and no plans to initiate any positions within the next 72 hours. I wrote this article myself, and it expresses my own opinions. I am not receiving compensation for it (other than from Seeking Alpha). I have no business relationship with any company whose stock is mentioned in this article.