The old normal allocation between the three most basic classes (Cash, Bonds and Stocks) is currently the new normal.
While the old normal return expectations for U.S. securities, and the allocation between U.S. securities and global securities (particularly emerging market securities), is not likely to resemble the past, the old normal weighting between cash, bonds and stocks from whatever country is more likely to be used than not.
The last decade was abnormal in the preponderance of equity risk assumed in the aggregate across all households in the United States. The old normal is more balanced, which is something the typical investor advanced in age or wealth accumulation is seeking these days.
Based on Federal Reserve data from 1945, the average allocation between cash, bonds and stocks was approximately 10%, 40% and 50% respectively. The average over the past decade was about 9% cash, 28% bonds and 64% stocks. As of now, the allocation is about 10% cash, 38% bonds and 52% stocks.
Of course, there will always be the full spectrum of allocations from those with 100% stocks to those with all cash or bonds. However, in the aggregate, the pool of assets in the U.S. non-corporate, non-government sector is and may gravitate to around 10% cash, 40% bonds and 50% stocks.
Multi-Decade Allocation Data:
The flow of allocation between cash, bonds and stocks over many years is illustrated by this chart of the 10-year moving average from 1954 through 2008 (data from 1945). (Click charts to enlarge)
Ten-Year Rolling Average Allocations (1954-2008)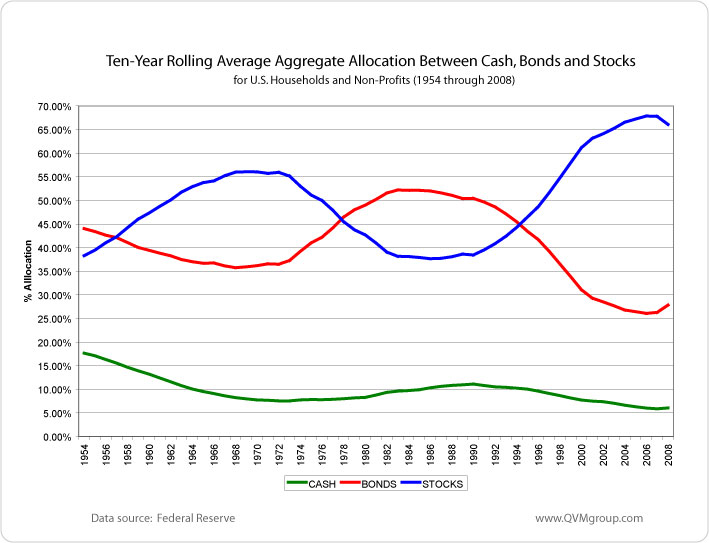 Looking at a more granular annual chart for 63 years from 1945 through 2008, we can see that the allocations are once again converging on the long-term averages.
Annual Average Allocations (1945-2008)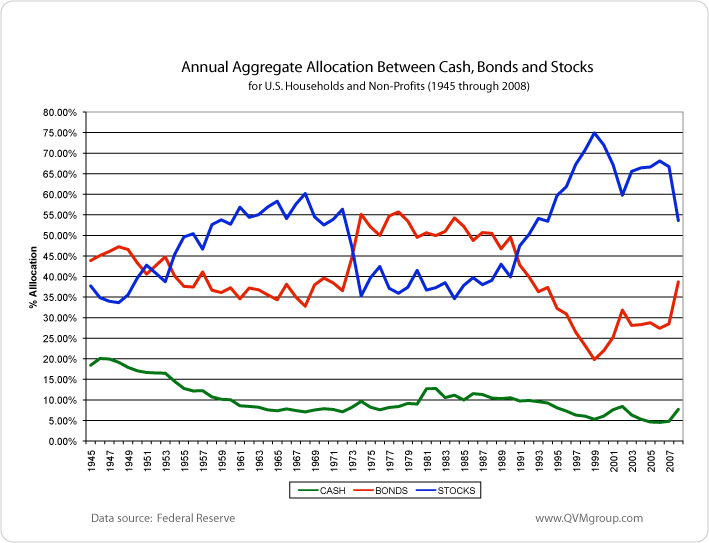 Contributors to Return to "Normal" Allocation:
If you consider the distortion to the upside for stocks that began with the dot.com bubble, and add to that baby boomers in or near retirement who were over-exposed to stocks (or did not use stop loss orders, or did not sell stock as the crash approached), and who were traumatized by the 2008 crash, and those who did exit equities before the crash, but remain in cash due to fear or analysis paralysis; we think the more long-term average of about 10% cash, 40% bonds and 50% stocks is likely to become and remain the typical aggregate allocation for some time to come.
Some of the Allocation Peaks and Troughs:
Stocks reached their peak allocation at 75% in 1999, just before the dot.com bust. Stocks reached lows of 33% to 35% from 1946-1949, again in 1974, and in 1984.
Bonds peaked at 55% in 1974 during that great recession, and they reached a low of about 20% in 1999, just before the dot.com bust.
Cash was high (above 10% and mostly in the teens) from 1945 through 1960 (20% in 1946). In more contemporary times, cash reached a peak of about 13% in 1982, a period of exceptionally high money market rates. Cash reached a low of about 4.5% in 2006, the year before things started to get shaky in 2007.
Recent Quarterly Allocation Data:
Looking at quarterly data through the second quarter of 2009, we can see the allocation to stocks rising and to bonds falling. That is partly a function of stock prices rising faster than bonds, and partly a function of cash being recommitted to risk. We don't know the importance of each, but suspect price changes are relatively more important at this point.
Quarterly View of Aggregate Asset Allocation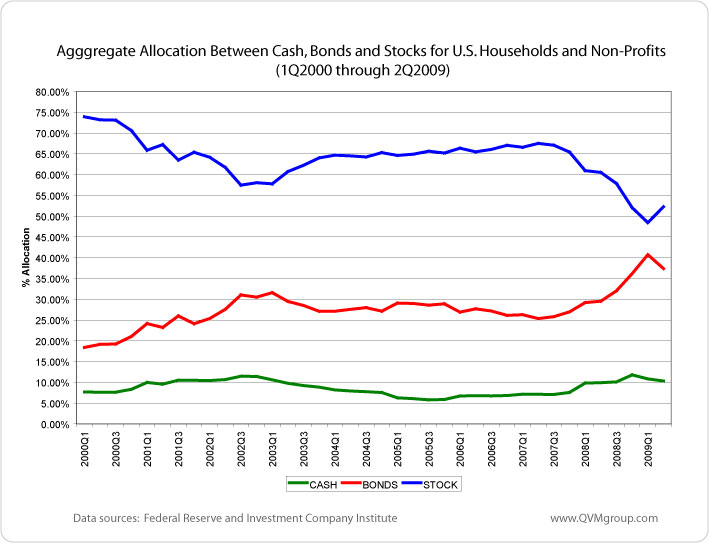 What Will You Do?
An important question to ask is whether investors will rebalance to incrementally lock and capture stock gains, or whether they will ride the boom-bust cycle. For those who don't rebalance, an important question is whether they will use persistent trailing stop loss orders to ride a wave, maybe catch a bubble, but not ride the bust back down.
Data Sources and Definitions:
The charts show data from the Federal Reserve "Flow of Funds Accounts" with the mutual funds category split between cash, bonds and stocks according to the annual splits published by the Investment Company Institute.
The "cash" category includes assets listed in the Flow of Funds report as "checkable deposits and currency" plus "money market fund shares." The "bonds" category includes assets listed as "time and savings deposits" plus "total U.S. government securities" plus "municipal securities and loans" plus "corporate and foreign bonds." The "stocks" category includes "corporate equities" (directly and indirectly held).
In the long-term annual study, we ignored mutual fund assets, which were minimal for good while. In the quarterly study, we split mutual funds into their respective cash, bonds or stock categories.
For the quarterly study, each of cash, bonds and stocks was increased by a portion of the category "mutual fund shares" in the same ratio that money markets funds, bond funds and stock funds are reported for all of mutual funds by the Investment Company Institute.
Other Asset Types:
Other financial assets of the household and non-profits sector not analyzed in this study include such things as private business interests, life insurance cash values, mortgages and "pension fund reserves."
Over the 63 years from 1945 through 2008 those other assets averaged about 42% of total financial assets, but over the past decade they averaged about 30%. Marketable securities and instruments have become a larger share of total financial assets.
So How Did the Allocations Perform?
These charts of the monthly rebalanced Dow Jones global asset allocation indexes give a reasonable glimpse of allocation performance over the past 20, 10, 5, 3 and 1 years. They aren't the exact same mix as U.S. investors held, and the five scenarios are not the same allocations as the averages we just discussed, but they do draw a picture of how the fixed income versus stocks allocation performs over time with global assets.
20 Years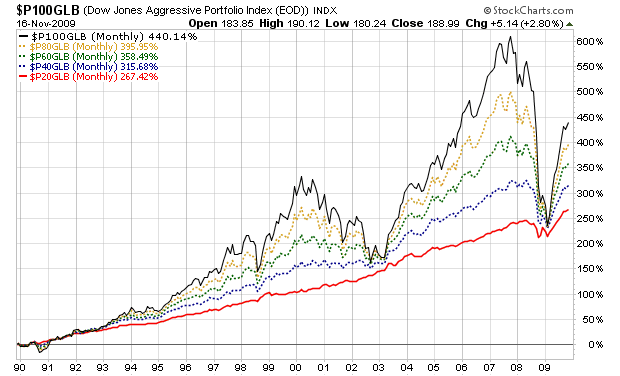 10 Years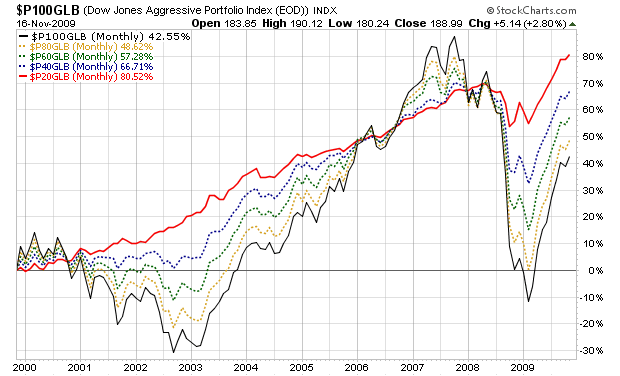 5 Years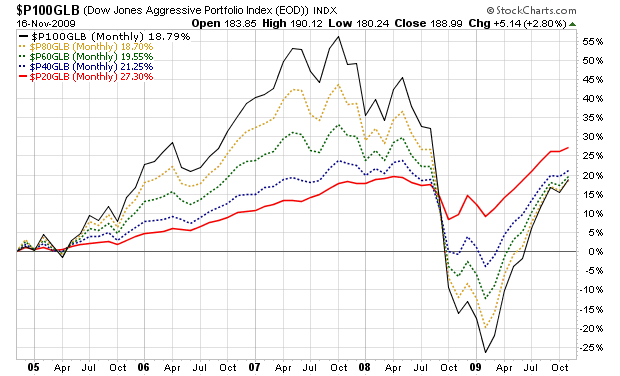 3 Years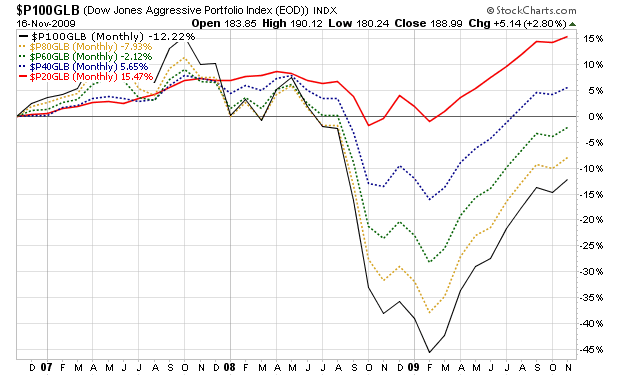 1 Year
What Do The Performance Charts Suggest?
If you are young with most of your accumulations ahead of you, invest in stocks. If you are drawing on your accumulations to support your lifestyle, be more moderate in your allocation. Volatility causes your portfolio to dissipate more rapidly in down periods when you are drawing on your portfolio increasing the possibility of outliving your assets (best to keep at least one to two years of living expenses in cash, and to use bonds to match approaching liquidity requirements).
If your assets are far greater than your future living needs, regardless of your age, you can take substantial volatility risk. If your assets are marginally sufficient to fund your living needs, you cannot take much volatility risk, although you need to take some volatility risk to grow assets to maintain purchasing power as inflation inevitably eats away at your wealth.
How Did Some Specific Investment Perform?
Unfortunately, most ETFs do not have sufficient history to inform more than a short-term study. Mutual funds have longer histories which makes them better for long-term studies.
There are only 32 ETFs out of 800+ that have ten years or more of history. They do not provide effective emerging markets coverage, or single fund EAFE coverage, nor any bond coverage or cash proxies. Mutual funds do.
Here are the ETFs with inception dates of 1999-11-22 or earlier: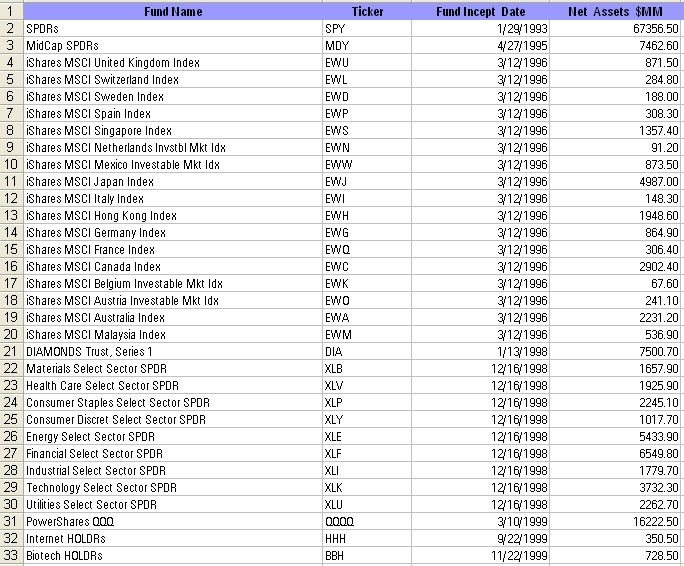 ETFs in the table: SPY, MDY, EWU, EWL, EWD, EWP, EWS, EWN, EWW, EWJ, EWI, EWH, EWG, EWQ, EWC, EWK, EWO, EWA, EWM, DIA, XLB, XLV, XLP, XLY, XLE, XLF, XLI, XLK, XLU, QQQQ, HHH, BBH.
There are many ETFs that would be good choices for going forward purposes, but there are not enough of various kinds to do effective historical analysis. History is best revealed with indexes and/or mutual funds.
Ten-Year Allocated Portfolio Returns with Mutual Funds:
Here is how a monthly rebalanced domestic U.S. 10-40-50, cash-bonds-stocks allocation worked over 10, 5, 3 and 1 years, as well as 3 months, through 10-31-2009, using a money fund, an S&P 500 index fund and an aggregate bond fund index fund from Vanguard — versus the S&P 500 as a benchmark.
Here is how a month rebalanced global 10-40-50, cash-bonds-stocks allocation worked over 10, 5, 3 and 1 years, as well as 3 months, through 10-31-2009, using a Vanguard money fund, a Loomis-Sayles global bond fund (active mgt) and a Fidelity world equity fund (active mgt) — versus the S&P 500 as a benchmark.

Of course, you could, and probably would, deploy a more complex portfolio (more categories and/or more funds), but these simplistic models show that the long-term 10-40-50 allocation had respectable returns and benchmark performance.
You might do well to view the 10-40-50 allocation as the "neutral" position, and then decide how much more aggressive or conservative you need or want to be.
Disclosure: We use several of the funds described in this article in some of our managed portfolios.