Alcatel-Lucent (NYSE: ALU) is a France-based firm whose focus is on service providers, governments, and businesses. They aim to provide high quality voice, video, and data services to all their customers around the world. The mobile market is faring well right now so it is almost easy for companies like Alcatel-Lucent to see an increase in profits.
It is true that Alcatel-Lucent is looking into cutting costs by reducing their staff numbers. The plan is to help save £1.4 billion (approximately $2.2 billion) by cutting 10,000 people from their employee list. The President of France, Francois Hollande, criticized the announcement and has already appealed to the company to save as many jobs as they can.
Despite the job cuts, Alcatel-Lucent is trading around $3. Investors who take a look at a stock chart featuring Alcatel-Lucent will easily discern that Alcatel-Lucent has been on the upside for many months now. In fact, the stock is trading at near highs this year. This is good news for the investors especially now that Alcatel-Lucent seems to continue to trade beyond its key averages. This may be a signal that the stock will be at its bullish price in the next quarter.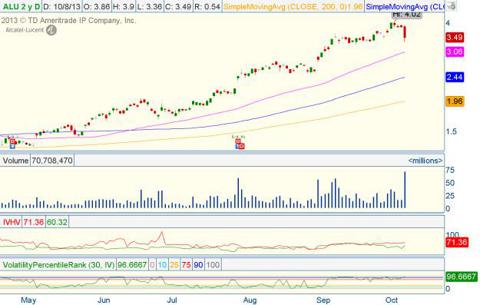 Click to enlarge
Quite recently, Alcatel-Lucent announced that they will soon deploy a mobile backhaul system for SK Telecom, the largest mobile operator in South Korea. Alcatel-Lucent, together with SaskTel, also declared that they have successfully tried out data transmission using fiber-optics to deliver data up to 400 GB. This is a huge improvement because the network can originally handle up to 10 GB.
As the announcements were delivered, Alcatel-Lucent stock price rose. Oftentimes, when the stock price rises, this event is correlated with increasing revenue rates and earnings. Over the last four quarters though, Alcatel-Lucent has experienced some mixed figures in revenue. This is one reason why many investors have conflicting sentiments about Alcatel-Lucent stock. The indecision of whether to sell, hold, or buy Alcatel-Lucent is shared by many investors waiting for an answer.
One thing is for sure in Alcatel-Lucent: it is improving in its products and sales. Its routers and switches saw a huge rise last year. As for their telecom software, platform sales went up consistently beginning in Q1. Although 2G and 3G sales are slow and 4G sales are doing so-so, the 4G market still has hope. Last month, Alcatel-Lucent was able to lock a deal with Telefonica in Spain. The contract easily gives Alcatel-Lucent the opportunity to boost their gains as they supply 8,000 4G LTE for the wireless network of the Spanish company.
Aside from Telefonica, Alcatel also won a contract with China Mobile (NYSE:CHL) where, according to the agreement, the company will supply 11% of the strategic plan as the Chinese company plans to install over 200,000 TD-LTE base stations in their country before the end of the year. Alcatel-Lucent's 4G TD-LTE overlay called the lightRadio was chosen by China Mobile which they will use for their nationwide deployment of their high speed mobile broadband network. The profits for this project are expected to reach at least $300 million.
Another improvement in the company is the Shift Plan, which was announced last June by the new CEO Michel Combes. The Shift Plan is a way for the company to have a much better future, particularly in the financial aspect, as they transform Alcatel-Lucent. Alcatel-Lucent will now be specializing in IP Networking, Ultra-Broadband, and Cloud Access.
Part of the Shift Plan is to make sure that the company is able to save 1 billion Euros by the end of 2015. They intend to achieve this through different practices including reallocating their research and development (R&D) budget to upcoming technologies.
Not everyone is happy about the Shift Plan, but the program can help countries worldwide including China, Canada, Israel, and South Korea in upgrading and growing their networks. However, the people who will truly get the benefits here are the investors, particularly those who have bought the Alcatel-Lucent stock just in time while the price is still reasonable.
Even though there will be job cuts and some unfavorable numbers in the earnings area, Alcatel-Lucent has been bursting higher these past few months. The company may need some time in order for them to see more gains, but they have been touted as a performance leader this year. With Alcatel-Lucent poised to go even higher, there is no reason not to buy Alcatel-Lucent stock.
Disclosure: I have no positions in any stocks mentioned, and no plans to initiate any positions within the next 72 hours. I wrote this article myself, and it expresses my own opinions. I am not receiving compensation for it (other than from Seeking Alpha). I have no business relationship with any company whose stock is mentioned in this article.