Teva Pharmaceutical Industries (NYSE:TEVA), the world's leading generic drug maker with global sales of over $20 billion and a product portfolio of more than 1,000 molecules, just announced that it is accelerating its cost- reduction program and reducing its global work force by 10%.
Teva expects the decision will realize $2 billion in annual cost savings by the end of 2017, compared to the previously guided range of $1.5 to $2 billion. Teva estimates that $1 billion, or 50% of the annual cost savings, will be realized by the end of 2014, and 70% by the end of 2015.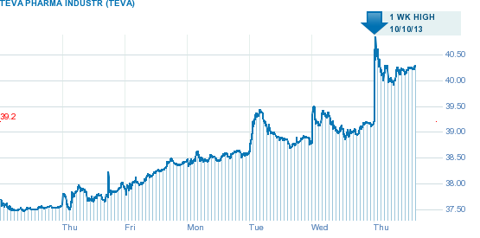 Initial market reaction was positive and Teva's shares jumped 2.2% on the news. Teva estimates total pre-tax costs of restructuring at approximately $1.1 billion, 75% in cash and 25% in non-cash accelerated depreciation and impairment of assets.
The reductions are part of a worldwide restructuring program introduced in December 2012, and included actions to divest non-core assets, increase organization effectiveness, improve manufacturing efficiency and reduce excess capacity.
The decision is likely to affect approximately 5,000 employees worldwide, out of a total workforce of 46,000 people. The majority of the workforce reductions are expected to be completed before the end of 2014.
Teva expects to reinvest part of the initial savings in high-potential programs. These investments will include the development of the company's complex generics and specialty pharmaceutical pipeline, which includes more than 30 late-stage programs.
Teva is also planning to expand its presence in emerging markets and to broaden its portfolio, especially in its specialty medicines and OTC divisions.
Teva expects to achieve $20 billion for the year, midpoint of its original 2013 guidance range, and non-GAAP diluted earnings per share of $4.85 to $5.15.
Disclosure: I have no positions in any stocks mentioned, and no plans to initiate any positions within the next 72 hours. I wrote this article myself, and it expresses my own opinions. I am not receiving compensation for it (other than from Seeking Alpha). I have no business relationship with any company whose stock is mentioned in this article.