Imax Corporation (NYSE:IMAX) has recently pulled back from its 52-week high of $30.34 to $26.56, presenting an excellent entry point. Imax Corporation is considered overvalued due to a predicted weak third quarter. However, the release of Gravity and its rapid propulsion to the top of the sales chart and the movies' incredible showcase of the 3D IMAX platform provide an excellent catalyst for greater adoption of the platform and a potential earnings surprise in the third quarter.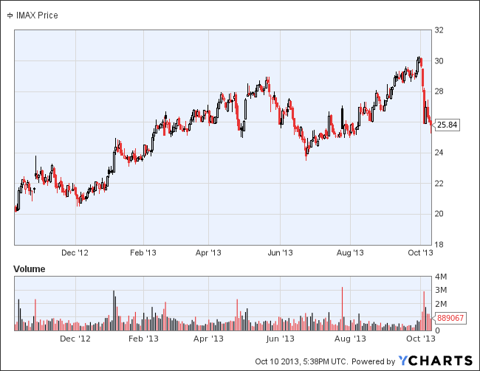 Click to enlarge
Imax Corporations generates revenue from five different segments: films, IMAX systems, joint revenue sharing, theater system maintenance, and parts and camera rentals. For 4Q the near-term outlook was revised upward and Gravity smashed box office earnings estimates with a $55.6m opening weekend.
While the earnings surprise for Gravity is an excellent development, I believe the most important aspect of the film is its showcase of IMAX 3D and the capability of the platform. Gravity is to IMAX 3D as Planet Earth was to HD. In my area, two theaters have already added IMAX screens to their businesses. It provides a new platform for the directors to expand the viewing experience and evolve the filmmaking process. The adoption of the IMAX Platform will definitely pick up, as theaters need to compete with the democratization of the larger screen home television systems.
As a result of the earning surprise and potential of the IMAX 3D platform, I definitely believe IMAX is an undervalued security. The recent pullback makes for an excellent buying opportunity.
Disclosure: I have no positions in any stocks mentioned, but may initiate a long position in IMAX over the next 72 hours. I wrote this article myself, and it expresses my own opinions. I am not receiving compensation for it (other than from Seeking Alpha). I have no business relationship with any company whose stock is mentioned in this article.