Janssen likely not to drop IDX719 partnership because IDX719 is the only NS5A potent across all genotypes
Glaxosmithkline does not focus on HCV drug development so makes sense they would sell GSK805 to another company
Janssen has a motivation to get an NS5A drug all to themselves for a moderate price to be first to develop all oral nucelotide combination for genotype 1
Likely Idenix would not sell IDX719 unless for extremely high price
Idenix still has huge value with the only potent pan-genotypic pipeline and willingness to develop with the long-term greater market of all genotypes in mind
Since publishing my Seeking Alpha Pro article on Idenix Pharmaceuticals (NASDAQ:IDIX), shares have skyrocketed and once again landed where they started. Has anything really changed? The market thinks so. The news in question is Janssen Pharmaceuticals' (subsidiary of Johnson & Johnson JNJ) acquisition of GlaxoSmithKline's NS5A inhibitor GSK2336805 (later referred as GSK805). This has happened despite Janssen's non-exclusive collaboration with Idenix, which evaluates the combination of IDX719 with simeprevir and TMC647055. The market sees Janssen's move as an extremely negative turn of events for Idenix and IDX719. I, on the other hand, believe the market is forgetting the fundamental differences between IDX719 and the competition, more specifically IDX719's potent pan-genotypic activity. We won't know exactly why Janssen bought GSK805 until they tell us, but I don't believe it should be taken as negatively as the market has. Also, Janssen's purchase does not change my thesis that there is still significant value in Idenix with its pipeline and patent portfolio in the long term. We just have another opportunity to buy Idenix for a good price.
As discussed in my previous article, IDX719 has a large advantage over competition because it is the only NS5A inhibitor to show potent pan-genotypic activity in-vitro. We see below that other companies' NS5As focus on genotype 1, yet are not as effective across other genotypes. Notice how GSK805 is one of those NS5As that is not as effective in other genotypes when compared to IDX719.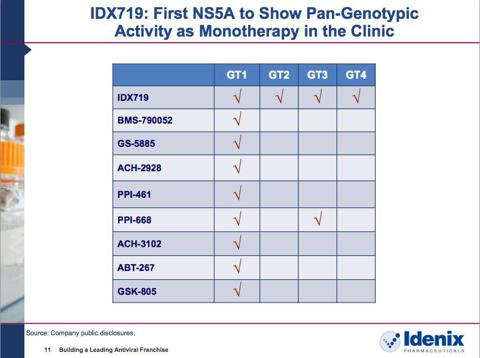 We can compare the pan-genotypic activity of IDX719 with GSK805 to get a better idea of the differences. We will focus on two different metrics: EC50 or half maximal effective concentration and HCV RNA viral load reduction in log10 IU/mL. EC50 is the metric to measure the drug's ability to reach 50% of the maximum effect, so it is best for an NS5A to have a lower number, indicating higher potency. Below, we see that the EC50 pM (picomolar) of IDX719 is lower on genotype 1a & 1b at only 9 and 4 while GSK's is 44 and 8 respectively. GSK805 seems to have favorable numbers with genotype 4a but says that genotype 2a, 3a, 6c-g, and 6h-n are high and thus have lower suppression potency with the other genotypes.

Looking at the next set of metrics, HCV RNA viral load reductions, we can see which drug (and dosages) reduce viral loads in genotype 1 patients most effectively over a long period of time (data on genotype 1 is only available for GSK805).
(click to enlarge)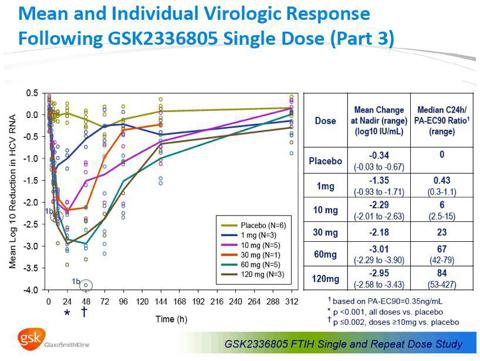 Source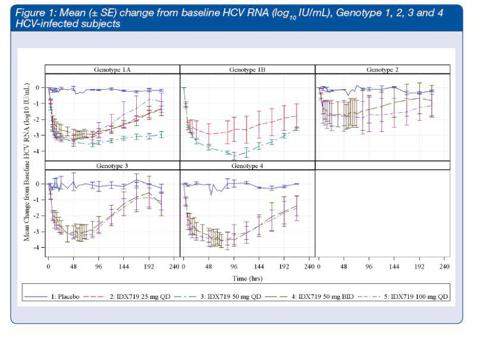 (click to enlarge)

Source
We see that IDX719 reduces genotype 1a & 1b HCV RNA greater than -3 log10IU/mL while GSK805 reduces the same genotypes less than -3 log10IU/mL. This difference in HCV RNA suppression shows that IDX719 has superior HCV RNA suppression rates when compared to GSK805. Also notice that the duration of suppression to -1 lasts 192 hours with IDX719 and only 144 hours with GSK805 meaning IDX719 suppression lasts longer than GSK805.
If IDX719 has superior genotype 1a + 1b suppression rates and pan-genotypic activity, why would Janssen purchase GSK805? My belief is that Janssen is in the race to be the first pharmaceutical company to develop a genotype 1 all oral regime for HCV and GSK805 became an opportunistic buy. We see below that most companies developing HCV treatments today are focusing on the left column, while Idenix is focusing on the right column.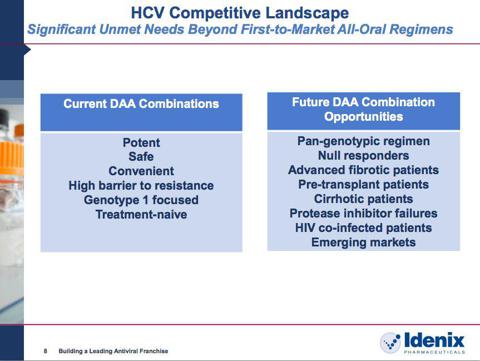 Janssen's current nucleotide TMC055 and protease inhibitor TMC435 are focused on the treatment of genotype 1. Naturally, Janssen would be focusing on being first to market with a focus on genotype 1 and a fully owned NS5A, with favorable genotype 1 suppression rates, would be a great addition to Janssen's full drug combination. Janssen could either develop an NS5A in-house, which takes years, or buy another NS5A that would come at a cost. Currently, Janssen is partnering with Idenix and testing their drugs with IDX719 for what I believe to be an attempt to see the pan-genotypic reach of the TMC drugs with a pan-genotypic NS5A. Am I guessing Janssen would buy IDX719, yes, but I don't think Idenix would be willing to sell IDX719. Idenix is focused on developing a pan-genotypic regime and IDX719 would be absolutely crucial for a combination with a uridine nucleotide or other nuc. Glaxosmithkline, on the other hand, is a larger pharmaceutical company with very little focus on HCV development but focuses on many other diseases. Glaxosmithkline would then be a willing seller of a non-focus drug for a decent price. It will be interesting to see at what price GSK805 was bought for as that will give a baseline value of genotype 1 focused NS5As. IDX719 should fetch a much greater price than genotype 1 focused NS5As because of the pan-genotypic nature.
I continue to say that pan-genotypic drugs are better and more valuable for the simple fact that more than half of the world's HCV population has genotypes different than genotype 1.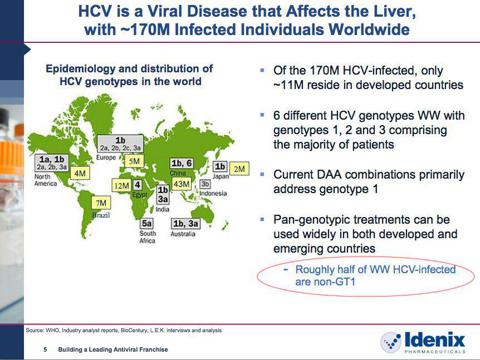 We also have to take into consideration that the non-developed countries (largely non-genotype 1) could be under-diagnosed by a wide margin and that as time goes on, non-genotype 1 numbers could skyrocket, as seen below.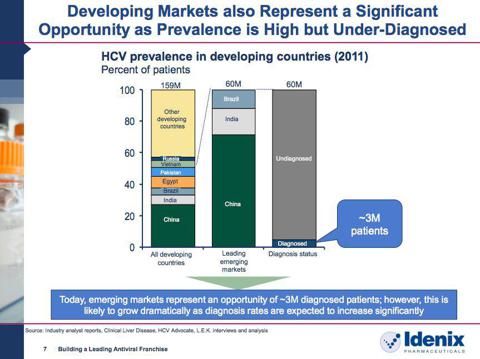 The market continues to dislike that Idenix has a long-term focus on next generation pan-genotype HCV drugs with nucleotides that are just getting through the IND and pre-clinical phases. Idenix is forecasting that their pipeline could be reaching full regulatory approval in 2017, which is way too far for the market to be comfortable with.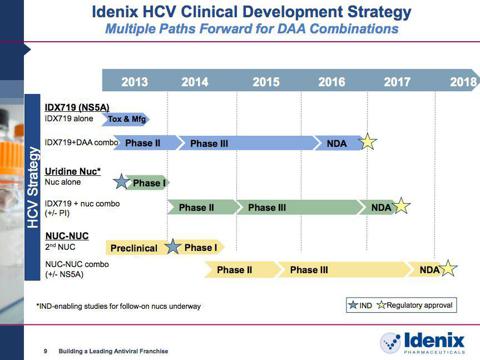 To sum up, there is huge potential for potent pan-genotype drugs and Idenix is focused on developing those drugs. Idenix has a very good reason to not sell IDX719 and Janssen's GSK805 purchase should not cause too much alarm for Idenix shareholders. Janssen, on the other hand, is focused on the development of a first to market genotype 1 specific combination of drugs. For that reason, Janssen would benefit from buying a NS5A with a genotype 1 focus. Janssen would also benefit from continued development with IDX719 because IDX719 is the only pan-genotypic NS5A. I still believe that there is huge value in the drugs that Idenix has in their pipeline as well as the patents that Idenix holds. I see the sharp pull back as another buying opportunity for the long term potential of Idenix.
Disclosure: I am long IDIX. I wrote this article myself, and it expresses my own opinions. I am not receiving compensation for it (other than from Seeking Alpha). I have no business relationship with any company whose stock is mentioned in this article.
Additional disclosure: This article is meant for instructional purposes and not meant as a recommendation to buy or sell. The only kind of intelligent investing is through your own due diligence.