WebMD Health (NASDAQ:WBMD) has a famous website and triple-digit earnings growth to go along with it. This Zacks Rank No. 1 (Strong Buy) is expected to grow earnings by 205% in 2013. WebMD Health provides health information to consumers, physicians, healthcare professionals, employers and health plans through both public and private online portals and mobile platforms. Its websites include WebMD Health, Medscape, MedicineNet, eMedicineHealth, RxList, theheart.org, and Medscape Education.
Reaffirmed Full-Year Guidance in July
In July, when it reported second-quarter results, WebMD reaffirmed its full-year 2013 guidance. Full-year revenue is expected to jump between 3% and 7% from 2012. The company is also expected to be profitable in 2013 with net income of $3 million to $11 million vs. a loss of $20.3 million in 2012.
Big Earnings Growth Ahead
2012 was tough for WebMD as earnings plunged compared with previous years. But both 2013 and 2014 are looking up. Earnings are expected to rebound 205% in 2013 to $0.22 and another 88% to $0.41 in 2014. In the price and consensus chart below, you can see the earnings plunge but then start to recover in 2013.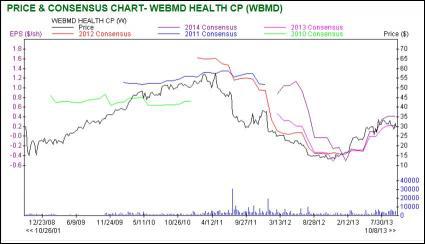 One estimate has been revised higher for both 2013 and 2014 in just the last week. WebMD Health is expected to report third-quarter results on Oct. 29.
Shares Surged in 2013
As the turnaround in earnings became apparent, investors stepped in. Shares have doubled in 2013.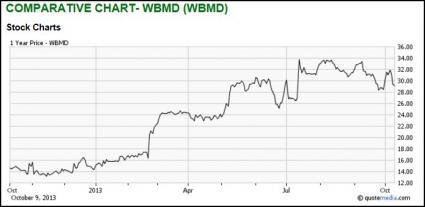 The stock isn't cheap, as it trades with a forward P/E of 134. But investors are trading value for growth. That tradeoff has paid off, so far, in 2013 as the shares have soared. For investors looking for a play on the Internet and healthcare, WebMD Health is one they should keep on their radar.
WebMD Health: Free Stock Analysis Report (email registration required)