Over the past 10 years, consumers in the United States have been growing increasingly health conscious, moving away from fast food restaurants to healthier fast-casual options. This secular shift in tastes has also impacted the soda industry. For over a decade, soda consumption has been declining in the United States: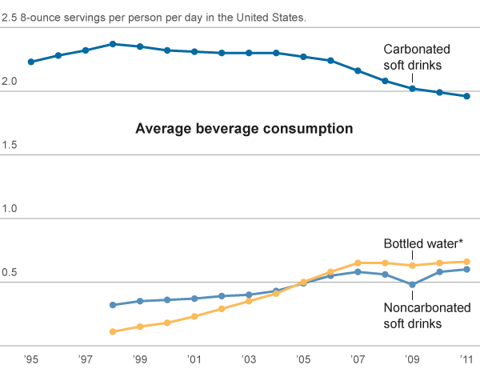 Click to enlarge
Soda companies like Pepsi (NYSE:PEP) and Coca-Cola (NYSE:KO) have tried to deal with this secular decline in their namesake brands by selling bottled water and energy drinks. Pepsi has also benefited greatly from its ownership of Frito-Lay. Still, Coca-Cola remains below its all-time high reached back in 1998 because of sluggishness in soda sales. As it has not diversified away from soda nearly as well as Pepsi, it has been much more exposed to secular taste shifts. I believe this trend is still in place, and in a world with no real volume growth, KO is over-priced.
While no longer a member of the Dow Jones Industrial Average, Alcoa (NYSE:AA) is still seen as an important economic bellwether with aluminum a critical input for many highly cyclical industries like aerospace and autos. However, many forgot Alcoa is a major supplier to the soda industry as a primary provider of aluminum cans. I have found the demand Alcoa is seeing from the soda firms is very indicative of the results Coca-Cola and Pepsi will be reporting over the next month.
Unfortunately, the numbers were weaker than I had hoped, which helps to confirm my view that the move towards healthier beverages continues. With consumers opting more for water and sports drinks, soda sales have underwhelmed for a while, particularly in the United States. We've been looking and 0% volume growth domestically, 2% in Europe, and 3-4% globally, buoyed by emerging markets. The most recent quarter was markedly weaker. Alcoa saw 2-3% declines in the U.S., the largest market. Europe was up modestly, 1%, while global sales growth will be an anemic 1-2%.
These numbers are extremely weak, especially in the United States. For several years, diet soda brands have helped to mitigate declining volumes of calorie beverages, but it appears, that was not the case last quarter. Globally, sales were less robust, suggesting weakness in emerging markets. Decelerating growth and food inflation in countries like India have pinched consumers and likely slowed their soda purchases. Now, Pepsi and Coca-Cola shares have declined in the past three months as volume growth concerns have mounted, but both are up on the year still:

Click to enlarge
Clearly, Pepsi has outperformed thanks to its Frito-Lay division, which has made up for weak soda sales. As more of a soda pure play, I am particularly concerned about KO. While the stock has pulled back, it is very fully valued, trading at 17.8x earnings. Analysts are looking for 6-7% growth next year, giving it a forward P/E of 16.7. However with global sales volume barely positive, this growth estimate seems very optimistic, especially for a firm that has delivered several earnings disappointments over the past year. Further even at this growth estimate, a 16.5-17.5 P/E is awfully rich.
Coca-Cola's 3% dividend yield has likely attracted some income buyers and helped to put a floor on the stock. However, I do believe this stock is more than fully valued and is poised to deliver yet another disappointing quarter. Consumers in the United States are turning away from soda while overseas consumers seem unwilling to pay up for soda with constrained budgets. While its brand is amazingly powerful, Coca-Cola should trade at no more than a market multiple 15x. Frankly given its operating performance, KO should probably trade at a discount. Deference to its dividend and brand value is why I would be willing to own KO at a 15x multiple. I believe Coca-Cola could retest its low of the year at $35.50 and is more appropriately valued at the $33-$35 level.
Conclusion:
Alcoa' quarterly numbers have confirmed that soda demand continues to be exceptionally sluggish, which will negatively impact Coca-Cola and Pepsi. Pepsi has been a beneficiary from its snack brands, which continue to perform reasonably well. KO has made a strategic mistake by not diversifying away from soda and does not deserve to trade at a premium to PEP or the market as a whole. KO looks set to report another weak quarter, and 2014 analysts from mid-single digits growth are too optimistic and will have to be cut. At current prices, KO is dead money. Investors should wait for a ~8% pullback at which point this stock makes sense as an income and mild appreciation play.
Disclosure: I have no positions in any stocks mentioned, and no plans to initiate any positions within the next 72 hours. I wrote this article myself, and it expresses my own opinions. I am not receiving compensation for it (other than from Seeking Alpha). I have no business relationship with any company whose stock is mentioned in this article.