With the Baltic Dry Index (BDI) clearing a 52 week high finally, now at 4381, the situation for beaten down shipping stocks has not looked this promising for all of 2009. My personal index of shippers is now up over 15%, and there is little sign of it stopping. Indeed, approaching the end of year, there could be additional pressure on shippers to book December early.
The market was choppy Tuesday, with more shippers down than up. As usual in this case, it is logical that some of the leaders are being sold and the cash moved directly into the laggards. This either indicates maturation of the sector move, or the end of one wave of the move. During this time, if the 2nd tier survive their advance, the former leaders will take off again, if not, there will be a more general retreat across the board in shippers. If and when the next wave comes, if one over-commits to the 2nd tier, it usually is hard to take profits on the 2nd tier in time to get the money into the leaders again, so one has to think out their strategy ahead of time. In my case, I moved out of the leaders entirely, playing smaller names such as PRGN and FREE, but holding lots of cash and watching for bargains and risk-reduction in GNK, DSX, and EXM.
This Friday is options expiration day. As premiums evaporate, the possibility of fast returns on a quickly rising stock in the final days of the option tempts many a trader, myself among them. We have 3 prime candidates for a high-risk high-return options play right now: DRYS at 7, PRGN at 5, and DSX at 17.50.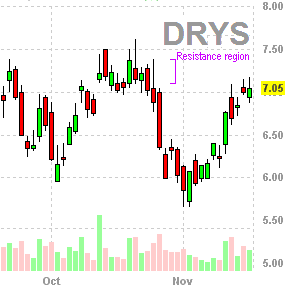 DRYS is possibly the riskiest. A 10 or 20 cent premium on the $7 strike for DRYS may look great, but even with 3 days to move well over the $7 mark, this formerly favored dry bulk shipper is facing some nagging resistance from its selloffs in both September and October. Still I felt could be a good bet, and took a position.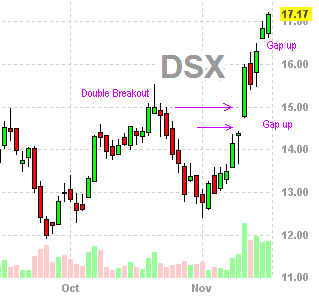 DSX at the $17.5 mark is a race against time. Three days to cover 35 cents? DSX has already gapped up that much this week. Normally, I would like to see one red bar after each gap before taking a new bullish position, but in this case DSX has become the new de-facto leader of the shipping stocks, and is destined for a much higher price range. If this play makes you nervous (quite rationally so) then consider the December calls instead.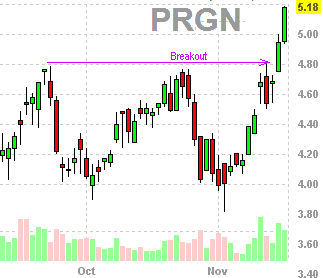 PRGN is the pearl in this week's oyster. It has struggled with the $5 point so often that its $5 November calls stayed at 15 cents even after the stock was well over $5.05 today. I was fortunate enough to grab a bundle of them. I feel that there is about a 50% chance that PRGN will reach $5.50 by Options expiration this Friday. You can get the $5 call for about 20 cents still at this writing. That means a 3 to 1 payoff on 1 to 1 odds. Consider the opportunity: It is a clear cut play on a beaten down stock at a critical point, it has just made a key breakout and gotten peer upgrades, and it is in a screaming sector in an uptrending market. All signs seem to be good. So I took a position on this one too.
Again, let me emphasize these options plays are extremely risky, I do not recommend them for anyone, and there is a very real chance that money put onto one of these positions will experience a 100% loss. But the enticement of a 2-to-500 percent gain, by the end of the day Friday, might appeal to some gutsy options traders. Do not take any of these trades with money you cannot afford to lose. Good luck!
Disclosure: I am long PRGN, EXM, FREE, TBSI, and DRYS.