General Electric (NYSE:GE) has always been one of the more controversial stocks I follow. The company is typically viewed as an industrial growth stock. However, it still relies heavily on its legacy GE Capital assets for a large percentage of its earnings. In 2013, General Electric has been making moves to divest itself of large parts of GE Capital and other non-core assets. This should be considered a good first step as these assets have generally caused the stock to trade at a discount to its peers.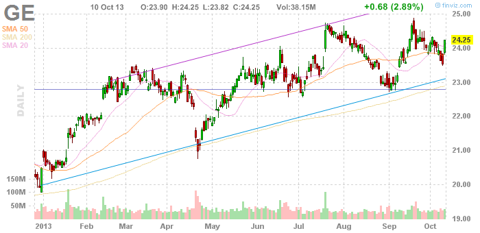 Goldman Sachs sees limited upside in General Electric
However, General Electric's recent moves has divided analysis. In a recent article in Barron's, it was argued that General Electric still has many growth opportunities, especially considering its $223B order backlog. Six out of seven of General Electric's business segments posted earnings growth in Q2 compared to last year, with three seeing double-digit growth.
Barron's bullish case is in stark contrast to the more neutral picture outlined by Goldman Sachs. In its note, Goldman Sachs gave General Electric a $26.00 price target and sees limited earnings upside.
"Our view is based on limited upside to 2013/2014 EPS coupled with a balanced risk/reward at this time. Specifically, we believe the 2013 margin targets are aggressive and a lower asset base at Capital will weigh on 2014 growth. Over the long term, we like GE's position in attractive markets, simplification efforts and actions since the global financial crisis to make Capital stronger/safer. However, while GE appears well on its way to achieving its ENI reduction targets, we believe more can be done to improve its returns/ growth profile, making it a more attractive investment longer-term,"
Why Goldman Sachs is wrong
It seems odd that Goldman Sachs would note positive trends, such as the shrinking of GE Capital and the streamlining of business segments, yet later on argue that these moves will reduce General Electric's 2014 earnings. There is a reason why General Electric wants to shed GE Capital's assets -- to increase its valuation.
Dollar for dollar, earnings from GE Capital are simply not valued as highly as earnings from industrial segments. By enterprise multiple, General Electric trades at a large discount to nearly all its peers. Only Illinois Tool Works (NYSE:ITW) is cheaper, but that company does not have the growth potential of General Electric.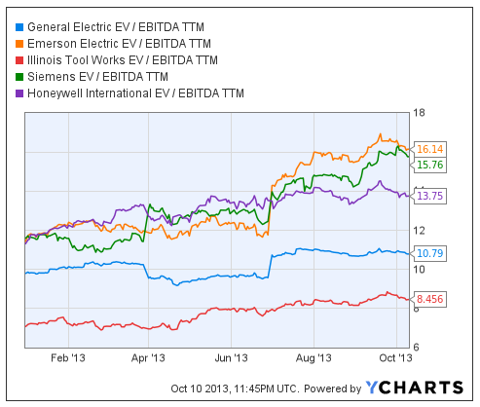 YTD, GE Capital represents about 30% of General Electric's revenues and a slightly larger percentage of EPS. General Electric's industrial segments clearly need to grow faster to make up for the eventual declines from GE Capital. However, even if EPS declines short-term, the market should place a higher value on General Electric's remaining earnings and thus narrow the current discount to its peers.
What to expect for Q3 2013 Earnings
In about a week, General Electric is expected to report its Q3 2013 results. The company's guidance points towards double-digit EPS growth for the second half of the year. However, some segments have lagged behind, especially Power & Water. The majority of General Electric EPS growth is likely to come from margin improvements and related efficiencies, with organic growth likely to come in at around 10%.
However, General Electric is seeing strong growth in a few segments. In particular, the aviation, oil & gas, and transportation segments are seeing high double-digit growth rates. These segments have benefited from secular trends in the US and are likely to see strong growth for many years.
Also note that GE capital is expected to pay a $6.5B dividend to General Electric this year. The company has noted that these funds will be used almost entirely be returned to shareholders via dividends and share buybacks.
General Electric is also very likely to raise its quarterly dividend soon as its last few increases of come during Q4. The last few dividend increases have come in $0.02 increments. However, given that General Electric is flush with cash from its sale of NBCUniversal and the upcoming GE Capital dividend, I suspect that a larger increase is in the works.
Conclusion
General Electric is certainly an interesting stock and is worth considering for long-term focused investors. The company will likely offer above average dividends, generous share buybacks, and acceptable dividend-growth.
General Electric is clearly undervalued when compared to its peers. However, it needs to focus more on its core industrial segments. With GE Capital contributing a large chunk of earnings, General Electric is still part bank, part industrial growth stock.
Disclaimer: The opinions in this article are for informational purposes only and should not be construed as a recommendation to buy or sell the stocks mentioned. Please do your own due diligence before making any investment decision.
Disclosure: I have no positions in any stocks mentioned, but may initiate a long position in GE over the next 72 hours. I wrote this article myself, and it expresses my own opinions. I am not receiving compensation for it (other than from Seeking Alpha). I have no business relationship with any company whose stock is mentioned in this article.