The thesis of this article is that Balchem (NASDAQ:BCPC) offers a compelling way to benefit from the ongoing increase in global meat and dairy consumption without assuming the primary risks and volatility inherent in meat and dairy production.
Global meat and dairy consumption is increasing. This is due predominantly to a burgeoning middle class in developing countries in Asia, Eastern Europe, Latin America, and Africa. As these people become more affluent, they expectedly want to consume more expensive foods, many of which include various meat and dairy products. This is a multi-decade phenomenon that is still well intact, as illustrated on the following charts.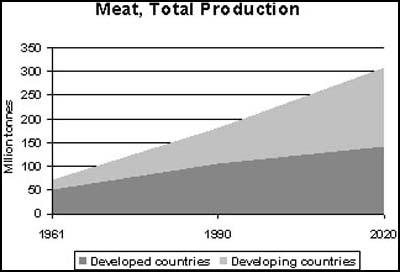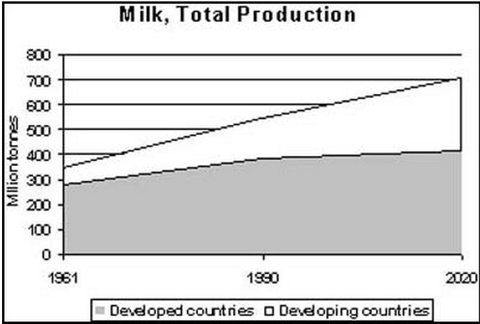 We see from these charts that the bulk of the increase is a result of growing meat/dairy consumption in developing countries. This means that, assuming that these trends remain more or less consistent, we will see an acceleration of meat/dairy production growth as developing markets comprise a greater portion of the world's economy. Furthermore, counter sub-trends prevalent in developed markets, such as the decline in milk consumption per-capita in the United States, are impacting the overall global trends less than they once did.
My goal here is to comprise an investment thesis based on a general trend that is very easy to perceive and to comprehend, but which does not lend itself easily to an actionable investment thesis. There are several investments that will potentially benefit from this trend, but they are generally subject to risks extraneous to it. For instance, one could buy futures contracts, or an ETP proxy such as the iShares Dow Jones Livestock ETN (NYSEARCA:COW). But futures contracts need to be rolled over, which means there are commissions to be paid and potential contango-related decay. Furthermore, the trend alluded to above is an increase in consumption/production, which does not necessarily imply an increase in prices.
Another option is livestock farming. But livestock farming is subject to fluctuations in commodity markets. Not only can livestock and milk prices fail to rise along with demand, but input costs, particularly that of feed, can eat into margins. In fact, as the following chart illustrates, meat and (to a lesser extent) dairy prices have underperformed food prices in general, and feed prices ("cereals" on the chart) in particular.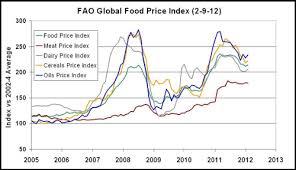 That isn't to say investors should avoid companies involved in meat and dairy production. I recently wrote an article in which I argue that Seaboard (NYSEMKT:SEB) is a good investment because of its pork production business. However in that article, I lay out very specific circumstances that justify an investment in Seaboard.
I think Balchem, with half of its business in the animal nutrient sector, is a company that is well positioned to benefit from rising meat and dairy consumption directly for two reasons. First, animal nutrient supplement consumption will rise with meat and dairy consumption regardless of the profit margins that farmers make on their meat or dairy sales. If this were the only reason to like Balchem, however, one could make a stronger case for a company whose entire business were in animal health such as Zoetis (NYSE:ZTS) or MWI Veterinary Supply (NASDAQ:MWIV). Balchem in particular has a second appeal in that it makes products that are geared towards increasing meat and dairy output (e.g. ReaShure) and raising farmer efficiency.
Thus while investors may hesitate to pay nearly 30-times next year's earnings for a company's shares, the unique opportunity in Balchem's animal nutrient business, coupled with the company's long history of consistently increasing its revenues and profits, make it a compelling long-term investment.
Why Balchem?
Balchem is a diversified specialty chemicals company, but its largest business is its animal nutrient segment. The following table charts this segment's growth over several years and its size relative to the entire corporation
| | | | | | |
| --- | --- | --- | --- | --- | --- |
| Date | Animal Segment Sales (millions) | Percentage of Total Sales | Animal Segment Profits (millions) | Percentage of total Profits | Animal Segment Margins |
| 2007 | $111 | 63% | $10 | 38% | 9% |
| 2008 | $161 | 69% | $11 | 38% | 6.8% |
| 2009 | $148 | 68% | $21 | 51% | 14.2% |
| 2010 | $171 | 67% | $24 | 49% | 14% |
| 2011 | $201 | 69% | $26 | 46% | 12.9% |
| 2012 | $216 | 70% | $28 | 47% | 13% |
We can see from this data that both sales and profits from the animal nutrient segment have been growing very consistently at a respectable CAGR (14% and 23%, respectively). We have also seen that the animal nutrient segment has seen margins generally increase, and compared to the company's other businesses, its margins have room for improvement. Finally, this business has been growing faster than the overall company.
Thus with very few setbacks (just one decline in year-over-year sales coinciding with the 2008-9 recession), Balchem's animal nutrition business has proven to be an excellent way to profit from growing global meat and dairy consumption, and I suspect that this trend will continue as farmers raise more animals to meet rising demand.
The key to Balchem's past and future successes is that it stands to doubly benefit from rising global meat and dairy consumption. Not only will more of its nutrients be used for a growing livestock population, but the specific functions of Balchem's products are geared towards these trends insofar as they increase meat and milk output efficiencies. There are some nutrients, such as CholFine, which lead directly to greater production. There are others, such as VitaShure, which increase animals' capacities to absorb nutrients, thereby reducing feed and other input costs for farmers. Here are a few examples of Balchem's products:
ReaShure: ReaShure helps dairy cows better absorb choline that helps them produce more milk.
KeyShure/SoluKey: These nutrients help animals overcome the effects of "antagonists" in feed. Antagonists make trace minerals that animals need ineffective.
Choline products (CholFine, CholFlow...etc.): Balchem's choline products help animals in their general well-being, enhancing. energy and reproductive ability.
VitaShureC: This helps livestock retain and absorb vitamin C.
With this overview, the reader can see how Balchem's products can help farmers lower costs and increase efficiencies, which will be crucial as demand for livestock and dairy products rise. Furthermore, demand for Balchem's products will be correlated more to total animal production than to farmer profits: because Balchem's products are value-enhancing, farmers who have seen their benefits will not stop using them assuming their profits drop or turn negative.
Conclusion
Balchem's animal nutrient business has a very high probability of benefiting from the ongoing long-term global increase in meat and dairy production. Unlike more obvious choices such as direct speculation in futures or investments in livestock farmers, this is a predictable business that is growing rapidly: input costs are stable and patent protection ensures steady sale prices for its products. This makes Balchem an ideal candidate for risk-averse investors looking to benefit from this trend if they are willing to commit their capital for at least 5 to 10 years.
With this being the case, investors should put an emphasis on the long-term nature of this investment thesis: since shares currently trade within 3% of an all-time high, I would wait for a correction to accumulate the shares. This stock has a propensity to correct violently to the downside, as seen in late 2011 to early 2012.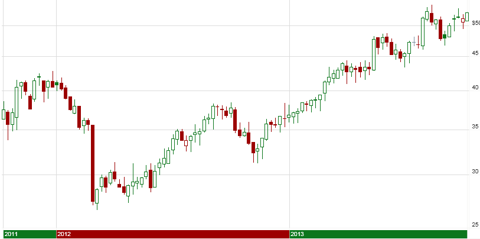 This sentiment seems to be shared by CFO Frank Fitzpatrick, who sold 15,000 shares in September, and another 13,500 shares a week ago (although he still owns roughly 125,000 shares). There have been other insider sells of Balchem as well.
Disclosure: I have no positions in any stocks mentioned, and no plans to initiate any positions within the next 72 hours. I wrote this article myself, and it expresses my own opinions. I am not receiving compensation for it (other than from Seeking Alpha). I have no business relationship with any company whose stock is mentioned in this article.