McDonald's Corporation (NYSE:MCD) enjoyed strong financial performance from 2002 to 2011 but its growth rates have slowed down since then. However, MCD is still the unquestioned, undisputed King of the Mountain in the fast-food restaurant industry in general and burger joints in particular. While it generates nearly eight times the revenue of Burger King Worldwide (BKW) and Wendy's (NYSE:WEN) we believe that it cannot take its eyes off its two competitors. Wendy's and Burger King have been looking to reorganize its operations by selling off a number of its company-owned restaurants to its franchisees in order to harvest cash from non-core assets and to improve operating margins. While MCD does not have any major activist investors amongst its Top 20 shareholders, Wendy's has Trian Fund Management (21%) and Burger King has 3G Capital (70.5%) and Pershing Square (11%). At least the company's dominating competitive position feeds its delicious dividend growth and above average yield (3.5%).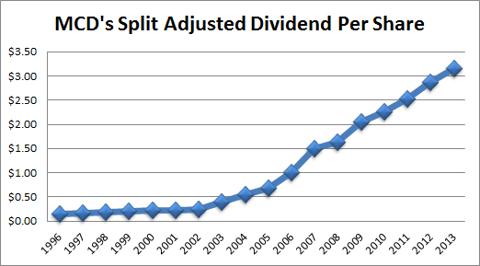 Source: McDonald's Investor Relations
MCD was not the only blue-chip company to see negative headwinds to financial performance from recent global macroeconomic headwinds. MCD generated 2% revenue growth in Q2 2013 versus Q2 2012 levels due to 1% comparable sales growth and incremental growth in its restaurant footprint. European revenue increased by 3% at its company-owned restaurants and 3% at its franchise-operated restaurants on a constant currency basis. The United States saw 1% growth at its company-owned restaurants and 3% at its franchise-operated restaurants. MCD's Asia, Pacific, Middle East and Africa segment saw its company- owned sales increase by 2% reported (1% constant currency) and its franchise-operated sales increase by 5% reported (9% constant currency).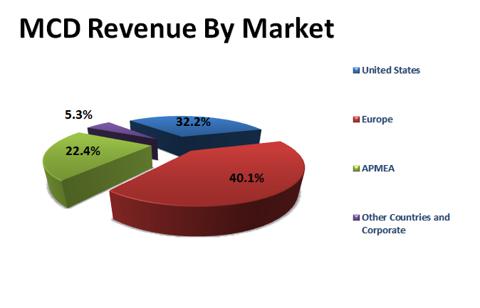 Source: McDonald's Q2 2013 report
All three of the major burger chains generated soft comparable store sales growth in the most recent quarter. The good news for MCD was that it was able to generate the highest comparable store sales versus its two peers during the quarter. The bad news is that 1% comps is nothing to celebrate. MCD's July comps slipped to 0.7% but its August comps rebounded to 1.9%. MCD is the only one of these three firms to report monthly comps. We were surprised that Wendy's had the highest Q3 2012 comp rates of the three major burger chains. Wendy's had 2.8% comps, MCD had 1.9% comps and Burger King had 1.4%.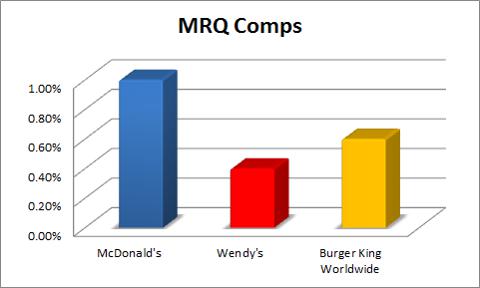 Source: Company Q2 Press Releases
The negative headwinds that MCD saw from the currency translation effect (particularly in the Eurozone) helped exacerbate a tepid and pedestrian operating performance. On a constant currency basis that excludes the impact of currency translations into US dollars, the company only grew its EPS by 6% in Q2 2013 versus Q2 2012 levels while negative currency translation headwinds reduced operating income by 1%. Even after taking the economic slowdown and negative currency headwinds into account, it is disappointing that the company only grew its operating income by 3%. Investors were accustomed to seeing higher operating income growth and under MCD's former CEO Jim Skinner. MCD is still able to generate strong operating margins exceeding 31% and its two largest competitors have been selling off company-owned restaurants to its franchisees in order to boost its operating margins.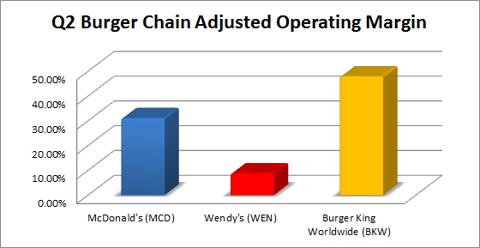 Source: Company Q2 Press Releases
On a cash management basis, MCD is still the Golden Arches in comparison to other burger chains. MCD generated nearly $3.2B in operating cash flows during H1 2013 ($1.5B in Q2 2013) after generating $3.1B in H1 2012. MCD made $556M in net capital investment expenditures during the most recent quarter, which resulted in Q2 2013 free cash flows of $953M. The company also paid $771M in common stock dividends and $346M in net share repurchases and had $2.28B in cash assets on its balance sheet at the end of the period. MCD has a positive working capital position and its $2.28B in cash is significantly greater than its $160M in short-term debt and accrued interest payable. Although the company has nearly $13.4B in outstanding debt, it is manageable when one considers that MCD has nearly $15.2B in shareholders' equity and generated $3.8B in free cash flows in FY2012. MCD could easily pay down its debt in less than 4 years if it was to devote all of its annual free cash flows to debt retirement but it would not be necessary to do so considering that interest rates are at historic lows. Even though MCD momentum seems to be slowing, it has a significantly higher interest coverage ratio than its peers.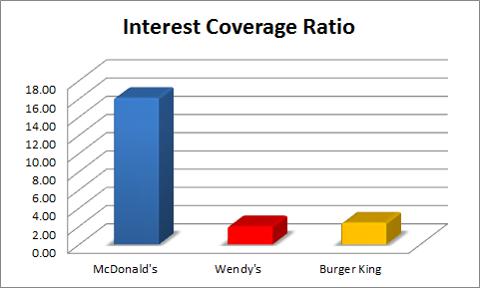 Source: Company Q2 Press Releases
There is no question that MCD has a stronger balance sheet and cash flow generation versus other burger chains like Wendy's, which only paid $31M in H1 2013 dividends and Burger King Worldwide, which began paying dividends this year. Wendy's recently announced it was increasing its quarterly dividend per share again. Wendy's boosted its quarterly dividend from $.02 to $.04 last year and it will increase it by another 25% in H2 2013. Wendy's will also begin repurchasing shares under its previously announced $100M repurchase program in H2 2013. Then again, MCD can afford to lever up its balance sheet since its weighted average interest cost is about 3.78% while Wendy's debt costs 6.2% in average interest expense and Burger King's is 7.5%. One interesting fact is that MCD's dividend yield is 3.635% is comparable to its pre-tax weighted average cost of debt of 3.78%. Because interest expense is tax deductible and dividends are not, MCD should opportunistically repurchase its shares as it would result in greater after tax financing cash flows saved versus paying down debt.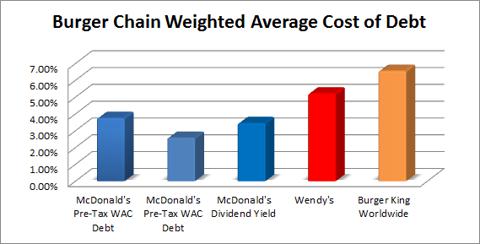 Source: Company Q2 Press Releases
In conclusion, MCD's dominating competitive position feeds its delicious dividend growth and above average yield. One should not be foolish to bet against the Golden Arches, especially due to its worldwide leadership in the quick-service restaurant industry and because its share price is fairly valued, not overvalued. MCD is also the dividend champion of the fast food and quick-service industry as well as the share buyback champion. Investors that want exposure to MCD should consider taking a long position if MCD's share price retouches its 52-week low of $83.31. Burger King Worldwide can only dream to compete at the same level as McDonald's due to BKW's years of being subject to the financial engineering whims of the private equity sector. However, based on the global macroeconomic headwinds that the company is facing and Justice Holding's recent progress in restructuring Burger King, McDonald's should not take its competition lightly. Burger King and Wendy's will not be shaking its also-ran status to McDonald's anytime soon. McDonald's is undoubtedly the best performing burger chain in the world. However, we believe that the new actions taken by Wendy's with regards to its capital investment program and the actions that Justice Holdings and 3G are taking with Burger King are setting those chains up to force McDonald's to step up its game.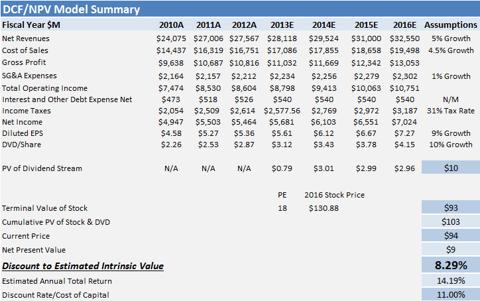 Source: Morningstar Direct and My Estimates
Disclosure: I have no positions in any stocks mentioned, and no plans to initiate any positions within the next 72 hours. I wrote this article myself, and it expresses my own opinions. I am not receiving compensation for it (other than from Seeking Alpha). I have no business relationship with any company whose stock is mentioned in this article.