Zynga (NASDAQ:ZNGA) has lost 124 million monthly active users over the last three quarters with no end in sight for the struggling online-games developer. The company is increasingly looking like a casino bet where the odds are stacked against investors and everyone eventually walks away empty-handed. Despite the downward trend, a restructuring and the possibility of outside interest could make the shares a lottery ticket with a triple-digit upside.
A sucker's bet at the casino
The company is expected to post a loss of $0.05 per share on revenue of $142 million this quarter. This represents a decrease of more than 55% over the same period last year.
The company posted a decrease of 40% in revenue last quarter against the same period last year and has seen sales fall every quarter for the last year. Zynga surprised the markets last quarter with a loss of just $0.01 per share against estimates of a loss of $0.04 per share.
Most disturbing was the drop in monthly active users to 187 million, down 39% from the same period a year ago. The loss of active users is important for more than just a financial reason but because it can be used to measure the attractiveness of the company's games. Zynga makes 88% of its total revenue from online games with the rest from advertising. If it isn't able to create addictive games, then no amount of restructuring will help.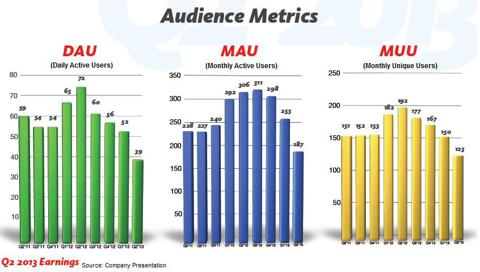 Adjusted EBITDA margin has fallen to just 4% of sales from 22% in the second quarter of last year on higher development costs and administrative expenses. Management is targeting full-year 2013 revenue between $175 million and $200 million with an adjusted EBITDA margin of no more than 5%.
The global games market is estimated to grow at 6.7% a year to $86.1 billion in 2016, mostly due to a 48% jump in tablet games and growth of 19% in the smartphone segment. While this may help Zynga with incremental gains, the company may not see much revenue since the mobile market has not yet been well-monetized. Further, the company faces strong competition from new entrants and games like King Resources (BATS:KING) and its blockbuster Candy Crush Saga.
The company withdrew its application for real money games in September after it had applied last December to offer digital casino and social games with cash payouts. Whether they could have eventually gotten the approval or not, in my view, this was the only thing going for the company. The ability to offer casino games would have given Zynga a huge competitive advantage in an industry with almost negligible barriers to entry.
A steep decline in active users and heavy competition in an industry with few barriers put the chips firmly stacked against any rebound in the shares. Like a casino, investors may want to walk away while they still have some money.
The lottery could change your life
Zynga has been going through some major restructuring over the last few months, laying off 18% of its workforce in June and appointing ex-Microsoft executive Don Mattrick as CEO in July.
The company shut down its OMGPOP site in August despite reports that insiders wanted to buy back the asset. Zynga refused the sale on the grounds that the legal work would be too costly and time-consuming and instead left 30,000 monthly active users in the dark.
Seeking Alpha contributor Bret Jensen compares the social gaming company to Groupon (NASDAQ:GRPN) and its turnaround story. He argues that Zynga has made progress in its restructuring and that CEO Mattrick was able to increase the Xbox 360 base by over 600% and integrate with Netflix (NASDAQ:NFLX) while at Microsoft.
There is always the possibility that Zynga could attract a private equity investor or management could try to take the company private. The shares trade for just 2.5 times sales, well under the 12.9 times multiple that Electronic Arts (NASDAQ:EA) paid for PopCap in 2011. On just 7.5 times sales, Zynga could be worth as much as $10.27 per share, almost three times its current price.
On expected revenue for this year of $717 million, the company still makes $3.92 per monthly active user. While it is nowhere near the level of Google or Groupon, it is still a respectable number compared to other peers and the company is worth something as a buyout target.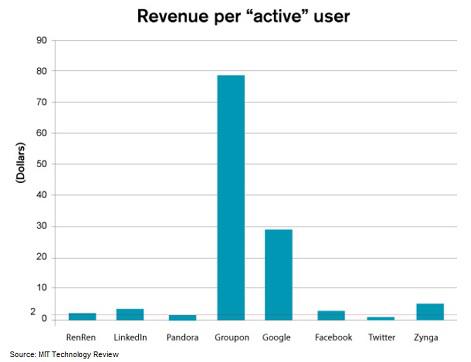 Investors looking for a lottery ticket may want to wait for the company to report earnings on October 24th. There is a good chance the company may look even more like a casino with a declining user base and falling revenues putting the odds against investors. After a pullback on weak earnings, the shares may start to look more like a lottery ticket and could be worth a bet.
Disclosure: I have no positions in any stocks mentioned, and no plans to initiate any positions within the next 72 hours. I wrote this article myself, and it expresses my own opinions. I am not receiving compensation for it (other than from Seeking Alpha). I have no business relationship with any company whose stock is mentioned in this article.