Google Inc. (NASDAQ:GOOG) reports earnings on October 17th but is bound to disappoint because it is stuck between being a strong investment on growth and being a value stock. Growth has slowed considerably and the company may not merit the growth-premium on its shares. While the stock has pulled back recently, it is still relatively expensive compared to other value plays. Investors may want to take some profits and look to other names with a more compelling thesis.
Growth days are over
The company grew revenue by a compound annual rate of 72% over the five years to 2008. Over the five years to expected 2013 sales, this growth has slowed to just 22% a year and 2014 sales are expected just 17% higher.
The company is expected to post earnings of $10.36 per share on revenue of $14.8 billion this quarter. This represents an increase of 2.6% in quarterly earnings against a 5.2% increase in sales from the same period last year.
Earnings per share fell 5% last quarter and earnings growth has averaged just 3.5% over the last four quarters. Shares fell just under one percent when the company missed expectations for earnings last quarter by 11%, posting $9.56 on estimates of $10.78 per share.
While revenue from the company's site has grown proportionally to total sales over the last two years, revenue from network advertisers has failed to keep pace. On top of this, revenue from Motorola has actually declined over the last two quarters.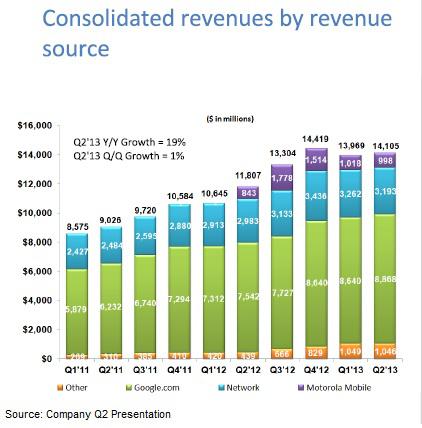 Besides weakness on the revenue side, costs have been an issue over the last couple of years as well. The company's cost-per-click rate fell 6% last quarter on a bigger proportion of mobile advertising which can cost 40% less than desktop advertising. The loss on the CPC rate over the quarter was a disturbing trend, increasing from a decline of 4% in the first quarter of the year. The trend will probably not reverse anytime soon with more people using mobile devices to access the internet.
Traffic acquisition costs, the percentage of sales that the company must pay network partners, have stabilized somewhat to 25% of advertising revenues. This is positive against the five-consecutive quarters of higher costs to 25.5% in the fourth quarter of last year. Total costs and expenses jumped 5% to 78% of revenue in the last quarter compared to a year ago.
Google is teaming up with Hewlett-Packard (NYSE:HPQ) to launch a new $279 Chromebook this week. The changes to the product from last year's Chromebook collaboration with Samsung look mostly cosmetic. The technical specifications are unchanged though the frame is sturdier. The product is nothing spectacular and will probably fail to create much buzz or increase share sentiment. The company plans on launching another version of the line with Intel (NASDAQ:INTC) Haswell processors later this year which are reported to offer all-day battery life.
Without any headline product launches in the near-term, revenues may fail to impress investors looking for the heady days of faster growth.
Not Yet a Value Play
While the company is quickly losing its place as a growth story, it is still not a convincing value play. The shares trade for 26 times trailing earnings, under the industry average of 33 times but above the company's five-year average of 24 times trailing earnings.
Compared to Apple (NASDAQ:AAPL), its nearest peer in devices, it is extremely overvalued on price-multiple basis. Apple trades at just 12 times trailing earnings with a 5-year compound rate of sales growth of 45%, well over that of Google's growth. It is also extremely overvalued when compared to Yahoo (NASDAQ:YHOO), its nearest peer in search, which has a multiple of just 9.1 times earnings.
Five or more years ago, you could make a convincing argument for a premium valuation in shares of Google. The company was growing revenue in the high double-digits each year and was integrating into a lot of new products. With its nearest competitors trading for less than half the price multiple on earnings, the argument becomes considerably more difficult.
Shares of Google are down 8% from their high this year as investors come to the understanding that the company may not fit a particular investment style. Slowing revenue growth and higher costs, along with a pipeline that promises little in the way of breakthroughs, has made growth investors lose interest. An expensive valuation relative to peers means that value investors may not get what they want either. Investors may want to hold off on any new positions until the shares become more attractively priced or revenue growth looks to pick up.
Disclosure: I am long INTC. I wrote this article myself, and it expresses my own opinions. I am not receiving compensation for it (other than from Seeking Alpha). I have no business relationship with any company whose stock is mentioned in this article.