This author was happy to see that his recent article on Verizon Communications (NYSE:VZ) was able to generate significant readership interest by investors. I was also pleased that I was able to gain new followers and that two Seeking Alpha authors recognized the high quality research content. Although I do not currently own any Verizon stock because I believe Verizon's share price is within 7% of its fair intrinsic value, it is a company that I want to own because it is the market leader in the wireless communications industry. I like Verizon as a potential investment, love its Verizon Wireless division but have little regard for its wireline division. Based on reader feedback, the following topics are worth exploring further:
My investment thesis on Verizon
Verizon's dividend payout ratio
The Verizon Wireline division
Verizon's balance sheet management
My Investment Thesis on Verizon
One of my readers questioned why I suggested investors wait until Verizon's share price declines to $40 when Verizon issued a share price collar of $47-$51 to Vodafone (NASDAQ:VOD) concerning the shares that Verizon will issue to Vodafone. I established a fair intrinsic value of $50.32 for Verizon and I strongly prefer to enter into a position at $40 so I can get it at a 20% discount to its fair intrinsic value. I believe that the stock market in general and Verizon in particular is priced at a fair value and there is more downside than upside as of this moment in time. As of right now, I concluded that the only reason why someone should feel compelled to own it is for its 4.5% dividend yield and that is not enough to compel me to buy into Verizon. In my opinion, I would expect Verizon's share price to be comparable to the S&P 500 over the long term.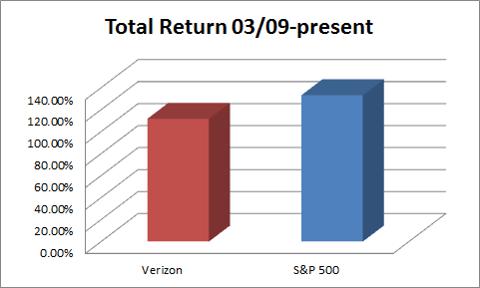 Click to enlarge
Source: Morningstar Direct
Verizon's Dividend Payment
Some investors have looked askew at investing in Verizon because its dividend payment per share of $2.12 is well ahead of its reported trailing 12-month earnings per share of $0.54, representing a dividend payout ratio of 381% based on its GAAP earnings. However, many income-oriented investors prefer to evaluate a company's dividend payout ratio based on its free cash flows. Verizon generated $33.36B in operating cash flows over the last 12 months and spent $20.75B on CapEx and other investment expenditures resulting in $12.61B in free cash flows. Verizon paid out $5.6B in dividends to its common shareholders resulting in a dividend payout ratio of 44.44% based on its free cash flows. The reason why there is a huge disparity between the different payout ratios is because Verizon incurred a significant amount of non-cash expenses ($7B for charges related to its retirement benefit plans and $10.86B in minority interest expense relating to Verizon Wireless). Saibus Research wrote a critically acclaimed report last year evaluating Verizon's ability to pay a dividend to its shareholders.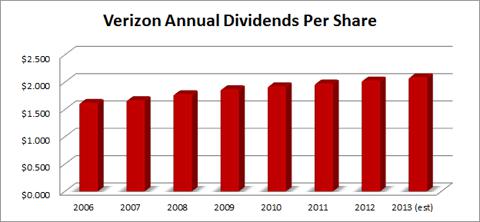 Click to enlarge
Source: Verizon Investor Relations
Verizon Wireline
Verizon Wireline is the old gray mare that is not what it used to be twenty long years ago. I do not need to read Verizon's financial statements in order to see that Verizon Wireline's revenue is declining. I work as the Research Director and Interim Head of the Newton Taxpayers Association, which is the nation's oldest municipal fiscal watchdog group. As part of my phone-banking efforts during a recent property tax override election in Newton, I found that a significant portion of the registered voting households in Newton either did not have a verifiable landline or disconnected their former landline. I can conclude based on empirical observation that Verizon Wireline's revenue is sagging.
I noted that Verizon, AT&T (NYSE:T) and the rural telecom trio (CenturyLink (NYSE:CTL), Windstream (NASDAQ:WIN) and Frontier (NASDAQ:FTR)) are working to mitigate wireline customer attrition with revenue and customer growth from strategic communications products such as digital voice, internet, video, Terremark cloud services, security and IT solutions and strategic communications network solutions. However, one cannot ignore that the rate of wireline customer attrition is greater than the revenue generated from strategic communications products. This has resulted in a steady decline in Verizon Wireline's EBITDA margin from 2008 (25.4%) to 2013 (21.8%). No wonder Goldman Sachs and Saibus Research have called for Verizon to sell off its wireline division last year.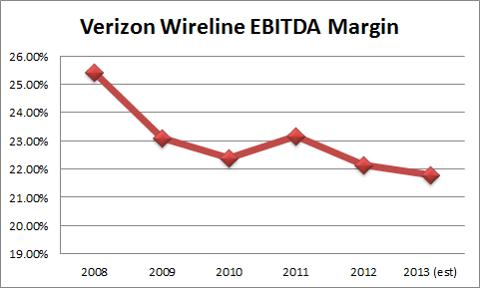 Click to enlarge
Source: Verizon's 2008-2012 Annual Reports and My Estimates
Balance Sheet Management
The bad news behind Verizon's acquisition of Vodafone's 45% minority interest in Verizon Wireless was that it would incur $70B in new debt and issue $60B worth of its stock to Vodafone. This would increase its bonded debt from ~$50B as of Q2 2013 to ~$120B pro forma and we projected that it would add $3.5B in pre-tax interest expense to Verizon's income statement. It would also increase its stockholders' equity book value from $34.1B as of Q2 2013 to $94.3B pro forma and it would increase Verizon's share count by 1.2B-1.28B (42%-44.5%) depending on what price Verizon's shares are trading at (subject to the $47-$51 per share collar that Verizon and Vodafone agreed to as part of the deal). However, the good news is that the deal will eliminate Verizon's $53.1B in minority interest liabilities as well as its annual $11B+ in minority interest expenses. Verizon's management expects this transaction at close to be immediately accretive to the company's EPS (earnings per share) by approximately 10 percent, without any one-time adjustments.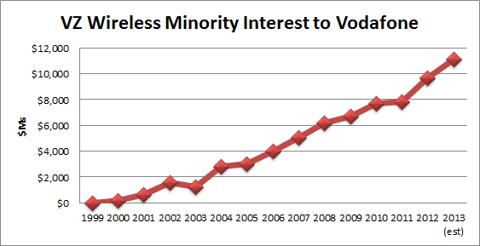 Click to enlarge
Source: Verizon's 1999-2012 Annual Reports and My Estimates
Conclusion
In conclusion, Verizon is still a fairly-valued company and one would primarily own Verizon for its 4.5% dividend yield. Based on some of the questions that my readers posed to me after reading my recent report on Verizon, I felt that this report was a great way to follow up the questions that the readers asked about Verizon. It also assisted me in articulating my thesis about Verizon as an investment and in taking a second look at the recent strategic transaction involving Verizon and Vodafone.
Disclosure: I have no positions in any stocks mentioned, and no plans to initiate any positions within the next 72 hours. I wrote this article myself, and it expresses my own opinions. I am not receiving compensation for it (other than from Seeking Alpha). I have no business relationship with any company whose stock is mentioned in this article.