By Michael Rawson, CFA
Exchange-traded funds garnered $53 billion in net inflows during the third quarter of 2013. This is despite the fact that it was an extremely volatile three-month stretch that included the largest month of ETF outflows on record in August. The flows were driven by investor interest in equity funds, as U.S. equity funds brought in $22 billion while international-stock ETFs brought in $21 billion. A rebound of flows in September allowed the taxable-bond category to eke out a net increase for the quarter, but selling off municipal-bond ETFs continued unabated. Selling within the precious-metals category pressured the commodities category group, although the pace of selling slowed from the second quarter. For the year to date, ETF flows are slightly behind last year's record-breaking pace. While equity fund inflows are ahead of last year's, bond funds are off pace and commodity exchange-traded products have experienced net redemptions.
Large blend led all categories with $12 billion of inflows for the quarter, of which nearly half came from SPDR S&P 500 ETF (NYSEARCA:SPY). Flows to SPY are quite volatile and have changed direction in each of the past seven months. While flows to ETFs are more volatile than flows to long-term mutual funds, much of the volatility in monthly ETF flows is driven by SPY. Over the past three years, the annualized volatility of monthly ETF flows was 3.6% while SPY had flow volatility of 18.6%. Excluding SPY, ETF flow volatility drops to 3.0%, only slightly greater than the 2.5% volatility of mutual fund flows. By far the largest ETF, SPY makes up 23% of the assets in the U.S. equity category but 74% of the daily, dollar trading volume. That is down only slightly from three years ago, when SPY made up 26% of assets and 78% of dollar trading volume.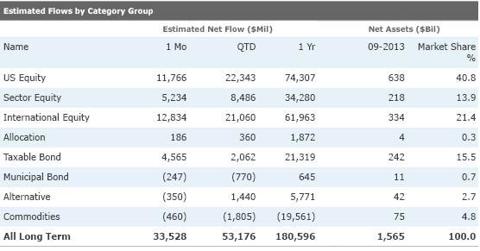 Click to enlarge
Over the past year, ETFs on the value side of the Morningstar Style Box have had stronger inflows than growth-oriented funds, likely because of their higher dividend yields and the popularity of several low-volatility strategy ETFs. That trend moderated in the third quarter. IShares MSCI USA Minimum Volatility (NYSEARCA:USMV) had outflows of $1.6 billion after bringing in $2.7 billion in the first half of the year. The four largest dividend ETFs, Vanguard Dividend Appreciation ETF (NYSEARCA:VIG), iShares Select Dividend ETF (NYSEARCA:DVY), SPDR S&P Dividend (NYSEARCA:SDY), and Vanguard High Dividend Yield Indx ETF (NYSEARCA:VYM) brought in $1.0 billion for the quarter, down from $5.3 billion during the first half of the year.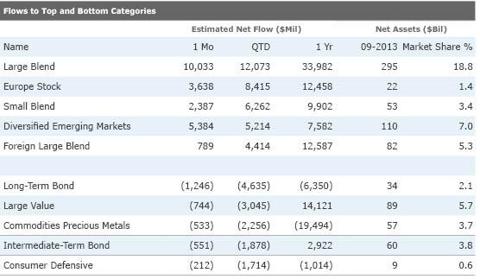 Click to enlarge
In terms of organic growth (which only includes flows and excludes growth from asset appreciation), the Europe stock category had the fastest growth of any equity category, bringing in $8 billion for the quarter and allowing assets to hit $22 billion, up from $11.4 billion at the end of the second quarter. Both Vanguard FTSE Europe ETF (NYSEARCA:VGK) and iShares MSCI EMU Index (BATS:EZU) each collected more than $3 billion for the quarter. Within the diversified emerging-markets category, iShares MSCI Emerging Markets (NYSEARCA:EEM) attracted $4.9 billion of flows while iShares Core MSCI Emerging Markets ETF (NYSEARCA:IEMG) attracted $578 million. EEM tracks the MSCI Emerging Markets Index while IEMG tracks the MSCI Emerging Markets Investable Market Index, which includes small caps. IEMG was launched last year as part of the iShares Core suite of ETFs and has accumulated $2.3 billion in assets. At an expense ratio of 0.18%, IEMG is 51 basis points cheaper than EEM but lacks the trading volume and liquidity of EEM.
Taxable-bond ETF investors shifted to short-duration funds during the quarter. Longer-duration funds with strong outflows included iShares Barclays 20+ Year Treasury Bond (NYSEARCA:TLT) and iShares iBoxx $ Investment Grade Corporate Bond (NYSEARCA:LQD). The long duration of most Treasury Inflation-Protected Securities funds, along with diminished inflation expectations, led to outflows at iShares Barclays TIPS Bond (NYSEARCA:TIP).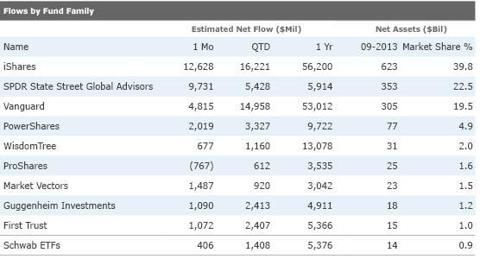 Click to enlarge
Shorter-duration funds with strong inflows included iShares Barclays 3-7 Year Treasury Bond (NYSEARCA:IEI) and Vanguard Short-Term Bond ETF (NYSEARCA:BSV). Floating-rate funds, which also have shorter durations, continued to gather assets. PowerShares Senior Loan Portfolio (NYSEARCA:BKLN) and iShares Floating Rate Bond (NYSEARCA:FLOT) both had inflows of around $1.3 billion.
High-yield bond funds had strong inflows for the quarter. An economic scenario in which the Fed begins to withdraw stimulus is likely to coincide with improving credit fundamentals. The group had inflows of $3.3 billion for the quarter. IShares iBoxx $ High Yield Corporate Bond (NYSEARCA:HYG) and SPDR BarCap ST High Yield Bond ETF (NYSEARCA:SJNK) each had inflows just over $1 billion.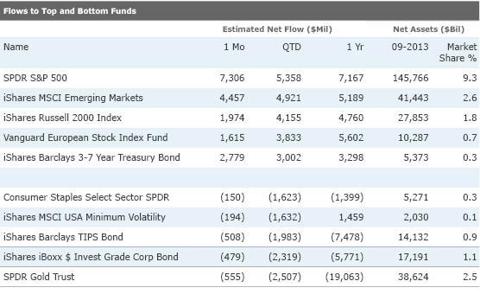 Click to enlarge
Disclosure: Morningstar, Inc. licenses its indexes to institutions for a variety of reasons, including the creation of investment products and the benchmarking of existing products. When licensing indexes for the creation or benchmarking of investment products, Morningstar receives fees that are mainly based on fund assets under management. As of Sept. 30, 2012, AlphaPro Management, BlackRock Asset Management, First Asset, First Trust, Invesco, Merrill Lynch, Northern Trust, Nuveen, and Van Eck license one or more Morningstar indexes for this purpose. These investment products are not sponsored, issued, marketed, or sold by Morningstar. Morningstar does not make any representation regarding the advisability of investing in any investment product based on or benchmarked against a Morningstar index.