That's right. When market-makers [MMs] see Amazon.com Inc. (NASDAQ:AMZN) with a prospect of 3 times as much upside price change as drawdown risk exposure coming in the next few months, you better believe it.
The profit batting average, in the past 5 years, has been a win result in better than 9 out of ten commitments, when that has been the MMs' outlook.
So, what does a few lucky trades prove?
Well, the MMs are betting their 7-figure-a-year jobs and the firm's capital every day. The way they hedge hundreds of trades shows that kind of belief for AMZN in 230 of the last 1261 market days (5 years). That's nearly 1 day every week, and 91 out of 100 can earn a profit of 10%, net of the 21 losses. That starts to look like more than a few lucky trades.
You know, they didn't (ALL) get those great jobs by marrying the boss's daughter.
They've got their eyes, ears, and nerve endings all sweeping the scene worldwide on a 24x7x365 basis, aided by the best information-gathering systems that money and decades of taking guys to hockey games, super bowls, conferences in Tahiti, etc. can deliver.
Best of all, the big-money-fund portfolio managers and their trading desks are on the blower with them dozens of times a day, trying to get big chunks of sticky stocks moved either into or out of their holdings. In the business, this is known as "order flow." For the experienced market-maker, it tells a lot about what the clients are likely to cause specific stock prices to do. And these are the clients with the capital muscle that moves markets.
Where that shows up is in the hedge the MM sets up to protect his firm's capital that has to be put at risk, to get the sticky stock deals unstuck. What he will pay to keep his job and that capital safe, and the way the deal is structured, tells just how far he thinks, or rather they think, those prices may go.
"They" include the "prop trade" desks at other (equally well informed) MM firms, who sell the protection hedges being sought. If the cost is too high, the potential trade client chokes, and a "fill or kill" deal dies, along with its commission and related payoffs to the MM community.
All these considerations appear after lots of other high-priced MBA/CFA analysts have been through the deadly-dull reports filed with the SEC and other regulators. AMZN is not a new face on the street. Lots of controversy exists. That's what makes markets. Somebody's going to be wrong. So far in 5 years, it's only been the MMs in 21 days out of 1261. Whose side would you rather be on?
Want to know what the MMs see in the future for AMZN now, and how that has compared with their outlooks over the past half-year? Here's that picture, where the vertical lines are the range of coming price possibilities seen daily, split into upside and downside prospects by the heavy-dot contemporary price at the time of the forecast.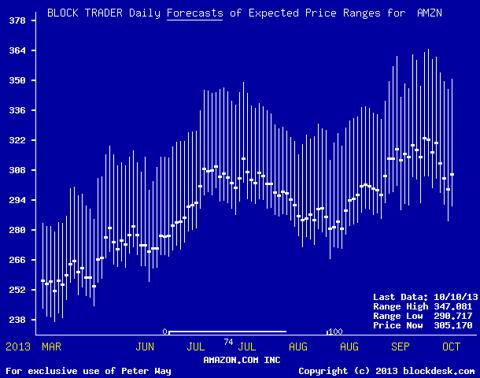 (used with permission)
The current 13+% upside has been won enough times to earn a net gain of over 10% after those relatively few losses, in time periods of less than 8 weeks at a time. That allows compounding of the use of the capital over 6 times a year and results in an annual gains rate of 84%.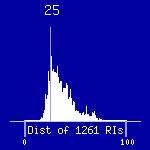 Because of the frequency of opportunity (near 1 a week or 4 a month), that number is not just a calculation but is actually achievable. This picture of the distribution of forecasts of varying balance between upside and downside prospects shows that the current condition is actually the most frequent.
That 25 is the current Range Index value that indicates 25% of the forecast range lies below the current price.
The average worst-case price drawdowns during all of those 230 8-week experiences was -3%. Obviously, few drawdowns still were present when holding-period policy time limitations of 3 months forced position closures. The +10 to -3 reward-to-risk ratio experienced is far from what most AMZN critics repeatedly forecast.
This portrait of what typically happens to AMZN stock, following times like we see at the present, is the product of Intelligent-Behavior analysis, looking at the self-protective actions of well-informed, experienced, and knowledgeable professionals.
They clearly know how to win most of the time they are at risk, and when to take those risks. You won't beat them at their game, but by watching what they do, you can ride their coattails on when to enter and when to exit. That means not only improving your odds, but getting your capital to work harder for you.
AMZN is not an investment to cuddle all the way to retirement. It is a stock bought to be sold, a means of making money, as honestly as GM, Apple (NASDAQ:AAPL), or PIE.
Some investors get carried away with truth, light, economic rationality, and notions of how the "fundamental" world is supposed to be. Others are far more intent on making money, and have no problem in working AMZN as long as it lasts. If there is a need to get off during an 8-week exposure, the MMs will know, probably well before most other players in the game.
Disclosure: I have no positions in any stocks mentioned, and no plans to initiate any positions within the next 72 hours. I wrote this article myself, and it expresses my own opinions. I am not receiving compensation for it (other than from Seeking Alpha). I have no business relationship with any company whose stock is mentioned in this article.