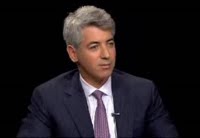 This is the third quarter 2009 edition of our hedge fund portfolio tracking series. If you're unfamiliar with tracking hedge fund movements or SEC filings, check out our series preface on
hedge fund 13F filings
.
Yesterday we kicked off our coverage with the most requested hedge fund by readers:
Seth Klarman's Baupost Group
. Today, we're continuing our coverage with another highly requested fund: Bill Ackman's Pershing Square Capital Management. Ackman is a well known value oriented and activist hedge fund manager who often takes large stakes in companies. For a more in-depth look at Bill Ackman, head to our
profile of Pershing Square here
.
Ackman's fund is good to track via SEC filings because he runs a very concentrated equities portfolio and typically holds the names for a longer timeframe. This way, the timelag associated with SEC filings is not detrimental to our coverage. Not to mention, Ackman typically takes larger stakes in companies which often require 13G or 13D forms to be filed so we are always on top of his portfolio maneuvers. And, our coverage of his portfolio via his latest 13F highlights just why it is prudent to monitor all SEC filings by any given manager.
Keep in mind that the positions listed below were their long equity, note, and options holdings as of September 30th, 2009 as filed with the SEC. We don't cover every single portfolio maneuver, as we instead focus on all the big moves. All holdings are common stock unless otherwise denoted.
Some New Positions
(Brand new positions that they initiated last quarter):
Corrections Corp of America (
CXW
) - See Ackman's
presentation on this play
Some Increased Positions
(Positions they already owned but added shares to):
McDonald's (
MCD
): Increased by 243.6%
Target (
TGT
): Increased by 4.6%
Flat Positions
(No change since Q2):
Greenlight Capital Re (
GLRE
)
EMC (
EMC
)
Borders (BGP)
Some Reduced Positions
(Some positions they sold shares in):
Automatic Data Processing (
ADP
): Reduced by 15.7%
Removed Positions
(Positions they sold out of completely):
n/a
Pershing's Entire Portfolio (by percentage of assets reported on 13F filing
)
Target: 38.80%
EMC: 31.95%
McDonald's: 15.04%
Automatic Data Processing: 7.68%
Corrections Corp of America: 5.32%
Borders Group: 1.05%
Greenlight Capital Re: 0.15%
As we mentioned earlier, Pershing Square runs a very concentrated portfolio. Target makes up the bulk of their holdings but keep in mind that much of that is due to their Pershing Square IV hedge fund that holds Target as its only position. The only new addition to Pershing Square's portfolio is that of Corrections Corp of America. We had already
detailed his thesis
behind this investment from his presentation at the
Value Investing Congress
. The other notable change to their portfolio was the boost in their MCD position and Ackman detailed some of his thoughts on this investment in his
Q2 investor letter
.
While SEC filings do not require funds to disclose short positions, we do know that one of Ackman's shorts is real estate play Realty Income (
O
). Previously, we posted up
Pershing's presentation on O
which laid out why he thinks it will have to cut its dividend, sending its retail investor base fleeing.
The fact that we know one of Ackman's shorts in addition to almost all of his longs has made readers wonder why investors are willing to pay management and performance fees for his hedge fund when the majority of his positions are readily disclosed. The counterpoint to that question would be the fact that you don't know
all
of his shorts, nor can you put on his positions that are institutional in nature. Typical investors usually don't have access to credit default swaps, a tool Ackman likes to use for putting on his short plays. And, in addition to his equity plays, Ackman also has various positions in the debt markets (General Growth Properties (GGWPQ.PK) being a prime example). So, while you can create a semi-Pershing portfolio simply through their equity plays, you can't entirely replicate their portfolio solely through SEC filings.
Those of you avidly tracking the General Growth Properties situation will note that it is not present in this 13F filing. This is
not
because he has sold out. Pershing still holds GGWPQ debt and equity. It is simply not listed because the SEC has deemed GGWPQ to no longer be a
reportable security
for 13F filings. This is most likely due to the fact that they are no longer listed on the exchange (GGWPQ is traded in OTC markets). The main thing to take away from this is the fact that we will still see Ackman's moves in GGWPQ through Form 4 filings since he is now on the board of directors. For more info on their position, Ackman's Q2 investor letter briefly
touches on GGWPQ here
.
Post-13F, Pershing Square has also recently revealed a position in Landry's Restaurants (
LNY
) but due to the complex nature of that situation we will be penning a separate post on the details shortly.
Assets from the collective holdings reported to the SEC via 13F filing were $3.1 billion this quarter compared to $2.26 billion last quarter, a notable increase in assets invested in long equities. Please keep in mind that when we state "percentage of portfolio," we are referring to the percentage of assets reported on the 13F filing. Since these filings only report longs (and not shorts or cash positions), the percentages are skewed. Realistically, the position percentages are more watered down in their actual hedge fund portfolio since their actual AUM is a figure much larger than what is reported on a 13F.
This is just one of the 40+ prominent funds that we'll be covering in our Q3 2009
hedge fund portfolio series
.
We've already covered
Seth Klarman's Baupost Group
so check back daily as we'll be posting up a new hedge fund each day.