Thesis
I have positioned myself as a big believer in independent oil and gas companies and 30% of my portfolio consists of oil- and gas bets that I sleep comfortably with as I purchased them at an average P/E of ten which gives the shares enough room to run up higher but also provides me with a significant margin of safety. Most of the oil- and gas companies I own exhibit short-term operational problems or the market has marked them as underdogs because of high capex or divestiture programs (which in the long-term are good for shareholders). The energy sector and the basic materials sector can offer investors serious bargains when they remain committed to not place too much value on short-term price fluctuations or volatile macro-economic data. While I do not pay attention to specific macro data such as GDP, inflation, unemployment, currencies, interest rates etc. I still watch the long-term trends. Since interest rates are still near zero, unemployment in the US and South Europe continue to be high (Greece is still restructuring its banking sector probably lagging the US by up to five years) and China's construction sector cools down, there is a lot of opportunity and potential for the global economy to get back on its long-term growth track of 3-4% per annum. Energy plays will ultimately benefit from increased oil- and gas production (already taking place in the US) and new exporting opportunities as the US is likely to produce excess supplies in the future. Devon Energy (NYSE:DVN) is such an energy play.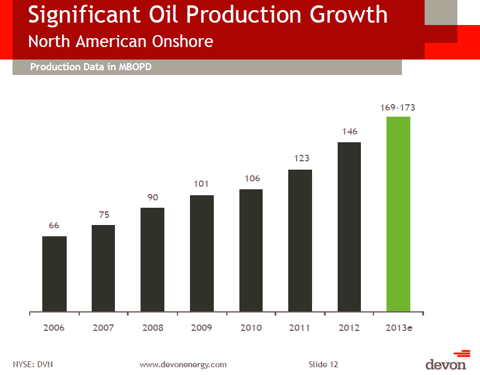 Increasing production levels and fairly stable oil prices in the neighborhood of $100 per barrel are very supportive long-term business drivers for Devon Energy. Long-term oil prices are supported by supplies that are harder to exploit and take longer to get to market.
Fracking
Devon employs an exploration method called fracking to access shale gas plays and address exploration challenges of traditional oil- and gas majors. On its website, Devon summarizes the fracking process:
Hydraulic fracturing works like this: Several thousand feet below the earth's surface, a mixture composed primarily of water and sand is pumped under high pressure into a shale formation containing natural gas. The mixture creates fractures in the shale. The sand keeps those fractures open, allowing natural gas to rush into the wellbore.

This process typically takes place at least a mile below groundwater sources. For instance, in the Barnett Shale of north Texas, the shale formation lies in depths ranging from 6,500 to 9,200 feet deep. By comparison, most water wells in that area are drilled to depths ranging between 150 and 700 feet. Many layers of rock separate the aquifer from the area where fracking takes place.
Due to absence of groundwater contamination cases fracking seems to be a fair game exploration technique. While there are other concerns about its environmental implications I do not believe that a US administration will stifle the natural gas fracking boom with regulation. 58% of Devon's total production relates to natural gas, 18% comes from natural gas liquids and 24% comes from oil. Devon Energy will be a prime beneficiary if the US regulatory regime for hydraulic fracking continues to support shale gas extraction in the name of energy independence. Fracking is a highly complex, but also highly promising method to access natural gas reservoirs that previously were thought to be not exploitable. Investors believing in a continuous natural gas boom (as do I) might want to have a thorough look at Devon Energy which is heavily reliant on natural gas production.
Share performance
Devon Energy lags so much in performance it becomes a dot at the horizon. Even more hurtful for shareholders, other independent oil- and gas plays have seriously increased in value. Devon Energy's five year return stands at minus 15%. This compares to +29% for Chesapeake Energy (NYSE:CHK), +19% for Apache Corporation (NYSE:APA), +35% for Marathon Oil (NYSE:MRO), +105% for Occidental Petroleum (NYSE:OXY) and +182% for Anadarko Petroleum (NYSE:APC). Devon's underperformance is disappointing but provides value investors with a contrarian opportunity to buy an exploration company with a strong natural gas platform at a discounted price.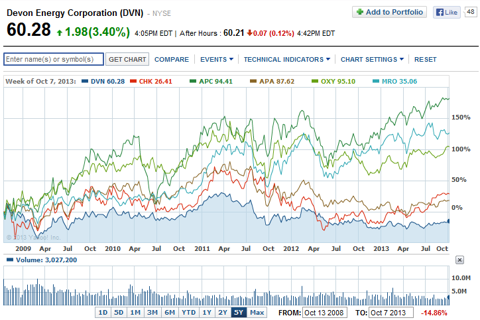 Peer group valuation
I like to purchase companies that trade at sector P/E lows and give high earnings yields in return. Devon Energy trades at only 11.07 forward earnings (9% earnings yield). Devon's valuation is in line with Apache Corporation and Marathon Oil. I have previously identified Apache as an equally attractive Buy candidate because Apache continues to make progresswith regards to its asset restructuring program and was subject to fear-driven selling activity. Anadarko, on the other hand, has run up to such extreme levels, relatively speaking, that investors are likely to get a poor bargain with very limited upside potential. Low P/E firms such as Apache Corporation and Devon Energy provide significant margin of safety making an investment into this energy play of comparatively low risk.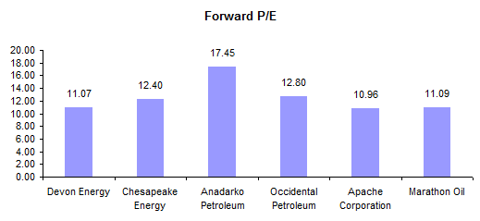 In terms of dividend yields, Devon ranks somewhat in the middle. The illustration below is purely for comparative purposes. Income investors are unlikely to find dividend value in the independent oil and gas sector (maybe with the exception of Occidental Petroleum).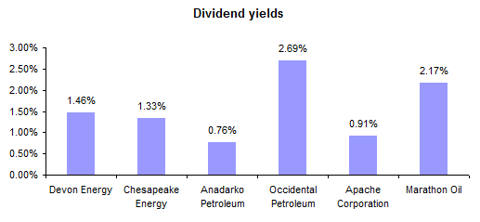 Ranking Devon Energy against a variety of peer firms shows that the company trades at a 12.35% discount to the peer group average of 12.63. Given the long-term supporting business drivers (increasing oil- and gas production and long-term demand projections, new exploration technology) the sector as a whole remains cheap.

Catalysts
Devon Energy is exposed to a variety of catalysts on both the macro and micro side of the business. Increasing production will be a key driver for Devon's business value: Its Q2 2013 results have shown that the Permian Basin is driving its oil production (+36%). It also recently revealed its new shale gas prospect Woodford with substantial reserves. The Delaware Basin could also continue to deliver additional value by increased drilling intensity and higher light-oil production. Devon's Barnett and Cana shale plays are also quality assets that suggest a spike in natural gas production over the coming years.
Another catalyst relates to the creation of a midstream MLP where the MLP is going to own a minority interest in Devon's midstream business (Devon is going to be general partner). A subsequent IPO allows the market to better value Devon's midstream business and would classify as a core Joel Greenblatt investment.
Another catalyst is Devon Energy's low valuation itself. It gives investors substantial upside potential while limiting downside risk. If Devon breaks out of its trading range above $60 momentum could drive share prices even higher.
Conclusion
Investors looking for a long-term bet on natural gas production in general and fracking technology in particular can find a bargain with Devon Energy. Its portfolio assets are of high quality and have a demonstrated record of production increases. New opportunities in energy export provide additional upside potential. The creation of Devon's midstream MLP is the right move to create visibility in the market and value for shareholders. Its low valuation is compelling and ranks at the bottom of the peer group. Once the market recognizes these underlying themes Devon's share price could very well break out of its trading range of $51-60. Presently, Devon's share price sits just below multiple short-time highs (between $61-63) and a move above $61.48 could cause more momentum in the stock. Long-term Buy.
Disclosure: I am long APA, DVN. I wrote this article myself, and it expresses my own opinions. I am not receiving compensation for it (other than from Seeking Alpha). I have no business relationship with any company whose stock is mentioned in this article.