Many people like to follow what investors are buying, selling and shorting. So I began looking over the latest short interest figures of some well known Chinese companies. These companies are Sina Corporation (NASDAQ:SINA), Renren Inc. (NYSE:RENN), Dangdang Inc. (NYSE:DANG), Baidu Inc. (NASDAQ:BIDU), NQ Mobile Inc. (NYSE:NQ) and Youku Tudou Inc. (NYSE:YOKU).
Short interest is an indicator of what short sellers think about a particular stock. If short interest increases, then shorts are betting that the price of the security will be going down. However, if short interest decreases, then shorts are betting that the price of the security will likely be going back up.
Many investors use short interest to make predictions about the direction of a particular stock and to measure the bullishness or bearishness of it.
Short interest has been increasing in some Chinese stocks while decreasing in others. There could be many different reasons as to why, so a good question to ask yourself in this situation is what do the shorts know that you don't? Let's take a look at the companies to see what has transpired for the increase as well as the decrease in short interest.
Baidu
Baidu is often called the Google of China, and is one of biggest companies in China. Even with increasing competition, Baidu still dominates the search engine field with a market share close to 64%.
If you haven't noticed by now, Baidu has gone on a spending spree over the last couple of months as it has acquired PPS, 91 Wireless, and took a 59% stake in Renren's group buying site Noumi.
This shows that Baidu will not just sit idly by and let the competition push it around. Baidu is now bringing the competition on its competitors.
Shorts have come to realize this as they have significantly dropped their positions in Baidu over the last couple of months. It doesn't hurt either that Baidu's earnings and future guidance turned out to be better than expected. Earnings season is just around the corner so depending on what happens, shorts might pile back in or exit entirely. The graph below shows the big change in short interest over the past few months.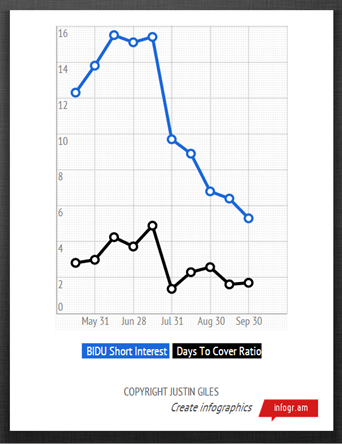 Dangdang
Dangdang, is a business-to-consumer e-commerce company in China. Dangdang is often times referred to as the Amazon of China (NASDAQ:AMZN) because of its similarities.
I've been a fan of Dangdang for awhile now. I've written several articles talking about its growth and how shares are still on the cheap side. I even included Dangdang into my technology portfolio which has returned over 72% since April.
Even Credit Suisse has jumped on board. So why do they think Dangdang is a good stock to own? Credit Suisse analyst Dick Wei said, "As Internet becomes much more engaging in daily consumer life, value creation from Internet-based businesses is taking a more important role in the overall economy." It doesn't hurt either that Dangdang is in a great position to capitalize on the huge growth ahead of China.
On August 15, 2013, Dangdang delivered strong earnings as it beat expectations on both the bottom and top lines. Guidance even came in better than expected. So why have shorts continued to go short?
One of the reasons I believe they have done so is because of the sharp rise in share price. As we know, nothing goes just straight up. Shorts were looking to make a play in this regard.
Secondly, Dangdang has been in this type of position before. During the start of last year, shares of Dangdang went from $4 to $10. A couple months later shares dipped back into the $4 range. Are shorts counting on another great fall? Yes. The question is, will they get it this time? Probably not. Why? Because Dangdang is a stronger company now than it was a year ago.
As we can see from the chart below, short interest continues to be on the decline. With earnings just a month away it will be interesting to see if shorts start to cover or if more of them start to pile back in.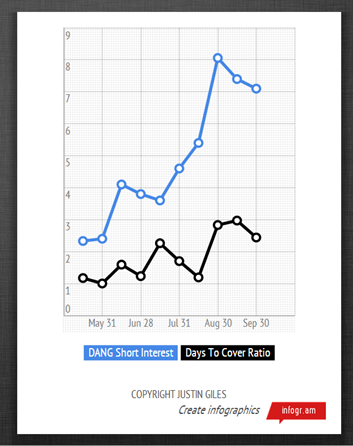 NQ Mobile
NQ is a leading global provider of mobile Internet services in the areas of mobile security, privacy and family protection. NQ was founded in 2005 and maintains dual headquarters in Dallas, Texas, USA and Beijing, China.
NQ mobile has been in the same type of position that Dangdang has been in. The share prices of Chinese companies over the last couple of months have been phenomenal. NQ has led the charge as shares are up more than 225% year to date.
Last quarter, NQ Mobile crushed earning estimates and easily beat Wall Street's expectations as it beat both the top and bottom lines. The company expects third quarter revenue of $50 million to $51 million, and raised its full-year revenue outlook to $185 million - $188 million, up from $179 million - $184 million. So why is short interest continuing to go up?
There are probably a couple reasons why. One of them is the pride factor. Quite a bit of shorts were burned by NQ this year and I'm sure many of them want to get their pride as well as their money back. However, one of the main reasons I believe that shorts have continued to pile in is because of the sharp rise in share price. As we know, nothing goes just straight up. Shorts were looking to make a play in this regard and have now benefited from the fallout of Washington.
With earnings just around the corner, are shorts playing with fire? They could very well be. Remember what happened last month on September 20? In a press release, NQ stated that the company expects to see third quarter 2013 revenues to exceed its previously issued guidance range of $50-$51 million. I'm no rocket scientist, but it looks to me that NQ is on track to have another stellar quarter.
If earnings are spectacular and the share price rockets, you can be sure that shorts will be increasing their positions. They know nothing goes straight up and will be looking to take advantage of profit takers. While an increase in short interest is not the greatest thing to see sometimes, seeing how NQ has performed and looks to continue performing, I see no reason to panic.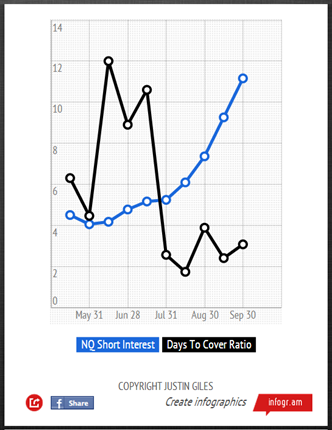 Renren
Renren is a leading real name social networking platform in China. It operates renren.com, a social media platform like that of Facebook (NASDAQ:FB). Some of its other platforms include online gaming, social commerce, online video (YouTube), among other things.
While most Chinese stocks were busy racking up huge gains this year, Renren has continued to disappoint investors. So far this year shares of Renren have gained roughly 8%. While a gain is a gain, it's nothing compared to what most Chinese companies have experienced this year with gains over 100%-200%. So what has been Renren's problem?


(Click to enlarge)
* Image from Yahoo!Finance
One of Renren's biggest problems has been the lack growth, coupled with a huge increase in spending. While spending is not always bad, when you're not generating a return off that investment then it becomes a problem. Looking at the chart above we can see that Renren will grow revenues by -4% this upcoming quarter. This is far below the 40%-50% growth that we saw last year. Not the best sign for a company.


(Click to enlarge)
* Image from Yahoo!Finance
After disappointing earning results last quarter, analysts cut back expectations going forward and now see Renren not posting a profit at all next year.
Shorts know this and have continued to pile on which is why short interest continues to grow. The graph below shows the rising trend that Renren is on.
One thing that Renren has going for itself is that it has a wide variety of businesses (shopping, gaming, e-commerce etc). It's not just dependent on one specific area. However, juggling too much at one time can also be a problem. Nevertheless, just a couple of months ago Renren sold Baidu a 59% stake in Noumi, (Renren's e-commerce site) for a $160 million. If Renren can turn things around then shorts could be in for some trouble, but for now, shorts have no reason to panic.
Sina
Sina which operates SINA.com, provides online entertainment and information. Sina also operates China's top microblogging site (Weibo), which is the China equivalent of Twitter.
Sina has been a popular stock as of late as shares are up more than 40% over the last three months. A big reason for the boast has been the favorable outcome of its earnings reports. Sina is starting to turn things around and investors are noticing.


(Click to enlarge)
* Image from Yahoo!Finance
Revenue which started to slow down over the last couple of years has since improved. Looking up at the graph we can see that sales growth next year will be higher than it is this year. As we can see analysts have high hopes for this company. It doesn't hurt either that Twitter's IPO valuation has helped boost Sina's as well.
* Image from Yahoo!Finance
Looking over the earnings trend we can see the high hopes that investors have for the company. This is very positive sign for investors expecting a good amount of growth from this company.
Looking down at the short interest chart we can see that short interest has been on the decline. Will it continue? It's hard to say right now, but earnings next month will give us a great idea about the company and if it deserves its current valuation or not.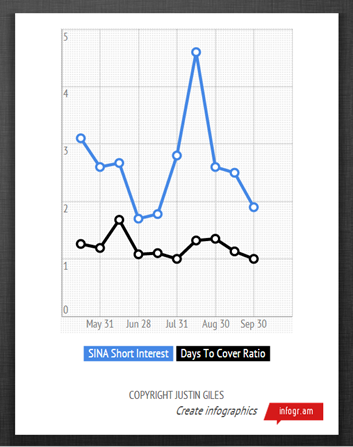 Youku
Youku Tudou is often known by many as the YouTube of China. Youku is actually China's leading Internet television company with hundreds of millions of users.
While Youku hasn't produced lofty gains such as NQ and Dangdang, shares are still up 57% for the year and 50% over the last three months.
There is no doubt that analysts like Youku after giving the company favorable price targets. The rumblings of an IPO by Chinese giant Alibaba have also been very positive for Chinese companies.
We all know that margins have been a problem for Youku over the years, as rising costs have kept the company in the red. However, Youku has made some bold moves such as merging with Tudou last year. This has helped increase users, reduce costs while improve margins.


(Click to enlarge)
* Image from Yahoo!Finance
It also helps that Youku is starting to promote mobile services to agencies and customers over the last couple of quarters. If Youku can capitalize on mobile growth, they will greatly benefit.
As we can see from the graph above, Youku is trending nicely with its EPS as it looks to finally break into the black next year. For some reason though, shorts still doubt Youku as we can see from the graph below. Short interest continues to stay around the same levels it has for the past couple of months. This upcoming earnings report should be big as it sets the tone going into next year.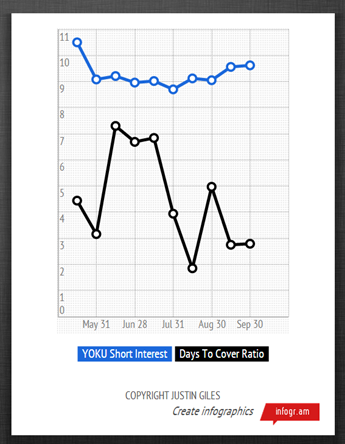 Conclusion
Many investors use short interest to make predictions about the direction of a particular stock and to measure the bullishness or bearishness of it. However, there are many other factors to consider when looking at stocks such as what insiders are doing etc. Nevertheless, investors that can identify the trends from the short interest figures stand to greatly benefit from it.
Investors are always reminded that before making any investment, you should do your own proper diligence on any stock mentioned in this article. Have a great day and as always, I look forward to hearing your thoughts or questions that you might have.
Disclosure: I have no positions in any stocks mentioned, but may initiate a long position in NQ over the next 72 hours. I wrote this article myself, and it expresses my own opinions. I am not receiving compensation for it (other than from Seeking Alpha). I have no business relationship with any company whose stock is mentioned in this article.