It took leading fertilizer company Potash Corp (NYSE:POT) three and a half weeks to fess up that Q3 earnings would be lower than analysts expect, announcing they would be approximately 41 cents per share in a press release after the market closed Thursday.
The terse press release reads "The change primarily reflects lower than forecasted potash sales volumes late in the quarter as buyers continued to defer significant purchases amidst near-term market uncertainty".
The consensus analyst average was 47 cents, and the stock declined as much as 79 cents to $30.95 USD in after hours trading.
The company also said we'll have to wait until the October 24 third quarter earnings release to learn more about full year guidance, which was reduced in the July 25 second quarter release to $2.40-$2.75 for fiscal 2013. Clearly the bottom end of that guidance is now too high.
The stock went "ex" the 35 cent USD quarterly dividend yesterday, due to the Monday holiday. The difference between quarterly earnings and dividends is shrinking.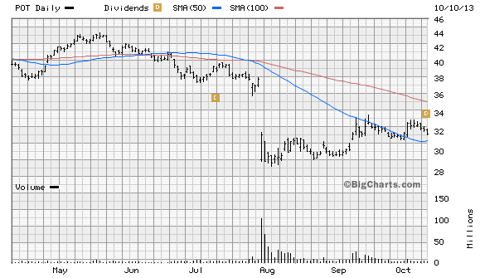 Sure, the third quarter only finished 10 days ago. But other major potash producers and partners of Potash Corp in Canpotex, their international potash sales organization, were much quicker to admit sales were weak.
The Mosaic Company (NYSE:MOS) on September 13 said that in reference to phosphate and potash demand "in the short term, dealers are cautious and are deferring purchases". No kidding. On September 23, Agrium Inc. (NYSE:AGU) said that "potash volumes are anticipated to be about 30% lower than normal for a third quarter".
So it's nice that Potash Corp has finally admitted things were a tad less rosy than the CFO Wayne Brownlee presented on September 24 at the Scotiabank Agriculture and Fertilizer Conference.
Brownlee said, in reference to the potash business "I know people get worried about when we are going to see a supply/demand balance, but, frankly, it doesn't need to be that long down the road for that to happen". Seems to this analyst they've been saying that over and over again, while the lower cost producers in Russia drop their price.
Brownlee seemed ambivalent about Potash Corp's previous high price strategy saying "so you are trying to price optimize. It is in the best return to your shareholders' interest but from time to time you have to protect volume. You have got to protect your shareholder - customer base". But which is it? Seems to me potash prices and hence earnings are going to go lower.
I've been concentrating on the industry structure of international potash for several years, and I have been telling investors to stay away. The Russians would be disrupters to the business and the third world countries where all the ballyhooed population growth Potash Corp has relied on for its rosy predictions, wasn't going to help demand, because they couldn't afford the loan shark prices the cartels were demanding.
This all came to fruition on July 29 when the Uralkali (OTC:URALL) and Belaruskali relationship ended up in separation. Others said it was merely a marital spat. I argued it was a divorce, and final. So far, we haven't seen any improvement in either international potash prices, or relations between the State of Belarus and the Russian government.
At their Analyst day on October 8, Agrium's retiring CEO Mike Wilson was reported to have said that potash prices were being impacted by the "Russian soap opera" and would weaken until demand increased or producers curtailed more production. Wilson said a $600/mt potash price was needed to justify greenfield mines.
But Russian nitrogen and phosphate fertilizer producer Eurochem, still private and off the radar of most of the media attention, has sunk about $2 billion USD into two potash mines so far with 8 million ton combined capacity.
One of the mines Usolskiy, is in Perm, not far from Uralkali's Berezhniki operation. Both expect startup in 2017 - 4 years away but not far in the glacier like expansion of potash demand.
It's an inconvenient truth that Western world potash CEO's like to forget about developments such as the Eurochem mines, in their optimistic supply/demand projections, knowing most investors and even some analysts, are not aware of these threats to the status quo.
The Potash Corp earnings shortfall is not only being caused by declining potash and phosphate prices and a market that is "paralyzed" according to competitors.
In my view, the company's nitrogen division results could also be impacted during Q3, due to maintenance downtime and lower prices for industrial ammonia and agricultural nitrogen prices.
PCS Nitrogen is the largest nitrogen fertilizer producer in Trinidad with over 2 million tons of production per year at the Point Lisas Industrial Estate, and operations were curtailed during September or October to allow for maintenance and tie-in of BP plc (NYSE:BP) natural gas platforms offshore.
Potash Corp's Trinidadian ammonia and urea production is flat to declining and becoming more irrelevant to the US as the shale gas revolution obviates Trinidad exports to the Gulf Coast. Production has to find a new home, hopefully in Mexico and Latin America.
| | | | | | | | | | | | | | | | | | | | |
| --- | --- | --- | --- | --- | --- | --- | --- | --- | --- | --- | --- | --- | --- | --- | --- | --- | --- | --- | --- |
| | | Q1 2009 | Q2 2009 | Q3 2009 | Q4 2009 | Q1 2010 | Q2 2010 | Q3 2010 | Q4 2010 | Q1 2011 | Q2 2011 | Q3 2011 | Q4 2011 | Q1 2012 | Q2 2012 | Q3 2012 | Q4 2012 | Q1 2013 | Q2 2013 |
| Trinidad GM ($M) | | $22 | $23 | $33 | $27 | $79 | $69 | $69 | $88 | $118 | $104 | $140 | $129 | $90 | $126 | $144 | $127 | $144 | $90 |
| PCS NH3 Production | | 550 | 441 | 480 | 438 | 569 | 568 | 498 | 560 | 533 | 503 | 543 | 516 | 501 | 507 | 501 | 460 | 527 | 471 |
| PCS Urea Production | | 157 | 161 | 187 | 178 | 181 | 177 | 165 | 185 | 170 | 167 | 186 | 93 | 140 | 177 | 122 | 125 | 144 | 90 |
| US GM ($M) | | $32 | $21 | $17 | $16 | $54 | $57 | $32 | $64 | $85 | $105 | $123 | $112 | $129 | $176 | $107 | $79 | $127 | $186 |
| Total GM ($M) | | $54 | $44 | $51 | $43 | $133 | $125 | $100 | $152 | $203 | $209 | $263 | $241 | $219 | $302 | $251 | $206 | $271 | $276 |
My view is things will get worse before they get better for the Canpotex international potash business, of which Potash Corp is a senior member. But even U.S. potash prices are sliding, where Potash Corp. does 40% of its business on a revenue basis, but more than that on a gross margin basis, due to generally higher U.S. prices and less freight costs, as farmers and dealers aren't as oblivious to the oversupply situation as Potash Corp.'s management would like us to believe.
Here is a quote from Farm Futures report on domestic potash prices:
"Potash prices dripped lower again last week, with the Gulf off $5 to $347.50 and Midwest wholesale charges down $2.50 to $382.50.Those costs suggest fair value around $485 at the retail level, but some dealers remain $25 below that level, anticipating weaker prices ahead. Fundamentals continue to point at $430 for a retail bottom, though it might take into winter to get there. Fertilizer companies aren't even trying to jawbone prices higher yet, saying it could take until winter to turn the market around".
The Province of Saskatchewan is modeling $300/mt potash prices for its potash royalty tax income and provincial budget, according to the Financial Post.
I would stay away from Potash Corp until there is a clear sign that the company's board of directors is willing to face facts and replace the executive management that has presided over the expansion of potash capacity to 17 million tons in the face of dwindling advantages for western world potash competitiveness and more aggressive competition from Russia.
Potash Corp needs a leader and senior management that recognizes the high risks the current CEO Bill Doyle has been taking in the international fertilizer business, which is notoriously fickle. Did he consider the lower cost supplies available in Russia and elsewhere?
The 2009 Potash Corp annual report had as its motto "The Simple Facts" as it trumpeted international potash as a great business. Doyle and Company then rolled out the "Potash First" strategy in justifying the expansions, in part to defend criticism of the waning stock price in the wake of the government disallowed takeover of the company by BHP Billiton (NYSE:BHP), a takeover that Doyle fought vociferously.
The company has bet enormous amounts of shareholder capital on a series of potash mine expansions that have raised global potash capacity far beyond what is currently necessary. The Potash Corp stock price has been cut in half over the past three years. Now senior management blames the drooping potash price and greater Russian competition on India's fiscal woes.
At the Scotiabank conference Brownlee said "the truth is, in the offshore market, if you take India out, it has actually grown at 3.5% per annum in the offshore marketplace". In my view, the company is between a rock and a hard place. It either curtails production, and loses market share or it increases production, and floods the market to compete on cost. Either way, the juicy gross margins on potash production (64% in 2012) will be a thing of the past. Industry structure analysis dictates it.
You might argue the lack of demand from India and the breakup of the Belarusian Potash Company, were unavoidable and unpredictable events. But neither event relieves the main question: was the huge buildup of capacity at Potash Corp, in the face of growing investor and analyst doubt, a reasonable and prudent use of shareholder funds?
The Simple Fact is, no it wasn't.
Traditionally, the CEO has to take ownership for this kind of debacle, and must fall on his or her sword.
Disclosure: I am long AGU. I wrote this article myself, and it expresses my own opinions. I am not receiving compensation for it (other than from Seeking Alpha). I have no business relationship with any company whose stock is mentioned in this article.