CytRx Corporation (CYTR) specializes in oncology drugs and is currently focusing upon developing a compound based on its Linker Technology for systemic delivery of Doxorubicin, a chemotherapy drug. The company is in clinical development for the treatment of serious cancers like soft tissue sarcoma, or STS, and brain tumors. CytRx is in the late clinical development stage of Aldoxorubicin, a compound that helps deliver doxorubicin to the target area, increasing efficacy and reducing toxicity. The compound has enormous market potential and big healthcare investor Bakers Bros. Advisors are investors in the company.
With all the promising clinical developments, is this stock the next big opportunity which investors always look for?
Understanding the product - Linker Technology
Aldoxorubicin is an improved version of doxorubicin, a widely used chemotherapy drug. Doxorubicin works by blocking an enzyme called topoisomerase 2, which helps cancer cells to grow. It is used for the treatment of many types of cancer including breast cancer, ovarian cancer, and bladder cancer, as well as non-Hodgkin's lymphoma and sarcoma.
Doxorubicin is a highly toxic drug that may cause side effects like heart problems. Since it sometimes causes heart damage in cancer patients, doxorubicin has a limit on the cumulative amount of drug the patient can receive. The early damage occurs immediately or within one to two days after drug administration. Early stage damage consists of minor disorders that are picked up by an electrocardiogram and are resolved without major problems. However, late damage begins about a year or two after chemotherapy and is more serious. Doxorubicin weakens the patient's heart muscles, which may result in a heart attack.
CytRx's aldoxorubicin combines doxorubicin with a novel albumin-binding linker that binds directly and specifically to circulating albumin, the most plentiful protein found in the bloodstream. The protein-hungry tumors "feed" on albumin, thus the aldoxorubicin enters and concentrates at the tumor. Doxorubicin is released only in the acidic environment of the tumor instead of the healthier tissues. This allows greater amounts of doxorubicin to be given each time the patient gets treated while reducing its toxic side effects. In aldoxorubicin's clinical trials, there was no evidence of clinically significant side effects on the heart muscle.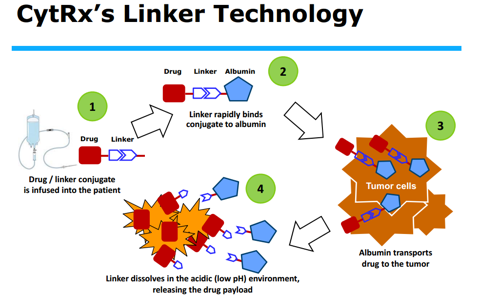 Click to enlarge
(Click to enlarge)
Source: Company's Presentation
The clinical trials have demonstrated that with the help of aldoxorubicin about 3.5 to 4 times the standard dose of doxorubicin is administered to the patient. aldoxorubicin's increased drug concentration in the affected area results in higher efficacy and safety.
Potential Cures
Soft tissue sarcoma, First-Line: CytRx recently released preliminary response data from the global phase 2b clinical trial for aldoxorubicin on the drug's direct comparison with doxorubicin for the first-line treatment of soft tissue sarcomas. First-line treatment refers to the initial treatment with chemotherapy. The data from the comparative study demonstrated a better overall response rate of 22% for aldoxorubicin-treated patients, who are suffering from advanced soft tissue sarcoma versus 0% overall response rate for doxorubicin-treated patients. Top-line progression-free survival data is expected in December 2013.
Soft tissue sarcoma, Second-Line: The FDA granted CytRx a Special Protocol Assessment, or SPA, for a global pivotal Phase 3 trial with aldoxorubicin as a second-line treatment for patients with STS. The SPA grant means the FDA will accept the data from a single Phase III clinical trial to support the regulatory approval of aldoxorubicin as a second-line treatment. Approval as a second-line treatment by the FDA means that it can be used after the patient has received at least one prior treatment. This trial is scheduled to begin in the first quarter of 2014.
Glioblastoma Multiforme or GBM, a stage IV brain tumor: CytRx received acceptance from the FDA for a protocol to enroll 28 patients with "unresectable glioblastoma" whose tumors have demonstrated progression even after prior treatment like surgery, radiation, and with the traditional drug temozolomide. Unresectable glioblastoma is a brain tumor that cannot be removed by surgery. The acceptance came after the results from repeat studies on mice, which were transplanted with human glioblastoma cells. The results demonstrated that aldoxorubicin shrinks tumors and helps prolong survival for more than 63 days, compared to approximately 25 days with doxorubicin treatment. The study clearly demonstrated concentration of the drug inside the tumor and not healthy brain tissue when treated with aldoxorubicin. No significant concentration was seen with doxorubicin treatment consistent with the literature that doxorubicin does not enter the brain.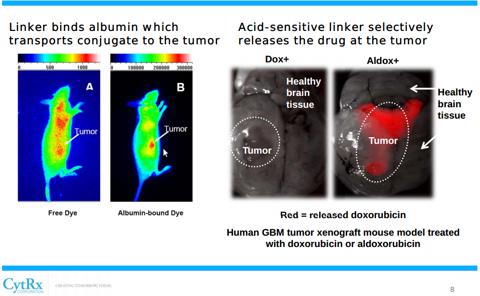 Click to enlarge
(Click to enlarge)
Source: Company's Presentation
Aldoxorubicin market
There are more than 100 types of cancer disease which makes it the largest component of global healthcare. CytRx is initially targeting the FDA approval for aldoxorubicin as a treatment for sarcoma and brain cancer. Both, sarcoma and GBM are highly fatal diseases. Let's take a close look at the statistics of these diseases:
Soft tissue sarcoma: STS includes 50 subtypes of cancer that occur in the muscles, fat, blood vessels, tendons, and other connective tissues in the body. Last year approximately 38,000 new cases of STS were reported, and more than 13,000 died due to this cancer in the U.S. and Europe. According to the American Cancer Society's U.S estimates for 2013, about 11,410 new STS patients will be diagnosed, and 4,390 are expected to die of soft tissue sarcomas.
Glioblastoma Multiforme: According to the National Brain Tumor Society, about 2 to 3 per 100,000 people in the U.S. and Europe are diagnosed with glioblastoma. The tumor accounts for 12% to 15% of all within the skull tumors and 50% to 60% of astrocytic tumors.
As Steven A. Kriegsman, the President and CEO of CytRx, said in the 2013 European Cancer Congress:
"We are compiling an ever-increasing portfolio of impressive human and pre-clinical data that aldoxorubicin could have an essential role in the treatment of patients with a wide range of cancers," "This collective body of data gives us tremendous hope that we will be able to make an important difference in the lives of cancer patients worldwide." he added. The CEO's words reinforce the potential of aldoxorubicin as a breakthrough innovation in overall cancer treatment, which can generate outstanding returns in future.
R&D expense isn't a worry
Investing in pharmaceuticals can be a very risky bet; during the initial phase, the drug developer needs to pour billions of dollars into research and development, and the funds are sometimes very difficult to manage. CytRx appears to have a good liquidity position; at the end of the second quarter of 2013, the company had about $27.98 million in its liquid funds. At present, the company's quarterly research and development expenses are approximately $4 million. This week CytRx raised an additional $22.5 million through a sale of 10 million shares of stock at $2.25. This brings the total cash position to approximately $46 million. By doing simple math, we expect the company can continue its operations into 2015 without raising additional cash.
Big pharma investors are bullish on CytRx
Baker Bros. Advisors is a limited liability company that invested 99.63% of its fund in healthcare stocks and has an investment in CytRx. Currently Bakers holds one million CytRx shares. Baker Bros. Advisors made exceptional returns this year, especially due to its position in ACADIA Pharmaceuticals (ACAD). ACADIA Pharmaceuticals focuses on treatments for neurological and related central nervous system disorders. ADADIA's stock has performed extraordinarily in the last one year; it provided year to date returns of 392.60%. Recently, Baker Bros. Advisors bought 4.5 million shares of Idera Pharmaceuticals (IDRA), which provided a year to date return of 217.50%. Idera Pharmaceuticals is also a clinical stage company researching the treatment of autoimmune diseases and B-cell lymphoma.
Conclusion
CytRx's linker technology is certainly a breakthrough development for cancer treatment. The FDA is also optimistic about aldoxorubicin, as it has granted the Special Protocol Assessment for its application as a second-line STS treatment. The company's cash position looks very strong, with specialized pharma investors showing interest in the stock. We expect positive developments for CytRx in the coming fiscal year due to its current clinical trials, which pose an upside potential for the stock. We recommend a buy on this stock.
Disclosure: I have no positions in any stocks mentioned, and no plans to initiate any positions within the next 72 hours. Fusion Research is a team of equity analysts. This article was written by Satya Prakash, one of our research analysts. We received compensation for this article (other than from Seeking Alpha), and we have no business relationship with any company whose stock is mentioned in this article.
Business relationship disclosure: We are receiving compensation to do research on this company.