The iShares US Oil & Gas Exploration and Production ETF (NYSEARCA:IEO) is loaded with shale producers and has more than doubled over the last 5 years. But is the ETF a good way to profit from shale exploitation going forward? The short answer is "Yes".
IEO data by YCharts
How Long Will The Shale Boom Last?
A recent Businessweek article, U.S. Shale-Oil Boom May Not Last as Fracking Wells Lack Staying Power, questions the staying power of the shale revolution due to high depletion rates. While it is true fracked shale wells typically deplete at a 60-70% clip the first year, there is a huge inventory of potential drilling sites. In addition, many shale plays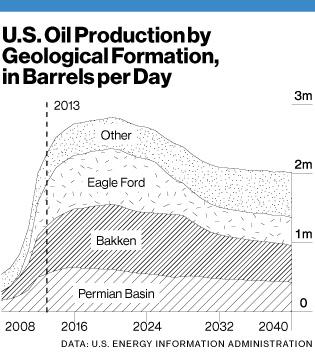 are stacked - meaning there are multiple zones to exploit. Interestingly enough, the same article displays a graph (see above) that shows shale oil production staying above 2 million bpd out to 2040. But of course things are changing rapidly in the oil patch, new plays are being discovered often and historical plays, like the Permian, which have been given up for dead more than once, just keep on giving. So while nothing lasts forever, there is going to be a lot of money made in shale oil. According to the graph above, peak production won't even be reached until ~2020 or so. My guess is the peak will be pushed out, but I cannot tell you how far. Who can?
How To Invest?
One could start by picking the top major shale plays today (the Eagle Ford, Bakken, Permian, and Marcellus), pick the top producers in each, and buy some shares. But each play has its own characteristics, and each company can be complicated to analyze. For people that don't have the time, a managed fund or ETF could be a better choice to get diversified exposure to the US shale revolution. There are many articles on the subject of shale investing, like Benzinga's Bakken shale ETF's report, but one such fund that caught my eye recently is the iShares US Oil & Gas Exploration & Production ETF. Its top-10 holdings are shown below:
Observations
The first thing a Bakken watcher would say is: "Where the heck is Continental Resources (NYSE:CLR), Whiting Petroleum (NYSE:WLL) and Kodiak Oil & Gas (NYSE:KOG)? Well, they're in the ETF's holdings (0.76%, 1.22%, and 0.52% respectively), just not major positions at the moment.
However, I would point out that the Eagle Ford is the most economic shale play in the US, and this ETF has big positions in the top two Eagle Ford producers: #1 EOG Resources (NYSE:EOG) and #2 ConocoPhillips (NYSE:COP). And with COP you get a fat 3.9% yield to boot. These two stocks alone make up over 20% of the ETF's NAV. The top-10 stocks are a concentrated 60% of total NAV.
Shale player Pioneer Natural Resources (NYSE:PXD) is another top-10 holding (4.35%) and that stock has been on an absolute tear, up 73% YTD.
One criticism of the fund might be the seemingly overweight position in refiners with both Phillips 66 (NYSE:PSX) and Marathon Petroleum (NYSE:MPC) in the top-10. These refiners have pulled back this year as a result of the contraction in the spread between WTI and Brent. However, as mid-continent production keeps growing, it is possible for these two companies to profit from any widening of the Brent/WTI spread. Just yesterday Reuters reported a weakening in Midland cash crude that settled at $2.50 below WTI. The Brent premium to WTI widened to $8.79 - the widest spread since early June. So the refiners offer protection from lower mid-continent oil prices and the effect lower prices could have on producer stocks. Also, as my previous article explained, gasoline and diesel exports are just booming and Phillips 66 gives you exposure to growing midstream and chemicals operations. The outlook is bright for midstream growth due to higher production and of course the chemicals segment is benefiting from lower domestic feedstock prices making American chemical companies among the lowest cost producers in the world.
Summary & Conclusion
While some may argue with the ETF's composition, IEO has returned 22.6% year-to-date and is rated 4 stars by Morningstar for its 1,3 and 5 year returns. That compares with an S&P500 return of 15.7%. It has an expense ratio of 0.46%, and the top-10 stocks make up 60% of the fund's total NAV. For those who don't have the time to analyze those companies involved in US shale plays, this could be a nice way to participate in the US energy revolution.
Disclosure: I am long COP, PSX, WLL. I wrote this article myself, and it expresses my own opinions. I am not receiving compensation for it (other than from Seeking Alpha). I have no business relationship with any company whose stock is mentioned in this article.
Additional disclosure: I am an engineer, not a CFA. The information and data presented in this article was obtained from company documents and/or sources believed to be reliable, but has not been independently verified. Therefore, the author cannot guarantee its accuracy. Please do your own research and contact a qualified investment advisor. I am not responsible for investment decisions you make. Thanks for reading and good luck!