AT&T (NYSE:T) provides telecom services in the areas of broadband, mobile- and land line services. AT&T is also one of the largest sponsors of WiFi-Hotspots across the country and operates a fast 4G LTE network. Shares of carrier companies have defensive characteristics: Telecom service companies, as utility companies, are bought for their stable cash flow streams, which back a regular dividend. The telecom sector provides some value for income seeking investors. The following article provides an overview of how the market values AT&T in comparison to peer companies.
Share performance
AT&T is a moderate performer. The two-year return shows a gain of 19% while the five-year return stands at 35% while Verizon (NYSE:VZ) has a two-year return of 28% and a five-year return of 84%. CenturyLink (NYSE:CTL) carries the red light with consistent underperformance of -1% and +3% over the respective two- and five-year measurement periods. At best, AT&T's performance can be classified as mediocre.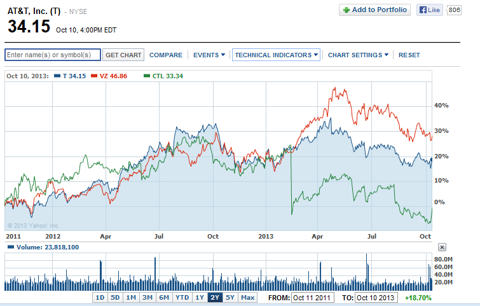 Click to enlarge
Valuation
AT&T's average free cash flow (2010-2012) before consideration of debt stands at $15.6 billion per year and average debt changes at minus 700 million. The free cash flow to equity averages $14.9 billion a year or roughly $2.79 per share. Assuming that AT&T's long-term sustainable growth rate trickles down to 3% and equity cost of capital stands at 10% AT&T's intrinsic value comes out to be $40.53 providing investors with 19% upside.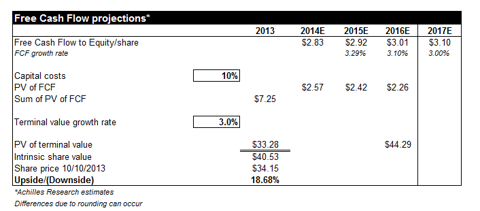 Click to enlarge
Market valuation
Considering a market-based approach to telecom valuation Verizon is the most expensive large-cap carrier in the field with a forward P/E ratio of 14.60 (earnings yield 6.8%). AT&T currently has a forward P/E of 12.76 (earnings yield of 7.8%), which is just marginally higher than the 12.29 ratio (earnings yield 8.1%) from CenturyLink. CenturyLink provides the best bang for buck.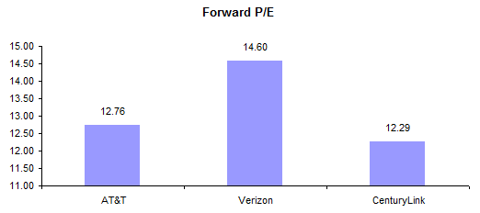 Click to enlarge
From an EV/EBITDA point of view AT&T is the most expensive with a ratio of 8.97 while Verizon scores with 5.63. CenturyLink with a EV/EBITDA ratio of 5.19 still is the cheapest company in the field.
(Source: Capital IQ)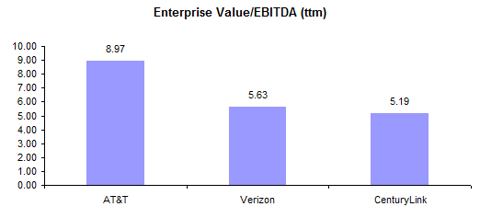 Click to enlarge
Dividends play a major role for telecom investors. As argued in the introduction, cash flows of telecom companies are relatively stable compared to operating cash flows from the materials or technology sector, which display huge sensitivity to changes in GDP growth rates. Phone and Internet services are used steadily in good and bad times reflecting steady cash flows. Hence, telecom firms often can be found in portfolios of long-term investors or retirees who desire low volatility and dividend security. In fact, AT&T has a decent dividend yield of 5.27%, which is even better than Verizon's 4.52%. CenturyLink shareholders buying now take home 6.48%.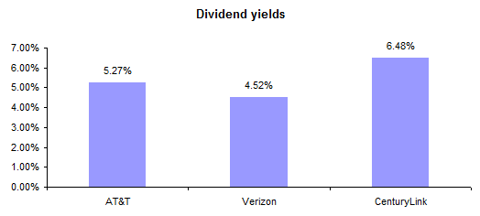 Click to enlarge
Dividend growth rates declining
AT&T's growth rates over the last years have been declining, which could give reason for concern since AT&T's broadband and mobile phone service segment are expected to outperform in the coming years. From 2007 to 2013 AT&T has raised the annual dividend from $1.42 per share to $1.80 per share, which represents an annual compound growth rate of 4% (see graph below). Since 2009 AT&T has increased its dividend by one cent per quarter. Yearly increases in dividends are 2.50% (2008 to 2009), 2.44% (2009 to 2010), 2.38% (2010 to 2011), 2.33% (2011 to 2012) and 2.27% for the most recent fiscal year 2013. Investors need to consider that AT&T's dividend growth trend points towards further decreases in dividend growth below the 4% compound annual growth rate depicted below.

Click to enlarge
A summary regarding AT&T's market valuation and its ranking among peers is provided below:

Click to enlarge
Conclusion
AT&T's current dividend yield of 5.27% may be tempting but income investors need to consider slowing dividend growth since 2008. AT&T shares still have some upside based on my intrinsic value estimate of $40.53 per share (free cash flow to equity approach). AT&T's shares also fetch an earnings multiple of nearly 13, which is more expensive than cheap for the growth prospects of a carrier company. On an EV/EBITDA basis, AT&T is the most expensive company. Dividend investors looking for long-term yields might want to consider an investment in CenturyLink, which fetches lower valuations both on a P/E and EV/EBITDA basis but also has a significantly higher yield of 6.48%.
Disclosure: I have no positions in any stocks mentioned, and no plans to initiate any positions within the next 72 hours. I wrote this article myself, and it expresses my own opinions. I am not receiving compensation for it (other than from Seeking Alpha). I have no business relationship with any company whose stock is mentioned in this article.