The tech and media companies have been big winners over the past few years, but with this debt ceiling and government shutdown affecting the stock market all names have been impacted in a negative way. The good news is that we saw rebounds yesterday in names such as 3D Systems (NYSE:DDD), Liberty Interactive (LINTA), Liberty Media (NASDAQ:LMCA), SiriusXM (NASDAQ:SIRI) and Time Warner Cable (TWC) on the general market bounce and news pertaining to their businesses.
Looking at the political situation in Washington we were a bit shocked last night when the Senate Democrats shot down an agreement between the President and the House Republicans which then forced the President to cover his tail and also come out against the compromise. It seems that everyone is trying to establish their power here and sadly no one realizes that they control but a small piece of a bigger puzzle. The big concern for U.S. is that it appears the President does not have enough political capital to control his own party and thus cannot push legislation through the Senate. It is hard to be surprised by anything in Washington these days, but that is surprising.
Chart of the Day:
The NYSE Advance/Decline Line has really taken a hit over this debt ceiling and government shutdown, but we think that based on the technicals and the news yesterday that we have bottomed and the line shall begin moving higher once again.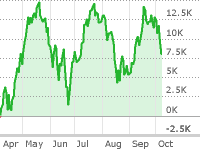 Source: Ameritrade
We have economic news today and it is as follows:
Michigan Sentiment (9:55 a.m. EST): Est: 74.5 Actual: 75.2
Asian markets finished strongly higher today:
All Ordinaries -- up 1.61%
Shanghai Composite -- up 1.70%
Nikkei 225 -- up 1.48%
NZSE 50 -- up 0.50%
Seoul Composite -- up 1.17%
In Europe, markets are trading higher this morning:
CAC 40 -- up 0.04%
DAX -- up 0.38%
FTSE 100 -- up 0.80%
OSE -- up 0.12%
Malone Shuffling The Deck Again ...
John Malone is a master at playing chess when the rest of the industry is playing checkers and it cannot be argued that he knows how to create value for his shareholders. The last few years have seen him split up Liberty Media holdings into various holding companies and then continue to break them apart in order to realize the most value for shareholders as well as use these smaller pieces of his media empire to bag bigger prizes. Yesterday there was a ton of news out regarding his various holdings and we are of the camp which believes that this will lead to further deals by Mr. Malone.
Continuing the trend of breaking off what he already has to create value and assign higher valuations to his holding companies, Liberty Interactive announced it will create a new tracking stock for QVC, which is a huge cash cow and a property many in the market have long believed would be either sold or spun off by Mr. Malone. Also announced by the company was the spin-off of its stake in TripAdvisor as it moves to split the remaining assets in Liberty Interactive and recapitalize the company.
Many will remember that Liberty Media amassed a majority stake in SiriusXM not too long ago and has been pretty quiet about the holding since. The Sirius purchase was a brilliant move which followed a lifeline that Mr. Malone provided the company when times were not so good. Today times are really good and Sirius is kicking off a ton of cash and looking to reinvest in new businesses and return capital to shareholders. As part of the plan to return capital to shareholders, Sirius is buying back stock and yesterday announced that Liberty Media Corp will participate in the buyback on a basis consistent with their current ownership in the company so as not let their ownership, on a percentage basis, increase. Sirius will pay Liberty Media $500 million for the repurchase of these shares.
Liberty Media also announced that they bought back a 5.2% of its outstanding common shares from Comcast in a deal we think might be paving the way for the rumored cable acquisition in the U.S. many have been predicting. Time Warner Cable shares were up yesterday on the rumors and we saw a few business news sources pick up the story. Yes, Time Warner Cable is a big fish and certainly larger than Liberty Media but John Malone has always had a way of buying bigger and making it work via exotic financing and asset swaps so this talk should not be discounted. When you look at the Liberty Media buying back stock from Comcast, which removes that hurdle from regulatory approval, and couple it with the Sirius XM buyback news it appears that there is some financial engineering taking place to set the groundwork for Mr. Malone to begin building the foundation upon which a potential deal could be assembled.
3D Printers Rebounding ...
We had been watching 3D Systems closely the past few sessions as the risk-on trade was coming under pressure and seeing many investors book profits and leave profitable trades. That is what we were witnessing with 3D Systems, short-term money fleeing to safety and think that the 6% bounce yesterday should clear up any worries that readers were developing regarding the company. The entire sector has come under fire recently, but one does not have to go back that far to find positive analyst comments regarding the next 6-18 months for these companies individually and the industry collectively. The sector appears to be one of the more compelling risk-on trades out there and should 3D Systems fall back below $50/share on general market worries we think that it would be a buy.
Disclosure: I have no positions in any stocks mentioned, and no plans to initiate any positions within the next 72 hours. I wrote this article myself, and it expresses my own opinions. I am not receiving compensation for it (other than from Seeking Alpha). I have no business relationship with any company whose stock is mentioned in this article.