With Federal Reserve chair Ben Bernanke's likely replacement, Janet Yellen, expected to be even more dovish, many believe interest rates will stay artificially low into 2016. The five-year treasury note only pays 1.41% and you will lose money to inflation at the current CPI rate of 1.5%. You can sit in a FDIC insured savings account and collect a safe 0.90% (Top Savings Account Rate Survey) but you will still lose ground to inflation.
To escape the artificially low interest rates in fixed income, investors turn to the stock market for yield. Smart investors look for periods of weakness to add or establish positions.
On Wednesday, October 9, 2013, the Dow fell plunged to its 200 day moving average then the buyers showed up for the bargain priced shares.
DIA and SPY Price and Yield for 10/10/13 Close


(Click to enlarge)
The 30-stock Dow Jones Industrial (chart scan) Average, called "the Dow" made a bullish reversal pattern today after correcting 6.3% from its recent all-time high.
Pullbacks Are Good Times to Buy
You can see from this chart of the Dow for 2013, all pullbacks have been limited to its 50-day moving average until yesterday.
DIA, the exchange traded fund for the Dow Jones Industrial Average, sells for roughly 10% of the value of the Dow. DIA pulled back a bit less, only 6.2%, perhaps a result of the recent replacement of the three lowest priced stocks in the Dow with three, newer, higher priced stocks where their ups and downs will have a larger contribution to the overall total in this price weighted index.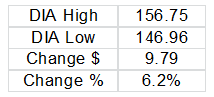 While the Dow is what many consider "the stock market," I prefer the larger and more diverse S&P500. Over long periods of time, they track closely as the chart below shows, but they are clearly not the same. ($SPX is the S&P500 index)
Based on fundamentals, I've recommended SPY here at Seeking Alpha for years. In my February 2011 Seeking Alpha article "How to Play Expected Inflation from the TIPS Spread," I wrote I was long SPY, as one way to benefit from expected inflation.
"I also believe it is a good time to own equities including SPY, the exchange traded fund for the S&P 500, for both inflation protection and income."
Bullish Reversal Pattern
The above charts of the Dow and DIA both show bullish "Morning Star" reversal Patterns. According to Wikipedia:
When found in a downtrend, this pattern can be an indication that a reversal in the price trend is going to take place.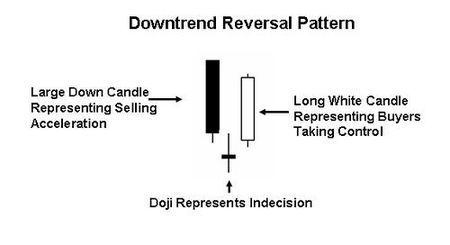 Notes
Disclosure: I am long SPY. I wrote this article myself, and it expresses my own opinions. I am not receiving compensation for it (other than from Seeking Alpha). I have no business relationship with any company whose stock is mentioned in this article.