President Obama nominated Janet Yellen, the Federal Reserve's Vice Chair, to chair the Fed. She will still have to be confirmed by the Senate, but that seems likely be an easy confirmation vote. She is well qualified, and her dovish record is in keeping with Dr. Bernanke's strategies. Her confirmation is likely to be a boon for Breitburn Energy Partners LP (BBEP).
A Janet Yellen's appointment as the Fed Chair will mean that interest rates will likely rise less quickly. The US Treasuries market has already seen rates fall since Larry Summers (a more hawkish candidate) withdrew himself as a candidate. At that point Janet Yellen became the leading candidate, and now she has won the nomination. The "no taper yet" decision by the Fed in September also helped. The chart below of the 10-year US Treasury yield shows how much difference the "dovish" or "hawkish" Fed leadership outlook can make.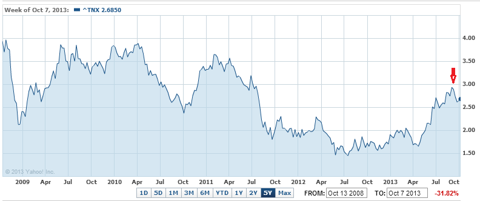 Click to enlarge
The red arrow on the chart above marks the time of the withdrawal of hawkish Larry Summers' Fed Chair candidacy and the Fed "no taper yet" announcement on September 18, 2013. When you consider that the interest rates may have continued to go up without the dovish news from the Fed, the difference in rates that borrowers see is considerable. When you consider that the 10-year Treasury note yield would likely have skyrocketed on the possible US debt default news, the difference due to dovish Fed news is much more than is currently showing on the chart. All told, dovish sentiment may account for as much as 1% lower interest rates on the 10-year US Treasury over the near term. Many business loans are based on US Treasury rates. In the recent past BBEP's rates have tended to generally move up and down with the 10 year US Treasury Note yields. They generally determine how low a bond interest rate investors will be willing to buy.
Some might argue that the Fed's QE programs are inflationary and they are in a quickly growing economy. Indeed the US may be storing up inflationary pressures for the future. However, in a slowly growing or recessionary environment, the Fed's policies have been anti-deflationary and not inflationary. The huge buying of US Treasuries and MBS by the Fed for QE3 ($85B/month) has kept yields down. The Fed's raising of the effective demand for the above securities has led to historically low mortgage rates and interest rates.
On top of the change in Fed leadership, there have been a number of negative economic announcements recently. The Fed downgraded its US GDP growth forecast for Q4 2013 from 2.3% to 2.6% to 2.0% to 2.3%. It downgraded its forecast for 2014 too. The World Bank downgraded its GDP growth estimates for China to 7.5% from 8.3%. It now expects GDP growth of 7.1% in East Asia for 2013. This is down from the previous estimate of 7.8%. The World Bank also voiced worries about China's shadow banking system. Further Greece needs another bailout. The other PIIGS are still viewed as high risk areas; and countries such as Slovenia, Slovakia, Malta and Luxembourg are viewed as probably needing bailouts soon. This is without even mentioning the US Congress showdown with Obama over the budget and the debt ceiling. These present a small possibility of a US default. They likely add up to a slower US economy than many had been expecting. However, they do decrease the demand for US Treasuries; and this is just another reason the Fed governors feel easy money policies are needed to keep interest rates from skyrocketing. The markets feel reassured by Yellen's nomination. She has historically been dovish.
As long as the slow economy doesn't last too long, it could be good for BBEP. BBEP is a well hedged energy MLP. It has about 86% of production hedged for 2H 2013. It has about 77% of production hedged for 2014 (as of August 6, 2013). With recently higher oil prices, it may have increased its hedges for 2014 since early August, although I don't have that specific information. It should survive a US economic slowdown well.
Further such a slowdown should give it the opportunity to buy more oil and natural gas properties cheaply and at low interest rates. BBEP usually finances purchases with about 50% from a new stock offering and 50% from a new debt offering. It recently purchased $876 million worth of oil-weighted oil and gas properties from Whiting Petroleum (NYSE:WLL). BBEP borrowed the purchase price under its credit facility. Following the closing, BBEP owed $1.05B under its credit facility, which has a total capacity of $1.40B. BBEP had a total debt to LTM Pro Forma Adjusted EBITDA ratio of about 4.0x following the closing. It seeks to maintain a lower leverage of about 3.0x. However, maintaining low interest rates is perhaps as important or more important.
I expect BBEP will soon have another stock offering and another debt offering in order to covert the $1.05B in credit facility debt into equity and long-term debt. Falling US Treasury yields are important to this goal. The yield has fallen from a September 2013 closing high of 2.99% for the 10 year US Treasury Note to a close of 2.66% on October 9, 2013. This lower interest rate should help BBEP get a slightly lower rate on its long-term debt offering. It should also help BBEP finance further purchases more cheaply. As an example, on February 17, 2011, BBEP registered $305,000,000 in 8.625% Senior Notes under the Securities Act of 1933. At that time the 10 year US Treasury Note yield was near 3.5%. On December 27, 2012, BBEP registered $450,000,000 of 7.875% Senior Notes. At that time the 10-year US Treasury Note yield was near 1.9%. The lower 10-year US Treasury yield makes a big difference in what interest rate BBEP pays on its debt, since people will buy "safer" US Treasury notes if the yield of BBEP's bonds is close to that of US Treasuries. Savings on debt rates increase profits on the bottom line and the added profits from such savings make investors happy.
BBEP is expected to offer $500,000,000+ in Senior Notes to pay off about 50% of its credit facility debt. Further it may spend another roughly $600,000,000 on new properties within the next year. It would probably finance about 50% of that expense via Senior Notes. That would make a total of about $800,000,000 it would likely finance through Senior Notes within the next 1+ years. If it pays about 1% less in interest (or even 0.5% less), such savings would flow almost directly to the bottom line. One percent of $800,000,000 is $8,000,000. This is a non-negligible amount compared to BBEP's adjusted EBITDA for Q2 2013 of $84.8 million (approximately 2.5% of EBITDA when the $8 million is divided by 4 -- quarterized). Plus this savings will continue each year through 2023 in all likelihood. Ten years will likely be the term of the notes issued. It is easy to see just how important this kind of savings can be to an MLP (or really any company).
For those worried about a double dip recession, BBEP points out that in the last recession its EBITDA collapsed by -15%, but then it held rock steady through the heart of the Great Recession. It is hard to forecast how much of a slowdown the US will see, but the US economy does seem to be slowing currently. It is good to know that BBEP is well hedged, and it is good to know that its interest rates are not too high. In fact BBEP's Interest Coverage (mrq) is 5.18x. In other words its operating profits are 5.18 times its debt obligations. This is a good position to be in when times may get tougher soon. It is also nice that BBEP is trading at a Price/Book (mrq) of 0.97x. This factor makes one think BBEP is one of the best values in the energy MLP sector. The table below provides a quick Price/Book, Price/Sales, and Total Debt/Total Capital comparison for BBEP and a few of its peers.
| | | | |
| --- | --- | --- | --- |
| Stock | Price/Book (mrq) | Price/Sales (mrq) | Total Debt/Total Capital (mrq) |
| BBEP | 0.97x | 3.76x | 35.06% |
| Linn Energy (LINE) | 1.45x | 3.35x | 59.65% |
| Vanguard Natural Resources (NYSE:VNR) | 1.66x | 5.55x | 42.90% |
| QR Energy (NYSE:QRE) | 3.02x | 2.37x | 52.51% |
As investors can see, these metrics paint BBEP in a very favorable light compared to its peers on valuation. Further BBEP pays one of the best dividends/distributions in the industry (see chart below).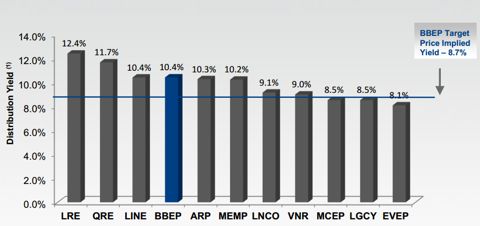 Click to enlarge
It is tied for third best on the above chart. If the stock price goes up as most analysts expect (the average analysts' one year target price is $21.75), the dividend/distribution rate will likely go down to BBEP's target value of 8.7%. However, investors that buy when the stock price is still low should continue to receive outsize dividends/distributions. BBEP cut its dividend from $0.5200/quarter for April 2010 to $0.3750/quarter. However, it has risen steadily since then to the July 31, 2013, $0.4800 per quarter, and the company expects to see steady raises going forward. The latest deal with Whiting Petroleum is very accretive to revenues and earnings, and it should help BBEP raise its dividend further.
BBEP has long lived oil and natural gas properties with a reserve life of about 15 years. It has about 190.8 MMBoe of estimated proved reserves. Of these 71% are PDP. 57% are oil. 5% are NGLs, and 38% are natural gas. Organic growth and acquisitions helped it raise its net production in Q2 2013 to 2.45 million Boe. This was a 26% increase over Q2 2013. Liquids production (mostly oil) was up 58% year over year. Its distributions have increased consistently each quarter since Q1 2010 for a total gain of about 28%. Its distribution coverage was 1.0x for Q2 2013, and after the Whiting Petroleum acquisition it expects a distribution coverage of 1.4x to 1.5x, which is fantastic for an energy MLP. This is the kind of gain and the kind of safety most income investors like. BBEP is a buy.
The two-year chart of BBEP provides some technical direction for this trade.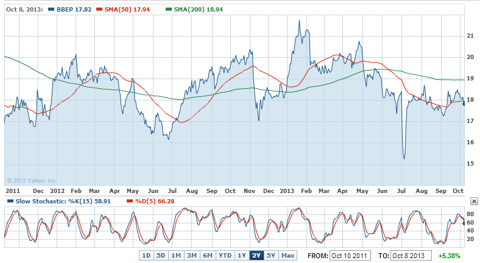 Click to enlarge
The slow stochastic sub chart shows that BBEP is neither overbought nor oversold. The main chart shows that it is in a consolidation pattern. The recent Whiting Petroleum purchase may help BBEP break upward from that consolidation pattern. At the very worst it should help BBEP remain in the consolidation pattern, if the economy slows considerably. BBEP should be a good stable stock for troubled times.
The world demand for oil has gone up significantly since 2008-2009. The US government and other governments have taken measures to keep the speculation on oil to a much lower level. There is unlikely to be a crash that resembles the 2008-2009 oil price crash in the near future. BBEP is a buy. It has a five star CAPS rating (a strong buy). It has an analysts' mean recommendation of 1.6 (a strongish buy). It pays a 10.7% dividend/distribution. There is little not to like about BBEP.
Further the Whiting Petroleum deal should bring it tertiary recovery expertise (CO2 flooding expertise), which it can probably use on many of its other oil properties in the future. These potential future recoveries are not yet reflected in the reserves numbers. When they are in the future, that should give BBEP's stock price more reason to climb. It makes BBEP that much better a value investment. Its natural gas reserves also should benefit when natural gas prices recover. Natural gas reserves in the US are based significantly on the rolling twelve month average cost of the natural gas and the cost to produce it. Natural gas prices are expected to climb significantly in the next several years. The article, Southwestern Energy Looks Like A Great Long-Term Investment, provides many of the reasons to expect a natural gas price rise.
NOTE: Some of the fundamental financial data above is from Yahoo Finance and from TD Ameritrade.
Good luck trading.
Disclosure: I have no positions in any stocks mentioned, but may initiate a long position in BBEP over the next 72 hours. I wrote this article myself, and it expresses my own opinions. I am not receiving compensation for it (other than from Seeking Alpha). I have no business relationship with any company whose stock is mentioned in this article.