(Editors' Note:This article covers a micro-cap stock. Please be aware of the risks associated with these stocks.)
iBio (NYSEMKT:IBIO) is a small biotechnology company focused on developing vaccines and therapeutic proteins based upon its proprietary plant-based iBioLaunch Platform Technology. Their product candidates and technology look promising, but that is not what this article particularly is about. We stumbled upon some major red flags, and we think its likely IBIO's share price is to take another dive in the short term.
With early biotech start-ups like IBIO, one should expect insiders putting their money where there mouth is. If important milestones are near, and the product technology is impressive, they should have bought some shares and refrain from heavy selling right? Not so with IBIO. On the contrary, the selling has been ferocious, and cover a period of about 2 years.
Check out the next overview.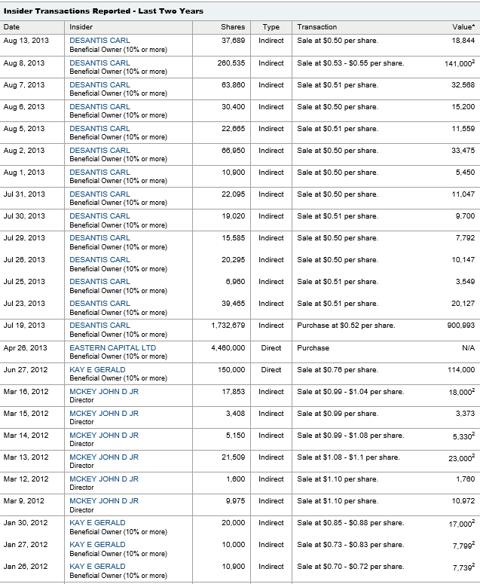 Click to enlarge
This is not a pretty picture. Insiders across the board are continuously selling shares. Only 1 time did somebody buy. The buy from Eastern Capital was related to the stock offering at the time.
The insiders probably knew what was ahead. While the biotech sector blossomed, IBIO lost 75% of its market capitalization.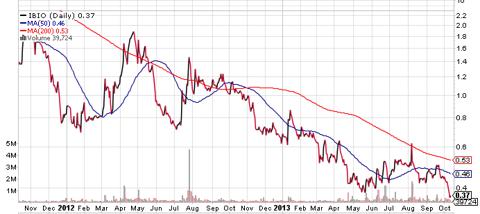 Click to enlarge
IBIO is in a downtrend, trading much lower than the resistance levels MA50 and MA200. The stock is a sell from a technical point of view.
Now take a look at the balance sheet per June 30, 2013.




This nets about +$1 million.
Now look at the cash burn per same date.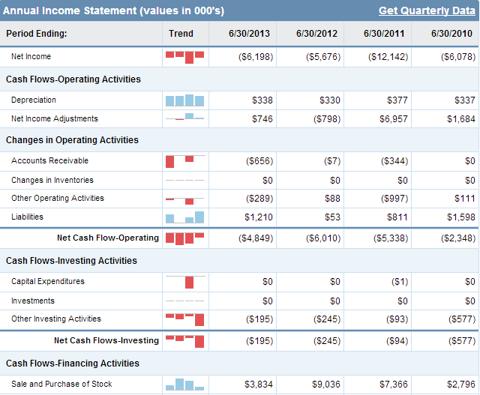 Click to enlarge
The cash burn is about $0.43 million per month, offset by a history of dilutive stock offerings. Also, IBIO issued about 3.6 million warrants with an exercise price of $0.53 per share.
We are now in October. IBIO is likely to be almost out of cash now, and we expect therefore another dilutive stock offering in the very near future. They have done so numerous times every single year, so it would be basically history repeating itself. Another big dilutive stock offering could halve the share price.
What doesn't help either is a possible delisting.
IBIO announced on May 31, 2013 that NYSE notified the company that it accepted the Company's Plan of Compliance and granted the Company an extension until October 14, 2013 to regain compliance with the continued listing requirements of the Exchange. On April 18, 2013, the Company received notice from NYSE indicating that the company was below certain of the Exchange's continued listing standards which applies if a listed company has sustained losses that are so substantial in relation to its overall operations or its existing financial resources, or its financial condition has become so impaired that it is questionable, in the opinion of the Exchange, as to whether the listed company will be able to continue its operations or meet its obligations as they mature.
The failure by the Company to make progress consistent with the accepted plan or to regain compliance with the continued listing standards by the end of the extension period could result in the Company being delisted from the Exchange.
Conclusion
IBIO may be a promising biotech company product wise, but its shares aren't worth an investment. As a matter of fact, given the red flags, we advice shareholders to sell and speculative investors could take a short position. Our short-term price target is $0.20.
IBIO could deserve a closer look post dilution, when the balance sheet is cleaned up, and only if insiders are on the buy side.
Ticker code: IBIO
Market Capitalization: $21 million
Listing: AMEX
Next earnings date: November 2013, exact date not known yet
Disclosure: I am short IBIO. I wrote this article myself, and it expresses my own opinions. I am not receiving compensation for it (other than from Seeking Alpha). I have no business relationship with any company whose stock is mentioned in this article.