In the first year after the company's IPO, Hi-Crush Partners LP (NYSE:HCLP) has been a resounding success for those investors who got in early. While it is too much to expect continued 40%+ annual gains, a current 7% yield and strong prospects for distribution growth make this small-cap MLP an attractive prospect for income investors.
Note: MLP companies such as Hi-Crush Partners have units and pay distributions. The words stock, shares and dividends may be used here with the understanding that the rules of MLP units apply including the tax consequences of investing in MLP units.
Unique Ways to Play the Energy Industry
Hi-Crush Partners mines and processes northern white sand, which is used as frac sand - a proppant used to keep drilling channels open - during hydraulic fracturing oil and natural gas drilling operations. According to information provided by Hi-Crush Partners, about 45,000 wells are drilled each year, using 400 to 500 tons of sand per well. A white paper from Siemens (SI) included this surprising nugget of data:
"One of these wells can be fracked more than 40 times, using 30,000 to 300,000 tons of frac sand, depending on the length of the lateral well and the number of times the well is fracked."
The paper also noted that the price of frac sand had doubled in between 2000 and 2011, when the paper was published. Other interesting information included the fact that there are over 1,000 sand owned by about 30 companies and the sand is funneled to the E&P companies through a dozen distributors.
Hi-Crush Partners mines sand from a 650 acre property in Wyeville, Wisconsin, process the sand and loads rail cars at its facility. The company's current production capacity is 1.6 million tons per year. For the four quarters that ended in June 2013, the company had sold 1.3 million tons. The bulk of the Hi-Crush sales come from long-term take-or-pay contracts with drilling services providers. As of the end of the 2013 second quarter, 1.46 million tons had been contract for the full year, representing 91% of capacity. About 3/4 of next year's production has been contracted for.
Hi-Crush Partners is a very nicely profitable business. For the first half of 2013, the company reported $25.5 million of net income and $30.1 million of distributable cash flow on $46.7 million of revenue. A quarterly dividend of $0.475 has been paid each quarter since the IPO. In the 2013 second quarter, $15.6 million of DCF handily covered the $13.7 million paid in distributions.
Acquisitions and Contracts to Boost Revenues and Profits
To start off 2013, Hi-Crush announced the purchase of a preferred interest in another frac sand mine and processing facility in Augusta, Wisc. owned by the company's general partner - a private investment company. The interest was paid for with cash and 3.75 million 1-for-1 convertible units. The preferred interest currently pays Hi-Crush $3.75 million quarterly and the units can convert to regular LP units after Hi-Crush has met certain profit and distribution levels. More importantly, the Augusta facility has a production capacity similar to Hi-Crush's existing one and some or all of the Augusta ownership could eventually be dropped down to the limited partnership.
In June, Hi-Crush closed the purchase of D&I Silica, LLC, a frac sand distribution company with an extensive customer base and a dozen terminals in the Marcellus and Utica shale basin drilling areas. The acquisition gives Hi-Crush a more vertically integrated business and D&I will be chipping in a dime of profit per unit per quarter. The big plus is the ability to provide more services to more potential customers in an industry that is starting to consolidate rapidly.
As I started writing this, another press release came out of Hi-Crush concerning a lawsuit the company was pursuing against a division Baker Hughes Inc. (NYSE:BHI) over the cancellation of a purchase contract by Baker Hughes. The press release announced an agreed settlement that resulted in a new six-year supply agreement. The news also pushed up the share price by 6% and the yield down to 6.6%.
Time for Double Digit Dividend Growth
The Hi-Crush Partners management has stated that the company expects to start increasing the distribution for the 2013 fourth quarter and that investors can expect low double-digit increases for 2014. A 10% increase puts the dividend at $0.5225 quarterly. The company could handily cover this rate at its current level of distributable cash flow.
There are a couple of dividend numbers that point towards a higher payout in 2014. One of the criteria for the non-dividend receiving convertible units to be eligible for conversion to regular LP units is a sustained dividend rate of at least $0.525 per quarter. Another dividend threshold is $0.54625, at which incentive distribution rights kick in for the general partner.
With the acquisition of D&I and the settlement of the Baker Hughes lawsuit, Hi-Crush Partners should handily be able to increase the quarterly dividend to $0.55 by the end of next year. That is a 7.5% yield on the current $29 share price, but if the company is increasing the dividend by 3% per quarter, the market will push the yield down into the 5% to 6% range, possibly lower. At a 6% yield on the target dividend rate, HCLP should be priced at $36 or better by the end of 2014.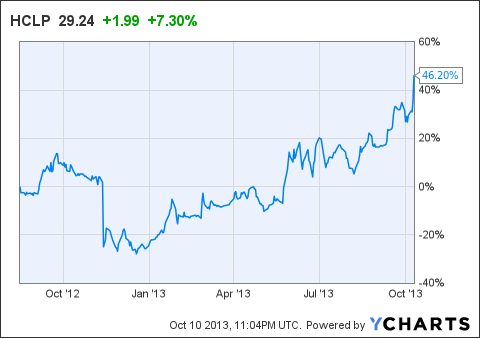 Disclosure: I have no positions in any stocks mentioned, and no plans to initiate any positions within the next 72 hours. I wrote this article myself, and it expresses my own opinions. I am not receiving compensation for it (other than from Seeking Alpha). I have no business relationship with any company whose stock is mentioned in this article.